Vital Stats:
This cigar was reviewed blind (no bands) by a panel of at least 4 reviewers. They did not know what they were smoking beforehand. The scores are an average of all the reviewers' scores with outliers removed. All of our cigars reviewed are shipped to the panelists with Boveda packs to ensure optimal smoking experience.
Vitola: Torpedo
Length: 6″
Ring Gauge: 52
Country of Origin: Nicaragua
Wrapper: Ecuadorian Habano Oscuro
Binder: Nicaragua
Filler: Nicaragua and Pennsylvania
Factory: AJ Fernandez
Blender: AJ Fernandez
Number of reviewers: 5—–Sandeep (Djangos) Gregg (McGreggor57) Dave (mdwest) Brian (B-daddy) Emmett (rhetorik)
Price: $7.15
Age: 6 Months
Release Date: 2012
Contributed by: House of Emilio
Initial Impressions
Appearance: 92
"This is a very good looking torpedo. Its wrapper is very even in color, no real tooth, but some texture and almost no visible seams or veins. It feels very firm." –Emmett (rhetorik)
Aroma: 90
"The predominant aroma is of cocoa and leather. There is also some hay in the background. The dry puff is very mild with some hay and tobacco but no spice or sweetness." –Sandeep (Djangos)
First Third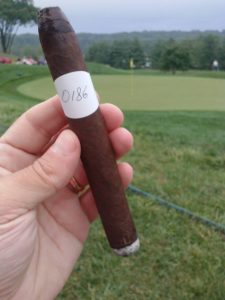 Flavor: 93
Strength: Medium
Body/Complexity: Medium
"Big blast of smoke at the light-up. Flavors are rich, dark, earthy tobacco, some leather and hint of coffee. I'm getting some black pepper and a long leathery finish. This isn't quite as peppery, but the overall profile reminds me a bit of a DPG Blue, which I enjoy very much. As I get to the end of the first third, the coffee flavors build a bit more." –Brian (B-daddy)
"At the beginning of this smoke, I'm getting a nutty flavor and a fresh tobacco undertone. As this third progresses, some wood in the form of cedar comes to the front. The burn is very slow and even, and the draw is on the tight end, but within normal range. Overall, I would call this third dry, but tasty." –Emmett (rhetorik)
Second Third
Flavor: 91
Strength: Medium
Body/Complexity: Medium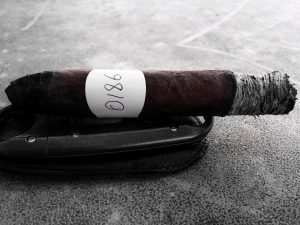 "In the middle third, the predominant flavors are that of hay and leather. The earthy flavors seem to be the core of this cigar. No sweetness or spiciness. The pepper is still present to the back of the throat. The chemical like flavor that I experienced in the initial third is still there as an after taste. Definitely a slight improvement to the initial third, but still lacking complexity. The burn and draw are great as the last third and the smoke is creamy and delicious." –Sandeep (Djangos)
"The smoke is creamy and smooth, and the finish remains long and oily in the second third. The sweetness that was so forward in the first third has started to fade away and we are left mostly with leather and tobacco in the flavor profile. Still keeping me interested. I'm enjoying this stick quite a bit at this point." –Dave (mdwest)
Final Third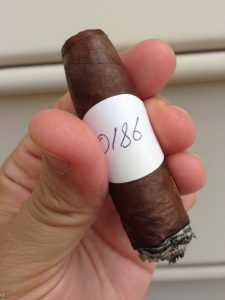 Flavor: 89
Strength: Medium
Body/Complexity: Medium
"Allspice and nutmeg with a faint background of cocoa is bringing another level of smooth sweetness to the final third. Some leather and tobacco make up the remaining flavors as the cigar settles into its last transition." –Gregg (McGreggor57)
"Not much transition as it makes its way into the final third. Very similar profile to the second third. Core flavors are still rich dark tobacco and leather. The leather flavors are a bit more dominant now. Nice, rich, oily mouth feel. Still getting some coffee notes, particularly towards the finish. The finish is still nice and long with just a bit of spice and a nice leathery bite. Smoke stays cool to the nub." –Brian (B-daddy)
Overall Impressions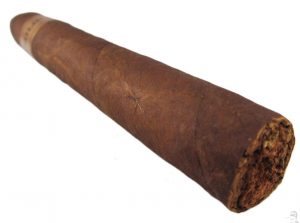 Draw: 93
"A great draw after a quick second cut." –Gregg (McGreggor57)
Burn: 93
"A great razor sharp burn line and very long ashes. Couldn't ask for anything better honestly." –Dave (mdwest)
Construction: 93
"The cigar was well constructed with a firm feel to the entire length. The wrapper did not have any soft spots." –Sandeep (Djangos)
Overall Strength: Medium
Overall Body/Complexity: Medium
Overall Experience: 90
"Overall, the cigar was a pleasant experience and an easy smoke. However, it did lack a level of complexity I enjoy in my cigars. I would smoke this one again but may not go seeking for one." –Sandeep (Djangos)
"I really enjoyed the richness of the coffee and oak during the first third and wished they would have held on a little more. The final two thirds gradually ramped the fullness down and transformed the smoke into a milder sweeter profile. I'm glad I grabbed this one for a morning cigar." –Gregg (McGreggor57)
"I would have loved to have rated this stick higher, but the complete flop in the final third cost what was otherwise one of the best sticks I've smoked in a while into an only slightly above "good" overall performance." –Dave (mdwest)
"A rich, big flavored stick with a profile that is right up my alley and flawless performance. I'd like some more of these. Hope it's an affordable stick. I'd recommend this one to others and would definitely smoke this again." –Brian (B-daddy)
"Overall, this cigar performed pretty well and had lots of good flavor transitions, however, I felt like the flavors never quite gelled and it was a little unbalanced throughout. The flavors were never harsh, but there was never a point where I really enjoyed it. If this cigar is young, I would be curious how it tastes with some more rest, otherwise, I probably wouldn't grab one again." –Emmett (rhetorik)
Smoking Time (in minutes): 86
Total Score: 91 (Very Good)
Edit

| Reviewer | Appea-rance | Aroma | 1/3 | 2/3 | 3/3 | Draw | Burn | Constr. | Overall |
| --- | --- | --- | --- | --- | --- | --- | --- | --- | --- |
| Sandeep | 95 | 92 | 90 | 90 | 90 | 95 | 93 | 95 | 90 |
| Gregg | 90 | 90 | 93 | 90 | 90 | 93 | 93 | 93 | 90 |
| Dave | 85 | 90 | 93 | 92 | 80 | 90 | 97 | 88 | 90 |
| Brian | 92 | 92 | 93 | 92 | 92 | 95 | 95 | 95 | 95 |
| Emmett | 92 | 90 | 90 | 88 | 85 | 90 | 93 | 90 | 88 |
| Overall | 92 | 90 | 93 | 91 | 89 | 93 | 93 | 93 | 90 |
To view the complete scores and notes, click here.
Blind Cigar Review: Emilio | AF2 Torpedo