Vital Stats:
This cigar was reviewed blind (no bands) by a panel of at least 4 reviewers. They did not know what they were smoking beforehand. The scores are an average of all the reviewers' scores with outliers removed. All of our cigars reviewed are shipped to the panelists with Boveda packs to ensure optimal smoking experience.
Vitola: Corona
Length: 5″
Ring Gauge: 42
Country of Origin: Indonesia
Wrapper: Indonesian Besuki Oscuro
Binder: Indonesian Besuki
Filler: Indonesian Besuki
Factory: Sultan Cigar Company
Blender: Ron Stacy
Number of reviewers: 5 —– Sandeep (Djangos) Gregg (McGreggor57) Wes (SosaCub4Life) Jason H. (Jokey Smurf) Aaron (aaron72)
Price: $10.00
Age: 4 Months Rest
Release Date: 2011
Contributed by: Ron Stacy
Initial Impressions
Appearance: 93
"A dark tan wrapper with a bit of marbling and lots of very fine veins. The seams are almost invisible." –Aaron (aaron72)
Aroma: 91
"The aroma was that of mild tobacco with some hints of grassy notes along with some light cedar.  Just from the look and smell alone I am expecting a mild cigar. We shall see." –Wes (SosaCub4Life)
First Third
Flavor: 88
Strength: Mild-Medium
Body/Complexity: Medium
"There is an interesting savoriness to the start of this cigar.  Rich peat, moss and wood.  A little peppery char lingers on the finish with not much spice on the retrohale.  The area near the cap is very hard and is restricting the draw.  Reaming isn't helping but a 3rd cut seems to open it up a bit." –Gregg (McGreggor57)
"The first third has been a very mild, smooth smoke. I am not even getting any spice or pepper on the retrohale.   Some dry cedar with maybe a hint of sweetness to it, but it's definitely been a very mild experience so far.  Light grey to white ash that has so far held on nicely. Little tight on the draw but nothing terrible." –Wes (SosaCub4Life)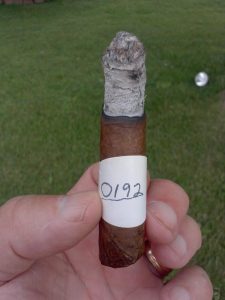 Second Third
Flavor: 90
Strength: Medium
Body/Complexity: Medium
"The flavors in the middle third are still earthy in character with hay and grass. Now there is a slight flavor akin to wet mud. The pepper is still present in each draw but not over powering. As we get towards the transition to the final third there is the appearance of leather. The draw has improved in this third and the burn and smoke production is still very good." –Sandeep (Djangos)
"Coffee joins the woodsy/earthy notes, providing a little more flavor.  The pepper occasionally appears, lending another layer of interest" –Gregg (McGreggor57)
Final Third
Flavor: 91
Strength: Medium-Strong
Body/Complexity: Medium
"Some softer grasses and baking spices enter the final third.   The pepper is still present and now coats my lips leaving an interesting mix of sweet and spicy."-Gregg (McGreggor57)
"This third is starting off with some bitterness mixed in with the woody flavor. After a few puffs, the bitterness faded away and some pepper came in to the profile. The flavors have become pretty full in this third as it's transitioned into a peppered cedar." –Aaron (aaron72)
Overall Impressions
Draw: 89
"The draw on this cigar remained on the tight side from start to finish.  I was able to draw plenty of smoke, but it took some effort…more than I really prefer." –Jason H. (Jokey Smurf)
Burn: 97
"The burn has pretty much been perfect on this stick.  It stayed in almost a perfect circle the entire way through and required no touch ups." –Wes (SosaCub4Life)
Construction: 93
"Well constructed with a firm feel to the entire length. Very little give to even good pressure. There are no soft spots or problems with the wrapper. At least two caps are apparent. Overall, quite well built." –Sandeep (Djangos)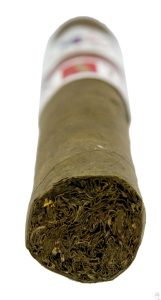 Overall Strength: Medium
Overall Body/Complexity: Medium
Overall Experience: 93
"Overall, this cigar was quite good and was an easy and pleasant smoke. There were not many changes in flavor in the initial and middle thirds and so complexity was lacking but the final third was really good and made up for it. I would definitely try this one again." –Sandeep (Djangos)
"Unfortunately, spending most of the first third attempting to get the cigar smoke-able kept me from really enjoying the experience. The flavors this cigar offered were pretty solid. I felt the cigar was a bit too small, however, to allow a lot of the flavors and transitions to fully develop. I would be interested to smoke a larger vitola in this line." –Gregg (McGreggor57)
"Overall, it was nice and it did pick up in flavor as the smoke went along. The first third was rather boring and very mild for my liking but as a bit of the spice kicked in it became a pleasant smoke. Overall, it was a bit too grassy without enough "kick" for my tastes, but everyone has their own opinions on those matters. Nice cigar but nothing I'd rush out to buy on my own. It became too hot to smoke down to the nub, but that was the only time heat became an issue." –Wes (SosaCub4Life)
"This is something I would smoke again but won't go running out to buy. It looked nice, smoked OK, and wasn't overly harsh or strong. Definitely was not what I'd call a flavor bomb, bit it kept me smoking to the end." –Jason H. (Jokey Smurf)
"The cigar started off very mild and continually picked up in flavor and strength as it went along which was a nice surprise. At the beginning I wasn't expecting much from the experience. The performance was really good as it put out lots of flavorful smoke. With this being a smaller cigar, and most people smoking faster than I do, I could really see people digging this cigar. I would definitely be up for smoking more of these." –Aaron (aaron72)
Smoking Time (in minutes): 54
Total Score: 92 (Excellent)
Edit

| Reviewer | Appea-rance | Aroma | 1/3 | 2/3 | 3/3 | Draw | Burn | Constr. | Overall |
| --- | --- | --- | --- | --- | --- | --- | --- | --- | --- |
| Sandeep | 93 | 92 | 90 | 90 | 92 | 90 | 97 | 95 | 93 |
| Gregg | 88 | 90 | 88 | 90 | 90 | 85 | 88 | 85 | 88 |
| Wes | 93 | 92 | 90 | 92 | 95 | 92 | 97 | 95 | 93 |
| Jason H. | 93 | 88 | 88 | 90 | 85 | 88 | 97 | 88 | 88 |
| Aaron | 88 | 90 | 88 | 90 | 90 | 90 | 95 | 93 | 93 |
| Overall | 93 | 91 | 88 | 90 | 91 | 89 | 97 | 93 | 93 |
To view the complete scores and notes, click here.