Vital Stats:
This cigar was reviewed blind (no bands) by a panel of at least 4 reviewers. They did not know what they were smoking beforehand. The scores are an average of all the reviewers' scores with outliers removed. All of our cigars reviewed are shipped to the panelists with Boveda packs to ensure optimal smoking experience.
Vitola: Robusto
Length: 5″
Ring Gauge: 54
Country of Origin: Nicaragua
Wrapper: Nicaragua "El Corojal"
Binder: Mexico
Filler: Nicaragua
Factory: E. León Jimenes Tabacalera
Blender: Undisclosed
Number of reviewers: 5 —– Paul (pmr1010) Sandeep (Djangos) Gregg (McGreggor57) Wes (SosaCub4Life) Jason H. (Jokey Smurf)
Price: $9.50
Age: 4 Months Rest
Release Date: 2014
Contributed by: Total Flame Cigars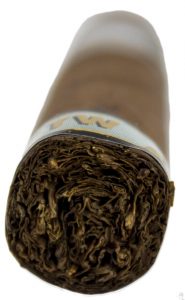 Initial Impressions
Appearance: 94
"Very nice looking cigar. Love the color of the wrapper, a nice medium brown with a slight shine. There are quite a few veins and they are very noticeable, so it's not flawless, but overall it's a very nice looking stick." –Wes (SosaCub4Life)
Aroma: 93
"I love the smell of this cigar. The wrapper you can really smell the chocolate. This cigar smells delicious." –Wes (SosaCub4Life)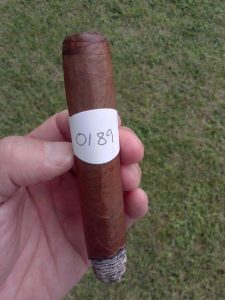 First Third
Flavor: 93
Strength: Medium-Strong
Body/Complexity: Medium-Full
"The pre-light draw was perfect and there was just the right amount of give with a slight pinch of the sides. Once lit, there wasn't a ton of smoke, but the smoke was really nice. Chocolate and ground coffee were the first tastes I got. The only way to describe the flavor is that it was as dark and rich as the wrapper. Cocoa, coffee and roasted nuts were the primary, if not only flavors and that worked out great! So far the burn was straight." –Paul (pmr1010)
"The initial third starts off with pepper and chocolate. The pepper is definitely strong and gets stronger the next several puffs. Unsweetened chocolate is the predominant other flavor with some very subtle floral character that is very faint. After about a half inch, the pepper starts to fade and a woody character begins to appear. Towards the end of the third, the chocolate and floral nature is almost all gone, replaced entirely with cedar and hay. The burn is straight. The draw is slightly tight but I did not have to use a draw tool. The smoke is wispy and not as thick and creamy as I usually like it. The ash is solid and dark gray in color. Held strong the entire third." –Sandeep (Djangos)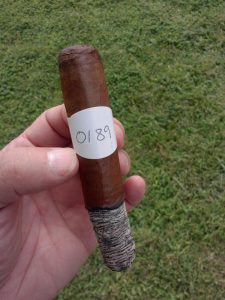 Second Third
Flavor: 93
Strength: Medium-Strong
Body/Complexity: Medium
"The transition of the flavors from bold to a milder form is seamless during this third. As the richness ratchets down a bit, the strength of the cigar is picking up. This is providing an interesting balance. Cocoa, light coffee and wood are aligning perfectly. The introduction of a little leather and toast is really smoothing everything out." –Gregg (McGreggor57)
"The second third has continued with much of the same and I'm really impressed with the smooth nature of the smoke. This thing is just plain enjoyable! The strength has increased just slightly, and there is now a bit of salty earth with the leather. I think the tang I was noticing earlier has morphed into the salty flavor I'm getting now. The oil has continued, and is just coating my palate. One really nice point of interest is that I don't find myself spitting at all with this cigar. The smoke isn't dry at all, but it is just so smooth that my saliva output is normal. Smoke output has been impressive to this point, and each slightly firm puff is just smothering my palate with smoke and flavor." –Jason H. (Jokey Smurf)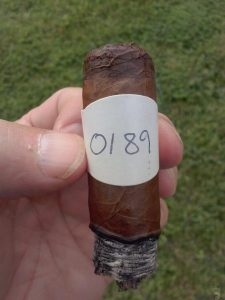 Final Third
Flavor: 94
Strength: Medium
Body/Complexity: Medium
"As the final third began, the espresso flavor got a little more pronounced and the rich chocolate and "dark" flavors smoothed out and came together really well. A little less intense, slightly mellowed but not in a bad way. This was a great maduro flavor. A hint of citrus was on a few puffs, not fruity or sweet but just a slight citrus acidity. The burn was slightly uneven but only just." –Paul (pmr1010)
"The final portion of this cigar has the flavors deepening into a meaty dark chocolate and espresso with a slightly dirty note. The oil has remained constant, as has the smoke output. I'm finding that I really don't want this cigar to end as the deep flavors have really captured my attention. There is a bit of spice on the retrohale now, but just a bit…not enough to discourage me passing the smoke through my nostrils to enhance the flavors. Very, very enjoyable." –Jason H. (Jokey Smurf)
Overall Impressions
Draw: 94
"With a scissor cut at just above the cap line the draw was close to perfect if not perfect." –Paul (pmr1010)
Burn: 97
"This is the closest I have ever come to giving a cigar a perfect rating for burn. The cigar burned slowly, evenly and never ever needed any form of maintenance. Even when left sitting for nearly 5 minutes at one stretch, the cigar never went out…Wonderful!" –Jason H. (Jokey Smurf)
Construction: 97
"I don't know who was responsible for creating this cigar, but I know that there are a lot of torceadors who could stand to take a lesson in cigar manufacture from this guy! This is how a cigar should be made. It is beautiful to behold, feels sturdy in the hand and held up admirably to a guy who likes to chew on a good cigar. When the ash was at the 1/2 way point I did an ash stand…just to see if I could. Well…I could! Even after that, the ash held on…well beyond the second third before I tapped it off by accident…impressive!" –Jason H. (Jokey Smurf)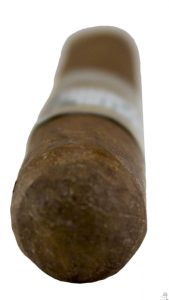 Overall Strength: Medium-Strong
Overall Body/Complexity: Medium-Full
Overall Experience: 94
"This was a really enjoyable smoke, I would absolutely buy this cigar." –Paul (pmr1010)
"Overall, the flavors were good and there was a good amount of complexity as well, however, the draw and the burn definitely detracted from the experience. Also the cigar burned a little hot most likely as a result of the draw. I will try this one again after some rest to see if the burn and draw issues will subside after aging." –Sandeep (Djangos)
"I thoroughly enjoyed the flavor transitions and really appreciated the return of a richer profile during the final third. The middle respite was well balanced by an increase in strength while maintain a flavorful smoke. Sign me up for some more of these." –Gregg (McGreggor57)
"I have really enjoyed this cigar. I will be smoking it again. With the nice spicy pepper throughout and the great construction along with the great amount of smoke it has been really enjoyable. After letting it sit a bit during the last third, it has cooled down so I was able to enjoy it to the end. The only bad thing I can say about it is that it has gotten a touch of bitterness towards the end, but overall its been a great cigar to smoke. Can't wait to see what it is." –Wes (SosaCub4Life)
"This is one of the best cigars I've had in quite a while. Construction was top notch. The flavors were plentiful, and kept me interested. All in all, this is a winner that I would recommend to anyone who likes a good cigar. I can't wait to see what this is…I want more!" –Jason H. (Jokey Smurf)
Smoking Time (in minutes): 70
Total Score: 95 (Great)
Edit

| Reviewer | Appea-rance | Aroma | 1/3 | 2/3 | 3/3 | Draw | Burn | Constr. | Overall |
| --- | --- | --- | --- | --- | --- | --- | --- | --- | --- |
| Paul | 95 | 90 | 93 | 95 | 95 | 97 | 97 | 97 | 95 |
| Sandeep | 93 | 95 | 95 | 93 | 88 | 85 | 88 | 95 | 88 |
| Gregg | 90 | 93 | 90 | 93 | 93 | 90 | 95 | 93 | 93 |
| Wes | 95 | 97 | 97 | 97 | 95 | 97 | 97 | 100 | 97 |
| Jason H. | 95 | 93 | 93 | 90 | 95 | 93 | 97 | 97 | 95 |
| Overall | 94 | 93 | 93 | 93 | 94 | 94 | 97 | 97 | 94 |
To view the complete scores and notes, click here.