Vital Stats:
This cigar was reviewed blind (no bands) by a panel of at least 4 reviewers. They did not know what they were smoking beforehand. The scores are an average of all the reviewers' scores with outliers removed. All of our cigars reviewed are shipped to the panelists with Boveda packs to ensure optimal smoking experience.
Vitola: Toro
Length: 6.25″
Ring Gauge: 52
Country of Origin: Nicaragua
Wrapper: Nicaraguan Corojo
Binder: Nicaraguan Corojo and Nicaraguan Criollo
Filler: Nicaraguan Medio Tiempo, Viso and Ligero
Factory: Casa Fernandez
Blender: Kyle Hoover & Chris Kelly
Number of reviewers: 5—–Ron (shuckins) Craig (WyldKnyght) Robert (NavyPiper) Dave (mdwest) Derek (StogieNinja)
Price: $12.50
Age: 5 Months
Release Date: 2012
Contributed by: House of Emilio
Initial Impressions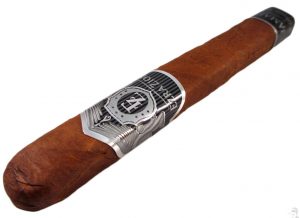 Appearance: 90
"A nice looking box pressed stick almost completely void of veins that sports a dry, slick wrapper with no visible oils or tooth." –Dave (mdwest)
Aroma: 89
"Wrapper smells of leather and hay, and specifically of dry Ohio Maple leaves. The aroma from the foot has the same smells, but with a bit of barnyard." –Derek (StogieNinja)
First Third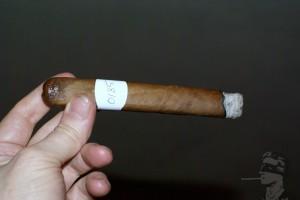 Flavor: 88
Strength: Medium
Body/Complexity: Medium
"Lots of cedar, with a peppery allspice on light up. Soon after, things change as more flavors fight to get to the front. The pepper brings some heat and pushes the nutmeg to the back and blocks the cocoa, but letting a taste of coffee through." –Ron (shuckins)
"Notes of hay and wet grass, with a slight twang on a fairly long finish. Hints of cinnamon are detectible after the first few puffs. An interesting combination of flavors." –Dave (mdwest)
Second Third
Flavor: 90
Strength: Medium
Body/Complexity: Medium
"The pepper mellowed out during the second third and the earthy notes remained. It started to have a slight burn issue, but not a problem yet." –Craig (WyldKnyght)
"The leather has subsided, and in its place a caramel richness has appeared out of nowhere. The flavors remind me somewhat of a Juan Lopez No. 2, which is a high compliment. It's not as rich or well rounded, but it has that richness to it. Solidly medium in body, with rich caramel sweetness at the forefront, with a oaky wood and a touch of black pepper behind it. As a note, this cigar should not be smoked too fast, as it grows hot quickly. As with things cigar related, patience with this cigar is rewarded." –Derek (StogieNinja)
Final Third
Flavor: 89
Strength: Medium
Body/Complexity: Medium
"It all came together nicely the closer to the end it got. There is a tease of creaminess as the leather, cocoa and nutmeg blend together. The cedar picks up a bit of sweetness that goes well with the other flavors. The coffee, along with a touch of heat from the pepper, provides a little kick at the very end." –Ron (shuckins)
"In the final third, the pepper returned very strong with the smoky wood. The spicy sweetness has disappeared. Very nice finish to this stogie and scorched my fingers when I smoked it to the nub!" –Robert (NavyPiper)
Overall Impressions
Draw: 93
"I did not notice any issues with the draw." –Craig (WyldKnyght)
Burn: 90
"Burn line was stable throughout, needed no touch ups." –Derek (StogieNinja)
Construction: 88
"Construction was pretty good. Nice box press, seams look good- tight and well blended. Head and cap are good. Cigar has a nice shape and feels fairly heavy." –Robert (NavyPiper)
Overall Strength: Medium
Overall Body/Complexity: Medium
Overall Experience: 90
"This was a very entertaining cigar that I enjoyed smoking and will recommend to others." –Ron (shuckins)
"Overall, I think this was a half decent cigar that warrants another try if others didn't have the construction issue I did." –Craig (WyldKnyght)
"Most Connecticut cigars that I've had in the past have been pretty mild and bland, but not this guy! I really enjoyed the flavors and would have another anytime. This one is making me re-think Connecticut wrapper cigars." –Robert (NavyPiper)
"Overall, while I wouldnt categorize this as a "great" stick, it was "good", and might rate higher for others that enjoy something on the mild-medium side a little more often than I do. Flavors were delicate, but present, and there were enough changes to keep things interesting from start to finish. I'd like to try this one again sometime down the road as an early morning smoke paired with a good cup of coffee." –Dave (mdwest)
"I enjoyed this cigar. The cold aroma of maple leaves was unique, and the mix of caramel and cream and leather and maple and pepper and baking spices and sweetness was quite enjoyable, and changed frequently enough to keep me interested. Recommended." –Derek (StogieNinja)
Smoking Time (in minutes): 77
Total Score: 90 (Very Good)
Edit

| Reviewer | Appea-rance | Aroma | 1/3 | 2/3 | 3/3 | Draw | Burn | Constr. | Overall |
| --- | --- | --- | --- | --- | --- | --- | --- | --- | --- |
| Ron | 92 | 90 | 88 | 90 | 90 | 100 | 95 | 92 | 90 |
| Craig | 92 | 90 | 88 | 88 | 88 | 93 | 90 | 88 | 88 |
| Robert | 88 | 85 | 90 | 90 | 90 | 90 | 90 | 90 | 90 |
| Dave | 90 | 88 | 88 | 88 | 88 | 93 | 85 | 88 | 88 |
| Derek | 88 | 95 | 95 | 90 | 95 | 95 | 90 | 88 | 90 |
| Overall | 90 | 89 | 88 | 90 | 89 | 93 | 90 | 88 | 90 |
To view the complete scores and notes, click here.
Blind Cigar Review: Ezra Zion | Jamais Vu Exquisito