Vital Stats:
This cigar was reviewed blind (no bands) by a panel of at least 4 reviewers. They did not know what they were smoking beforehand. The scores are an average of all the reviewers' scores with outliers removed. All of our cigars reviewed are shipped to the panelists with Boveda packs to ensure optimal smoking experience.
Vitola: Toro
Length: 6″
Ring Gauge: 50
Country of Origin: Nicaragua
Wrapper: Ecuadorian Connecticut
Binder: Undisclosed
Filler: Undisclosed
Factory: AJ Fernandez
Blender: Gary Griffith
Number of reviewers: 5—–Sandeep (Djangos) Craig (WyldKnyght) Brian (B-daddy) Jason H. (Jokey Smurf) Milton (mjohnsoniii)
Price: $12.40
Age: 6 Months
Release Date: 2012
Contributed by: House of Emilio
Initial Impressions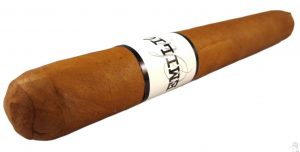 Appearance: 90
"A pretty and smooth Connecticut wrapper with no flaws or blemishes. Very tight seams and a neatly applied double cap. I like the look of it, particularly for this time of day (morning after breakfast)." –Brian (B-daddy)
Aroma: 93
"The cigar has a very sweet aroma, hard to pinpoint the various components but definitely had cinnamon and caramel. Also has a fruity component. The dry draw definitely has pepper and a tingling spice to the lips." –Sandeep (Djangos)
First Third
Flavor: 86
Strength: Medium-Strong
Body/Complexity: Medium-Full
"There are a ton of flavors to start with. There is definitely pepper that is quite strong and increases in intensity over the next inch. The pepper is almost pervasive and is on the lips tongue and back of the throat. There is a bit of harshness to the back of the throat as well. The other predominant flavor is of hay, and there are undertones of leather and grass. Again, there is some harshness to the flavors. There is some cinnamon to the lips as well. Unfortunately, even with this level of complexity present, these flavors don't seem to gel together and in the end I am finding it not so appealing. The ash is white and holding strong to the very end of the third. The draw is almost perfect with tons of creamy smoke. The burn was skewed to begin with but straightens out." –Sandeep (Djangos)
"Mild, slightly sweet. Slight coffee note. The texture is dry and there's just not much flavor. A little musty earth towards the end of the first third. Almost tastes like mushroom and a little grass flavor as well. All the flavors are very faint though. I find myself having to search for them." –Brian (B-daddy)
Second Third
Flavor: 88
Strength: Medium
Body/Complexity: Medium
"The spices and pepper started to mellow out during this third, there was lots of white smoke. About halfway through, I started to get some hay flavors. By the end of the third, the pepper was gone and I was getting lots of cinnamon and hay." –Craig (WyldKnyght)
"The strength of this cigar was pretty strong during the first third but seemed to settle down a bit going into the second third. There was still plenty of cilantro flavor with raw leather and a hint of cocoa, which was prominent at first, but can now only be tasted just barely. I also began tasting woody flavors at this point that kind of reminded me of that smell you get when opening a humidor that hadn't been opened in some time." –Milton (mjohnsoniii)
Final Third
Flavor: 88
Strength: Medium-Strong
Body/Complexity: Medium
"The final portion of this cigar, surprisingly, was much better. The bitterness and acrid flavors have disappeared, and have been replaced by leather and a nice white pepper. The cigar is now giving me tons of smoke and a nice creaminess that has been absent since lighting the cigar. Unfortunately, with about 2″ remaining, the smoke became very hot so I ended the cigar there. I really hated to do that because the cigar had just started to come into it's own." – Jason H. (Jokey Smurf)
"Surprisingly, the strength has kicked in again, but this time, there was a strong, sweet tobacco flavor that went along with it. This was definitely my favorite part of cigar. The cilantro tasted earlier has completely vanished leaving notes of chocolate, cedar and smoked meat. I've tasted better but there was something about this one that made it fairly unique. The sweetness was one that I haven't experienced in a cigar before." –Milton (mjohnsoniii)
Overall Impressions
Draw: 94
"The draw on this cigar was just fine. Some resistance, but not too much. No complaints!" – Jason H. (Jokey Smurf)
Burn: 93
"There were times where the burn was off a bit, but for the most part, it burned fairly even. I had to relight it once during the second third, but after that, it burned like a dream." –Milton (mjohnsoniii)
Construction: 93
"The construction of this cigar seemed to be very good, it was firm with no give when squeezed." –Craig (WyldKnyght)
Overall Strength: Medium-Strong
Overall Body/Complexity: Medium-Full
Overall Experience: 86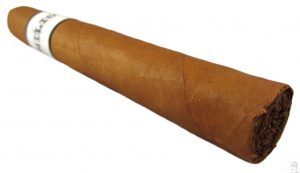 "Overall, the cigar was not in my profile. There were a lot of flavors in the beginning that did not go well with each other. Then, the complexity was entirely gone with just hay and leather like flavors for the rest of the time. There was also a lot of harshness in the beginning." –Sandeep (Djangos)
"I wish this cigar had been as good as it looked and smelled. I'm sure there are people out there that like this type of cigar, but there was way too much pepper and spice for my liking." –Craig (WyldKnyght)
"Although I've got nothing bad to say about this cigar, it just didn't do much for me. Even in mild sticks, I like more complexity and richness in the smoke texture. This didn't have much of it. Probably not a bad smoke for someone new to cigars or someone that likes mild, light bodied cigars. Not really for me though. I'll pass on smoking another." –Brian (B-daddy)
"Although the cigar ended well, it's just not possible for me to look past the impossibly rough start and un-enjoyable smoke through the first two thirds. Maybe it's young, maybe it's just the way these cigars will be…as it is, I won't go looking for another." –Jason H. (Jokey Smurf)
"I'd love to get my hands on a box or bundle or whatever of these. To me, this cigar is one that could be enjoyed while on the golf course or just sitting around at home enjoying company. I must admit that I was bit skeptical at first just from the color of the wrapper. It almost reminded me of a certain machine-made cigar that could picked up at the local gas station. I'm glad I can say that I was DEAD WRONG! I can't wait to see what this is. I'll be on the lookout for more." –Milton (mjohnsoniii)
Smoking Time (in minutes): 74
Total Score: 89 (Good)
Edit

| Reviewer | Appea-rance | Aroma | 1/3 | 2/3 | 3/3 | Draw | Burn | Constr. | Overall |
| --- | --- | --- | --- | --- | --- | --- | --- | --- | --- |
| Sandeep | 92 | 95 | 87 | 90 | 88 | 95 | 92 | 95 | 87 |
| Craig | 90 | 95 | 85 | 85 | 88 | 93 | 95 | 90 | 85 |
| Brian | 92 | 90 | 85 | 88 | 85 | 95 | 92 | 92 | 85 |
| Jason H. | 90 | 90 | 83 | 85 | 90 | 93 | 88 | 90 | 85 |
| Milton | 90 | 93 | 87 | 90 | 92 | 100 | 92 | 95 | 92 |
| Overall | 90 | 93 | 86 | 88 | 88 | 94 | 93 | 93 | 86 |
To view the complete scores and notes, click here.
Blind Cigar Review: Emilio | AF Suave Toro