Vital Stats: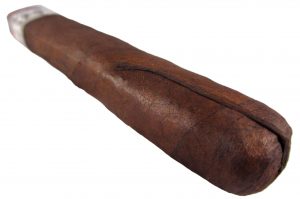 This cigar was reviewed blind (no bands) by a panel of at least 4 reviewers. They did not know what they were smoking beforehand. The scores are an average of all the reviewers' scores with outliers removed. All of our cigars reviewed are shipped to the panelists with Boveda packs to ensure optimal smoking experience.
Vitola: Double Toro
Length: 5.5″
Ring Gauge: 56
Country of Origin: Nicaragua
Wrapper: Connecticut Broadleaf Maduro
Binder: Nicaragua
Filler: Nicaragua
Factory: La Zona
Blender: Erik Espinosa
Number of reviewers: 5—–Ron (shuckins) Kent (Throck) Gregg (McGreggor57) Craig (WyldKnyght) Wes (SosaCub4Life)
Price: $10.95
Age: 4 Months
Release Date: July 2014
Contributed by: Espinosa Cigars
Initial Impressions
Appearance: 92
"A nice ebony box pressed cigar. The dark wrapper hides what few veins there are and the well applied cap clipped perfectly." –Gregg (McGreggor57)
Aroma: 91
"Light peppery wood, leather and coffee aromas have me excited to get started." –Ron (shuckins)
First Third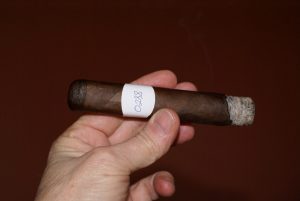 Flavor: 92
Strength: Medium
Body/Complexity: Medium
"Some "take your breath away" pepper hits me full on leaving a burnt coffee in the background and a little heat on my tongue. What an awesome way to start! A nice dark coffee begins to come through as the spice fades. Along with it, an earthiness of flavors develop." –Gregg (McGreggor57)
"There's definitely a mixture of spice and sweetness in the first third. There is a good amount of spice on the retrohale but also some nice sweetness in the flavor as well. The cigar has been producing lots of smoke and has been very well balanced so far." –Wes (SosaCub4Life)
Second Third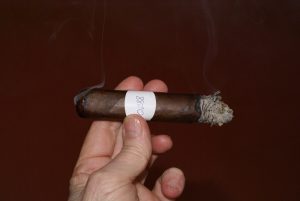 Flavor: 92
Strength: Medium
Body/Complexity: Medium
"Leather makes its way into the mix and really takes the edge off the dark coffee and earthy notes. A muted allspice comes and goes, adding a touch of sweetness now and again. The draw is opening up during this third." –Gregg (McGreggor57)
"The flavors from the first third, continued into the second, lots of nice cinnamon flavor with a hint of nut like flavors. Similar to the first third, I enjoyed the flavor profile of this cigar." –Craig (WyldKnyght)
Final Third
Flavor: 91
Strength: Medium
Body/Complexity: Medium
"More leather flavor moves forward to join the coffee and brings a touch of creaminess with it. This takes the edge off the wood as it turns to more of a cedar taste. There is enough pepper hanging around to keep the cigar awake and provides a little kick at the very end." –Ron (shuckins)
"The final third was my favorite part of the cigar; a sort of grande finale. Cherry flavors had completely transitioned to almond and leather, but done so in a subtle manner. In addition, the initial pepper/twang showed up once more within the last inch which made me fondly recount the initial light. This third also had a nicotine kick which added more to its final impression upon me." –Kent (Throck)
Overall Impressions
Draw: 95
"The draw was perfect from start to finish. Not too loose, not too tight." –Craig (WyldKnyght)
Burn: 92
"The burn on this cigar was perfect. Razor sharp all the way through. I even smoked outside with some wind and the burn line was just perfect the entire smoke." –Wes (SosaCub4Life)
Construction: 94
"Slight irregularities in the contours of the wrappers upon first glance were exactly just that, no issues were encountered during the smoke. The wrapper was properly humidified and showed no cracking or bulging." –Kent (Throck)
Overall Strength: Medium
Overall Body/Complexity: Medium
Overall Experience: 92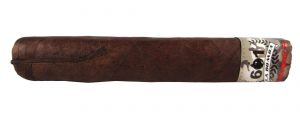 "A fun cigar to smoke, with ever changing flavors, from one extreme to the other. I would definitely smoke another one." –Ron (shuckins)
"I enjoyed the twang in the initial and final thirds that was reminiscent of Cubans. The draw was impeccable and the construction held firm. I especially enjoyed the last third that proved to be the stick's final hurrah. I would enjoy smoking this one again." –Kent (Throck)
"This cigar settled in quickly after the initial spice bomb. The robust coffee and pepper mellowed as the leather came into play making the transition through the thirds very enjoyable. A brief showing of allspice and tobacco added a sweet element that complimented the earthy notes." –Gregg (McGreggor57)
"Overall, this cigar was definitely one dimensional, no flavor changes, same cinnamon and nutty flavors throughout. Luckily, the flavor was very good and I did enjoy this cigar, and would definitely try it again." –Craig (WyldKnyght)
"Overall, it was a very good smoke. Good mix of spice, sweet, creamy that would move around throughout with some coming and going, yet all still in the mix. The cigar burned just perfect and produced lots of great smoke. Very enjoyable and very well made." –Wes (SosaCub4Life)
Smoking Time (in minutes): 71
Edit

| Reviewer | Appearance | Aroma | 1/3 | 2/3 | 3/3 | Draw | Burn | Constr. | Overall |
| --- | --- | --- | --- | --- | --- | --- | --- | --- | --- |
| Ron | 90 | 92 | 88 | 90 | 90 | 95 | 85 | 95 | 90 |
| Kent | 92 | 90 | 95 | 92 | 92 | 97 | 95 | 93 | 95 |
| Gregg | 92 | 90 | 92 | 92 | 90 | 90 | 90 | 90 | 90 |
| Craig | 90 | 85 | 90 | 90 | 90 | 100 | 90 | 93 | 90 |
| Wes | 95 | 92 | 95 | 92 | 95 | 93 | 100 | 97 | 95 |
To view the complete scores and notes, click here.
Blind Cigar Review: Espinosa | Warhead II
Blind Cigar Review: 601 | La Bomba Warhead II
92
Total Score - Excellent