Cigar Info
The A. Flores 1975 is available in a natural Habano Ecuador or a maduro Habano Ecuador. The binder & filler tobacco is a mix of Nicaraguan Habano with Dominican Corojo.
This cigar was reviewed blind (no bands) by a panel of at least 4 reviewers. They did not know what they were smoking beforehand. The scores are an average of all the reviewers' scores with outliers removed. All of our cigars reviewed are shipped to the panelists with Boveda packs to ensure optimal smoking experience.
The PDR A. Flores Serie Privada Habano and Maduro are a tribute to Abraham Flores who has become a major player in the world of boutique cigars. Since expanding his operation to his new state of the art factory in the Dominican Republic, the PDR brand has been manufacturer outstanding smokes. Popular brands are produced in this factory, which includes names such as Gurkha, La Palina, and Herrera.
Only the very best tobacco was used in these blends and rolled with the highest level of quality control. The PDR A. Flores Serie Privada cigars are box pressed and available in boxes of 20.
Vital Stats:
Vitola: Robusto
Length: 5″
Ring Gauge: 52
Country of Origin: Dominican Republic
Wrapper: Ecuadorian Habano Maduro
Binder: Nicaraguan Habano
Filler: Nicaraguan Habano and Dominican Corojo
Factory: PDR Cigars
Blender: Abe Flores
Number of reviewers: 4—–Jiunn (jliu) Jeff (ExpendableYouth) Gregg (McGreggor57) Emmett (BMP_Emmett)
Price: $9.75
Age: 2 Months
Release Date: 2012
Contributed by: PDR Cigars
Initial Impressions
Appearance: 95
"A beautiful ebony box pressed cigar with a perfectly applied cap. This one looks almost too good to smoke….almost." –Gregg (McGreggor57)
Aroma: 89
"Nosing the wrapper gives cedar and flowery perfume. Nosing the foot tells white pepper, sweet ripe stone fruits and cedar. Cold draw tells namely tingly white pepper, cedar and dry cardboard." –Jiunn (jliu)
First Third
Flavor: 91
Strength: Medium
Body/Complexity: Medium
"Burnt toast and strong coffee hit the palate while black pepper dominates the retrohale. A half inch in, the pepper fades, leaving behind a little char to some coffee, chocolate and woodsy flavors. As the third winds down, leather begins to develop and brings an earthiness to compliment the wood notes. Some grasses are now present on the retrohale." –Gregg (McGreggor57)
"The first few puffs are great, no too much spice but lots of flavor of coffee and leather. Further in, the spice picks up to round off the flavor profile. This is a text-book good maduro." –Emmett (BMP_Emmett)
Second Third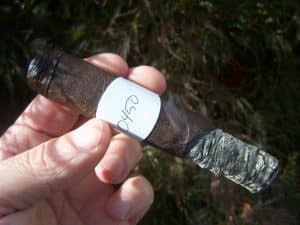 Flavor: 90
Strength: Medium
Body/Complexity: Medium-Full
"Second thirds flavors mature and develop from the first third. The core flavors are still there: cedar, burnt firewood and roasted dried nuts. The sweet cream is now distinctively full. The ripe stone fruit can often times be distinguished as ripe cherries. The white pepper spice still rounds out and balances the other flavors." –Jiunn (jliu)
"The second third has picked up a bit in the strength department, and has a light pepper to it now that wasn't present in the initial first third. The core flavors have remained the same, and I can still taste the chocolate, coffee and raisins." –Jeff (ExpendableYouth)
Final Third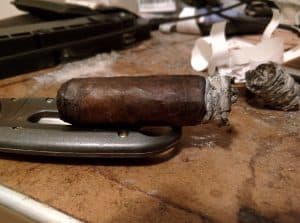 Flavor: 88
Strength: Medium
Body/Complexity: Medium
"Last third again develops but still maintains the core flavors of the first and second third. Still getting cedar, burnt firewood and roasted dried nuts. Now, the cigar gives namely a sweet and spicy flavor experience. The white pepper spice intensifies (but still nicely rounds out the other flavors) as well as the sweet creaminess." –Jiunn (jliu)
"The char is creeping back in as the leather fades. Although the wood and earth notes still dominate, the grassy flavors are increasing. A bit of chocolate finds the finish from time to time." –Gregg (McGreggor57)
Overall Impressions
Draw: 93
"The draw was great in the first third, then tightened up a bit in the second and third. Still nothing wrong with it though." –Emmett (BMP_Emmett)
Burn: 95
"This is probably the first perfect burning cigar of the year for me. Ashes held on in 1.5 inch increments. Every ash held strong and tight." –Jiunn (jliu)
Construction: 93
"No construction issues to speak of here. It performed flawlessly." –Jeff (ExpendableYouth)
Overall Strength: Medium
Overall Body/Complexity: Medium-Full
Overall Experience: 90
"If the cigar looks like a Padron (dark brown maduro, aggressive box press) and tastes like a Padron (full distinctive and powerful flavors), then… it is a Padron? I actually hope it isn't a Padron and it's something cheap. If so, easily a box of ten buy for me." –Jiunn (jliu)
"I enjoyed this cigar a lot, but there are a few cigars that I enjoy more in this flavor profile. I think if it had been a bit more of a complex smoke I would have really enjoyed it, but without bringing a bit more to the table I think I would pass on a buy. If someone offered me one, I wouldn't turn it down though." –Jeff (ExpendableYouth)
"This was a nice cigar full of robust flavors. The occasional anise, chocolate and tea created a nice contrast to the woodsy and earth tones. The balance was a little off near the end as the leather faded, but I would certainly smoke another one." –Gregg (McGreggor57)
"The first third of this cigar was text book awesome maduro, but things went a little downhill after that. It was never bad, but I wish the rest of the cigar had been as good. I would still definitely smoke these again and recommend that others try with a bit of rest. Overall, a very enjoyable cigar." –Emmett (BMP_Emmett)
Smoking Time (in minutes): 72
Reviewer

Appearance

Aroma

1/3

2/3

3/3

Draw

Burn

Constr.

Overall
Experience

Jiunn
jliu)
88
90
95
95
95
100
100
100
95
Jeff
ExpendableYouth)
93
88
90
90
90
93
93
93
90
Gregg
McGreggor57)
97
90
90
90
88
90
90
90
90
Emmett
BMP_Emmett)
95
95
92
90
88
95
97
95
90
To view the complete scores and notes, click here.
–
Blind Cigar Review: A. Flores | 1975 Serie Privada Capa Maduro SP52
Blind Cigar Review: A. Flores | 1975 Serie Privada Capa Maduro SP52
91
Total Score - Very Good