Cigar Info
The cigar, called simply HR for Hirochi Robaina's initials, contains no Cuban tobacco, and was rolled in Estelí, Nicaragua at the Cubanacan Cigars Factory S.A. It's the result of a project that started three years ago when Omar González Alemán, the master blender at Cubanacan who migrated to Costa Rica from Cuba in 2004, approached Hirochi Robaina, best known for growing the tobacco used in some of the most famous Cuban cigar brands in the world, with an idea.
This cigar was reviewed blind (no bands) by a panel of at least 4 reviewers. They did not know what they were smoking beforehand. The scores are an average of all the reviewers' scores with outliers removed. All of our cigars reviewed are shipped to the panelists with Boveda packs to ensure optimal smoking experience.
Alemán, 66, wanted to create a new cigar brand to honor Robaina's family legacy in the cigar industry, namely his grandfather, legendary Cuban tobacco farmer Alejandro Robaina. Alemán worked in the Cuban tobacco industry since he was nine years old, spending many of those years overseeing the La Corona Cigar Factory, one of the largest factories in Havana where Cuban brands such as Romeo y Julieta, Hoyo de Monterrey, Cuaba, Por Larrañaga, Saint Luis Rey, and San Cristóbal de la Habana are rolled. During this time, Alemán developed a lasting friendship with the elder Robaina.
Robaina headed the tobacco plantation called Cuchillas de Barbacoa in Pinar del Río, which had been in the family since the mid-1800s, for decades until four years ago, when he died after a long battle with cancer. It was then that Hirochi, who had worked at Alejandro's side for 14 years, took over asjefe of the farm.
Hirochi Robaina liked Alemán's idea and the two started collaborating on a blend that uses filler from Nicaragua's Jalapa Valley and Estelí regions, binder from Jalapa, and maduro wrapper grown in Ecuador from Habano 2000 seed. Cubanacan says HR is powerful.
Vital Stats: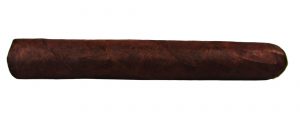 Vitola: Corona Gorda
Length: 5.12″
Ring Gauge: 48
Country of Origin: Nicaragua
Wrapper: Ecuadorian Habano 2000 Hybrid Maduro
Binder: Nicaraguan, Jalapa
Filler: Nicaraguan, Esteli and Jalapa
Factory: Cubanacan Cigars Factory S.A.
Blender: Hirochi Robaina and Omar González Alemán
Number of reviewers: 5—–Jason H. (Jokey Smurf) Wes (SosaCub4Life) Paul (pmr1010) Robert (NavyPiper) Jason (bigslowrock)
Price: $18.99
Age: 2 Months
Release Date: Undisclosed
Contributed by: Cubanacan
Initial Impressions
Appearance: 94
"I'm a sucker for a nice closed foot cigar and this fits the bill. It has a really nice brown oily wrapper with just the lightest bit of tooth to it. The veins, while visible, enhance the look of the cigar." –Jason (bigslowrock)
Aroma: 93
"Notes of cedar and creamy chocolate. This cigar smells delicious!" –Wes (SosaCub4Life)
First Third
Flavor: 91
Strength: Medium-Strong
Body/Complexity: Medium-Full
"The first puffs of the cigar are packed full of super spicy pepper. It coats your mouth and tongue and then about blows you away on the retro. After a few puffs, the spicy pepper backs off just a touch but is still the powerhouse of this stick. The draw is great, burn and ash so far are great and it's producing wonderful amounts of smoke. Off to a great start!" –Wes (SosaCub4Life)
"Upon lighting, there was a lot of power, not a true full strength cigar, but still a lot. Smoke poured off of the foot and more than usual coming from the head. The flavors were a little difficult to discern because of the amount of smoke. Once the initial smoke settled down a little I was able to detect coffee and chocolate which was easy to understand by looking at the wrapper. Complex it wasn't, but the flavor was nice. Sometimes a straight forward smoke is just what you need, and I think it did the job well with this. Cocoa and tobacco flavors came in as the first third was turning into the second." –Paul (pmr1010)
Second Third
Flavor: 94
Strength: Medium-Strong
Body/Complexity: Medium-Full
"The second portion of this cigar has continued with the coffee notes, but has now picked up a bit of leather and more of the earth has come forward. The smoke has become luxuriously smooth and rich, and there is a notable oil on my palate after each puff. Due to this, each puff is long lasting, and the finish is lingering. I'm finding this quite enjoyable." –Jason H. (Jokey Smurf)
"Holy Smokes Batman, this has been a great third! Tobacco, baking spices and pepper- 3 of my favorites! Great combination, and again, I'm impressed at the crispness/cleanness of the flavors, no muddiness in the mix, all quite distinct but working wonderfully together, and very enjoyable!" –Robert (NavyPiper)
Final Third
Flavor: 91
Strength: Medium
Body/Complexity: Medium-Full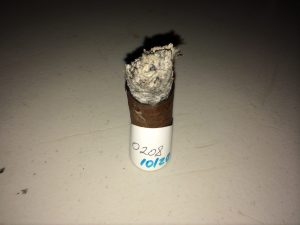 "The final third of this cigar displayed another transition for me. The coffee note, sadly, faded away, but now was replaced with a bit of black pepper mixed with the leathery earth. In addition, there was just a hint of dried fruit in the fading finish…maybe a bit of apricot or fig…not really able to pinpoint it, but it's there, and it's good. The smoke output has remained copious and has retained it's oily characteristic. I can literally feel the slick that has developed on the roof of my mouth and my palate." –Jason H. (Jokey Smurf)
"The strong pepper returns. It doesn't ever cross the line of too much though. I would have easily smoked this one to the end on a non review day despite being more of a medium/medium-plus smoker. The creaminess, cedar and spice is still there to the end, but fading as the pepper increases." –Jason (bigslowrock)
Overall Impressions
Draw: 96
"The draw on this cigar was just about as good as it gets…like a perfectly blended milkshake. As a result, the smoke volume was extraordinary and allowed me to experience all of the delightfully deep flavors this cigar had to offer." –Jason H. (Jokey Smurf)
Burn: 95
"The burn line did get off during the second third but corrected itself. I never had to retouch or relight. The cigar produced lots of great smoke the entire time." –Wes (SosaCub4Life)
Construction: 91
"Construction looks to be very well made. The wrapper seems to be high quality, shape is great, seams are well done. Head/Cap are very nice, and the foot is encased by the wrapper. Stogie is very firm, very little give when pressed and it feels dense and heavy." –Robert (NavyPiper)
Overall Strength: Medium-Strong
Overall Body/Complexity: Medium-Full
Overall Experience: 94
"This cigar falls solidly into the category of great for me…The flavors were superb, the construction and performance were extraordinary and the overall experience was a delight. I strongly recommend this to any BOTL who likes a deep earthy cigar. Please point me to the place where I can get more." –Jason H. (Jokey Smurf)
"Overall, this was a good stick. Not great, but very good for me. It did transition from a powerful spice bomb at first to a more relaxing creamy smoke in the middle and then the spice came back some at the end. It has been very enjoyable and I would smoke this stick again. It's been a nice hour that I would gladly enjoy again." –Wes (SosaCub4Life)
"A solid daily go to cigar to have with coffee as the flavors really compliment each other. Not necessarily a special occasion cigar, as I don't feel the complexity was enough to wait for, but on a daily basis I think you'd know what you were getting out of every one." –Paul (pmr1010)
"I loved it- need I say more? I enjoyed every aspect of this cigar, from its appearance, construction and smoking it. Kinda hated to see it end… I'd take a box or 2 anytime!" –Robert (NavyPiper)
"I really enjoyed this cigar, nice flavor changes, well balanced flavors and would even consider picking up a 5-10 pack, despite it not being in my normal flavor wheel house. I usually don't compare cigars to other cigars in my reviews, but I really couldn't get this thought out my head while smoking it. The cigar really reminded me of the original release Dirty Rats as far as the flavor profile and changes throughout the cigar. Just to give anyone a heads up that enjoyed that cigar, you'll probably like this one." –Jason (bigslowrock)
Smoking Time (in minutes): 61
Edit

| Reviewer | Appearance | Aroma | 1/3 | 2/3 | 3/3 | Draw | Burn | Constr. | Overall |
| --- | --- | --- | --- | --- | --- | --- | --- | --- | --- |
| Jason H. | 93 | 95 | 92 | 93 | 92 | 97 | 97 | 97 | 95 |
| Wes | 97 | 97 | 97 | 95 | 92 | 100 | 93 | 95 | 95 |
| Paul | 95 | 88 | 90 | 90 | 90 | 88 | 93 | 90 | 90 |
| Robert | 93 | 90 | 90 | 93 | 90 | 88 | 97 | 90 | 93 |
| Jason | 95 | 95 | 97 | 95 | 95 | 95 | 85 | 90 | 95 |
To view the complete scores and notes, click here.
–
Blind Cigar Review: Cubanacan | HR Hermoso (prerelease)
Blind Cigar Review: Cubanacan | HR Hermoso (prerelease)
93
Total Score - Excellent