Cigar Info
Part of Davidoff's "Black Label" series, which includes the company's lauded Nicaragua blend, Escurio is being rolled in Santiago, Dominican Republic, at the company's factory with a mixture of Brazilian Mata Fina and Dominican filler tobaccos, a Brazilian cubra binder and an Ecuador Habano wrapper that is dark, shiny and oily.
This cigar was reviewed blind (no bands) by a panel of at least 4 reviewers. They did not know what they were smoking beforehand. The scores are an average of all the reviewers' scores with outliers removed. All of our cigars reviewed are shipped to the panelists with Boveda packs to ensure optimal smoking experience.
Escurio was officially launched at this summer's IPCPR trade show. The sizes are meant to be relatively quick smokes, as each is less than six inches long. There are three shapes: Petit Robusto, which measures 3 1/4 inches long by 50 ring gauge and will retail for $8.50; Robusto, 4 1/2 by 54, $15.90; and Gran Toro, 5 1/2 by 58, $17.90.
Escurio is packaged in black wooden boxes with metallic foil that contain 12 to 14 cigars as well as four-packs, with the Escurio halfmoon logo emblazoned on top. Coinciding with the launch of Escurio, Davidoff has created a line of cigar accessories. The accessories line includes a jetflame lighter, punch cutter, and two leather cigar cases designed to accommodate the smaller Escurio sizes.
Vital Stats: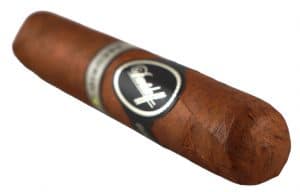 Vitola: Robusto
Length: 4.5″
Ring Gauge: 54
Country of Origin: Dominican Republic
Wrapper: Ecuadorian Habano
Binder: Brazilian Cubra
Filler: Dominican San Vicente, Piloto and Olor/Piloto Seco and Brazilian Cubra and Mata Fina
Factory: Cigars Davidoff
Blender: Undisclosed
Number of reviewers: 4—–Jiunn (jliu) Robert (NavyPiper) Wes (SosaCub4Life) Craig (WyldKnyght)
Price: $15.90
Age: 2 Months
Release Date: July 2015
Contributed by: Davidoff
Initial Impressions
Appearance: 92
"The appearance indicates that this stogie is well made by someone who knows their skill. The 'Tale of the Tape' shows dimensions to be 4 1/2 X 55. Color is medium brown with no blemishes or defects. Seams are well done. There is a small vein running about 2/3 of the length of the cigar starting at the head/cap, but is not an issue. The head is very mildly rounded with a short shoulder." –Robert (NavyPiper)
Aroma: 88
"The wrapper had a nice barnyard smell. The foot smelled like tobacco and coffee. The dry puff tasted like cocoa and tobacco." –Craig (WyldKnyght)
First Third
Flavor: 93
Strength: Medium
Body/Complexity: Medium-Full
"This is one of the most (if not the most) nuanced and complex cigars that I have blind reviewed. The cigar is overall very complex, nuanced and thick bodied. In terms of tasting notes, most realized note (jumps out at me the most) is sweet cream and milk chocolate. Encompassing those flavors, notes of sweet hay, cedar, damp earth that at times tastes like cheese, bread and well mannered oily white pepper zing. Through the retrohale, only noticeable difference is the increase in white pepper. Although the body is fairly heavy, the finish is short, mainly consisting of a faint oily tongue sticking white pepper. Strength is at a medium and body is at a medium plus." –Jiunn (jliu)
"This cigar was fairly easy to light for a larger ring gauge. The initial flavors were woody and nutty with a smoky, almost like fire pit smoke aftertaste. The smoke was thick and creamy, just the way I like it." –Craig (WyldKnyght)
Second Third
Flavor: 91
Strength: Medium-Strong
Body/Complexity: Medium-Full
"In the second third, the spice really ramps up and blends in well with the tobacco. Leather fades to third in the order of flavors. There's one spot of the wrapper that doesn't want to burn, so there's this pretty even line and then this pointed peak. That is until I zapped it with my lighter, now no more problem and things are back to burning nice and even." –Robert (NavyPiper)
"The second third has been much like the first. Spice is still the main flavor, but there is an increase in the overall creaminess of the cigar. The burn is razor sharp and it has been producing lots of great smoke. Very well made cigar, we'll see how it transitions into the final third." –Wes (SosaCub4Life)
Final Third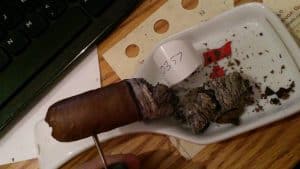 Flavor: 88
Strength: Medium-Strong
Body/Complexity: Medium-Full
"Last thirds tasting notes is even more tame than the second third. Now I'm mainly getting sweet cream and cedar. The spice is nearly gone and the other flavors are as well. Strength stays at a medium and body at a medium plus." –Jiunn (jliu)
"Toward the end of the final third, I started to pick up some bitterness. The strong spice has faded some and is not overpowering on the retrohale, but you still get it on the back of the throat. There is still the nice creaminess with the smoke, and it continues to burn razor sharp and produce tons of smoke." –Wes (SosaCub4Life)
Overall Impressions
Draw: 98
"Draw was amazing from start to stop. Not too tight, and not to loose." –Robert (NavyPiper)
Burn: 96
"Burn was close to perfect. The first thirds ash was picture perfect in the sense of a very tight ash. Second and last thirds ash was slightly flowery, but again, I am being incredibly picky." –Jiunn (jliu)
Construction: 95
"The construction of this cigar was perfect. From the razor sharp burn, the tons of smoke it produced and the perfect draw. This was one very well made cigar." –Wes (SosaCub4Life)
Overall Strength: Medium-Strong
Overall Body/Complexity: Medium-Full
Overall Experience: 92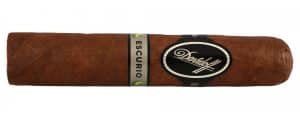 "I'm sort of scratching my head on this one. The first third left me mind blown. Second third, less mind blown. Last third just made me go ""eh."" What happened. I'll pass on buying any of these. In order for me to buy the cigars with my hard earned money, it has to be great all the way through." –Jiunn (jliu)
"Overall, it was pretty good. First third, the flavors seemed a little lost, like the flavors weren't sure where each fit in the scheme of things. Then, the second third things started to come around and blend well. Then comes the final third with the powerhouse of spice! I'd definitely go for some more." –Robert (NavyPiper)
"Overall, the cigar was OK. The construction was off the charts. It started out as a spice bomb, but did settle down some. I did pick up some bitterness towards the end. This would be a cigar I would like to smoke again due to its perfect construction to see how it smoked a second time." –Wes (SosaCub4Life)
"I really enjoyed this cigar. It was definitely right in the middle of my preference. From the woody/nutty flavor, to the thick creamy smoke. I will definitely be smoking this cigar again." –Craig (WyldKnyght)
–
Smoking Time (in minutes): 70
Reviewer

Appearance

Aroma

1/3

2/3

3/3

Draw

Burn

Constr.

Overall
Experience

Jiunn
jliu)
92
88
97
90
85
95
97
95
90
Robert
NavyPiper)
90
88
88
90
90
98
88
90
90
Wes
SosaCub4Life)
92
85
93
90
88
100
100
100
90
Craig
WyldKnyght)
92
92
95
95
90
98
97
95
97
To view the complete scores and notes, click here.
–
Blind Cigar Review: Davidoff | Escurio Robusto
Blind Cigar Review: Davidoff | Escurio Robusto