Cigar Info
This is a new limited edition cigar from Diesel and AJ Fernandez. Diesel Rage showcases an ultra-dark Ecuadorian Habano Sun Grown Oscuro wrapper overtop a recipe of Cuban-seed Nicaraguan long-fillers grown for this project on AJ's farms. The company says it "delivers an overload of complex flavors including earth, vanilla, coffee, spices, and cedar, all while offering just enough strength without becoming overpowering."
This cigar was reviewed blind (no bands) by a panel of at least 4 reviewers. They did not know what they were smoking beforehand. The scores are an average of all the reviewers' scores with outliers removed. All of our cigars reviewed are shipped to the panelists with Boveda packs to ensure optimal smoking experience.
Vital Stats: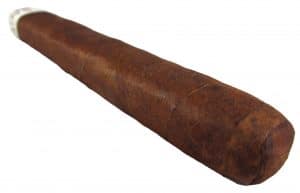 Vitola: Toro
Length: 6″
Ring Gauge: 54
Country of Origin: Nicaragua
Wrapper: Ecuadorian Habano Sun Grown Oscuro
Binder: Nicaragua
Filler: Nicaragua
Factory: Tabacalera Fernandez
Blender: AJ Fernandez
Number of reviewers: 5—–Jack (Jack_H) Steve (ThaGreatWazoo) Ron (shuckins) Robert (NavyPiper) Stefan (Stefan)
Price: $11.00
Age: 3 Months
Release Date: Undisclosed
Contributed by: Blind Man's Puff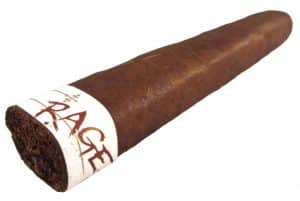 Initial Impressions
Appearance: 91
"Tonight's review is a very good looking stogie. The tale of the tape reveals it to be 6X55, and is Box Pressed. Color is medium dark brown and uniform in color with no blemishes. It has a good box pressed shape with slightly rounded edges. Seams are flawless. Head and cap look good, with the only minor issue being that the head is a little higher on one end than the other." –Robert (NavyPiper)
Aroma: 92
"I get a rich dark leather with a subtle chocolate. There are earthy notes as well." –Jack (Jack_H)
First Third
Flavor: 92
Strength: Medium-Strong
Body/Complexity: Medium-Full
"First impression is loads of leather and rich soil. This cigar tastes just like it smells off the bat, which is more rare than you would think, in my experience. The smoke is thick and black pepper is prevalent on the retrohale. This cigar is medium in strength and really complex. It has the right balance of sweetness and richness." –Jack (Jack_H)
"First third started with a bang! After punching the cap and firing up, I'm hit with a nose hair scorching pepper blast for roughly one third of the third. After this, the pepper fades out, replaced by a medium strength tobacco with a faint mild sweetness, leather and a spice that is somewhat bold, offsetting the mild sweetness of the tobacco. Quite interesting and a nice combination of flavors." –Robert (NavyPiper)
Second Third
Flavor: 90
Strength: Medium
Body/Complexity: Medium
"Some of the strength has worn off on this cigar. The fruitiness continues and takes center court. Still, hints of blackberries and plums swirl around and compliment each other quite nicely." –Steve (ThaGreatWazoo)
"A smooth tasting coffee and leather blend leads the way to the front. A light peppery and woodsy tobacco flavor make a fine accompaniment with its nuances and gentle, but entertaining kick right when it was needed to keep me interested in the cigar." –Ron (shuckins)
Final Third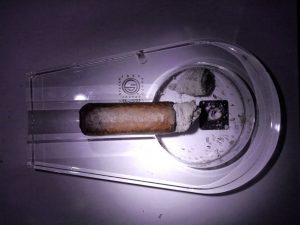 Flavor: 91
Strength: Medium-Strong
Body/Complexity: Medium
"The final third tasted like toasted walnuts and cinnamon. It is not sweet by any means, but not rich. It is earthy with medium strength and some nice smoother tones. It is somewhat forgettable after the strong start, but I am still enjoying it." –Jack (Jack_H)
"The final third is marked by soft leather notes accompanied by cocoa flavors which increase in intensity as the stogie progresses to the nub. Toward the end, there is also an addition of subtle hickory smoke flavors, mouth-watering green leaf tannin bitterness and sour fruit skin notes that make for a refreshing end for this smoke." –Stefan (Stefan)
Overall Impressions
Draw: 92
"No issues with the draw. Cut the cap and lit it up." –Steve (ThaGreatWazoo)
Burn: 90
"Slightly uneven at times but self-correcting and holding the ash pretty well." –Stefan (Stefan)
Construction: 92
"A little spongy in the middle, but not enough to affect the performance of the cigar as it smoked beautifully." –Ron (shuckins)
Overall Strength: Medium-Strong
Overall Body/Complexity: Medium-Full
Overall Experience: 89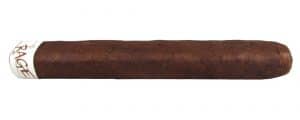 "This cigar is outwardly beautiful, inwardly complex and totally progressive. It's been a while since I've had a cigar so vastly different in each of the three parts. The cigar did lack the refined nature that puts a cigar on the top shelf. There was an overlying harshness that kept this cigar from being truly great, but nevertheless it was damn good." –Jack (Jack_H)
"This was a different than normal experience for me. I have not had too many fruit forward cigars. This one was quite nice. The balance of blackberries, coupled with a nice pepper finish to start, was very enjoyable and had me wanting more cigars in this area. Grab one of these and enjoy the nuances." –Steve (ThaGreatWazoo)
"Nothing really shined or stood out flavor wise to have any impact, so ho hum for my experience." –Ron (shuckins)
"I liked it. Had some interesting flavors, some changes and the spice at the end was very good. The whole experience of the cigar, from viewing its appearance, giving it the nasal appraisal, to feeling the slight give when pressed to punching the cap and lighting up was a great time. The smoke itself was very nice, with the only issue being the burn. Other than that, it was a great hour and a half enjoying a nice stogie and an iced coffee on a Friday night after work. Great way to start my weekend!" –Robert (NavyPiper)
"An outstanding stogie that should appeal to both novice and experienced smokers." –Stefan (Stefan)
–
Smoking Time (in minutes): 82
Reviewer

Appearance

Aroma

1/3

2/3

3/3

Draw

Burn

Constr.

Overall
Experience

Jack
Jack_H)
95
92
92
90
90
92
95
95
90
Steve
ThaGreatWazoo)
88
92
92
90
92
88
85
88
90
Ron
shuckins)
90
92
88
90
88
95
88
92
88
Robert
NavyPiper)
90
88
90
90
90
88
85
90
90
Stefan
Stefan)
92
90
92
92
92
97
95
95
95
To view the complete scores and notes, click here.
–
Blind Cigar Review: Diesel | Rage Toro
Blind Cigar Review: Diesel | Rage Toro
91
Total Score - Very Good