Vital Stats: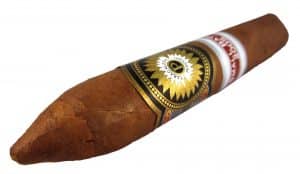 This cigar was reviewed blind (no bands) by a panel of at least 4 reviewers. They did not know what they were smoking beforehand. The scores are an average of all the reviewers' scores with outliers removed. All of our cigars reviewed are shipped to the panelists with Boveda packs to ensure optimal smoking experience.
Vitola: Belicoso
Length: 5″
Ring Gauge: 54
Country of Origin: Nicaragua
Wrapper: Nicaraguan Sun Grown
Binder: Nicaragua
Filler: Nicaragua
Factory: Tabacalera Perdomo S.A.
Blender: Nick Perdomo
Number of reviewers: 4—–Jeff (ExpendableYouth) Stefan (Stefan) Wes (SosaCub4Life) Dave (mdwest)
Price: $6.50
Age: 3 Months
Release Date: April 2015
Contributed by: Blind Man's Puff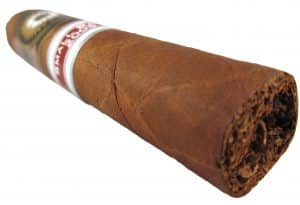 Initial Impressions
Appearance: 92
"Wrapped in a medium brown, toothy and veiny leaf with tight seams and a well executed cap. This is a nice looking belicoso." –Dave (mdwest)
Aroma: 89
"The cigar has leather, cedar and tobacco notes at the foot, and a light pepper and citrus flavor on the pre-light draw." –Jeff (ExpendableYouth)
First Third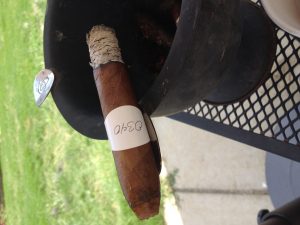 Flavor: 89
Strength: Medium-Strong
Body/Complexity: Medium
"I lit the cigar with a soft flame from my table top and the immediate flavors that jump out at me are black pepper, vegetal and cedar flavor. As is with most cigars, it mellows about ten to fifteen puffs in and the black pepper turns into a more pleasant, to my palate, white pepper profile. It continues to have lots of cedar and some vegetal flavors up front, and the retrohale has a stronger pepper profile with a smoky wood on the back end. This stick has a great smoke output, just the right amount of resistance and a solid white ash." –Jeff (ExpendableYouth)
"At first, the cigar came out with a lot of spice, pepper and was just real strong. It did quickly settle down and the strong spice on the retrohale faded. There is still some spice that hits the back of the throat, but as the strong overall spice faded the cigar became more creamy." –Wes (SosaCub4Life)
Second Third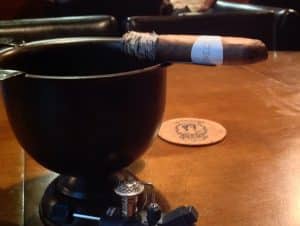 Flavor: 88
Strength: Medium-Strong
Body/Complexity: Medium
"Strength is solidly medium-strong during the second third as the flavor profile becomes dominated by understated flavors of campfire smoke with a hint of wood and some white pepper zing on the finish which seems to increase in strength as the smoke progresses. The smoke is still a bit harsh overall, but seemingly less so than before, while the stogie is already mushy at the head. First ashing occurs close to the midpoint." –Stefan (Stefan)
"The second third is almost identical to the first except that the nut type flavors start to come on a little stronger and begin to mask the wood type flavors that were so prevalent in the beginning." –Dave (mdwest)
Final Third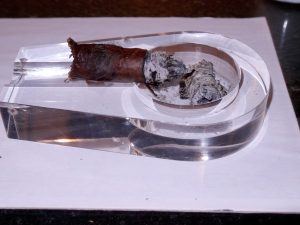 Flavor: 86
Strength: Medium-Strong
Body/Complexity: Medium
"The cigar is still much of the same smoky cedar and light pepper, but I am picking up the vegetal profile again which is nice as it mixes things up a bit. The retrohale has lost its sweet taste going into the final third, but the smoky cedar flavors are still there. I also started to pick up a coffee taste on the retrohale that pops in and out, but is a bit too inconsistent to name as a core flavor. The ash on this stick is fantastic and has fallen off twice in the entire length of the smoke. It continues to have a nice thick smoke and mouth feel right into the end of the cigar." –Jeff (ExpendableYouth)
"The last third is marked by mostly tobacco notes joined by faint black pepper and a good dose of acidity on the finish. A little cream also creeps in toward the end of the last third. The stogie gets progressively more spongy making it close to impossible to smoke it to the end of the nub." –Stefan (Stefan)
Overall Impressions
Draw: 92
"The draw was very good and I didn't have any issues. Maybe it was a bit on the tight side, but overall it was good." –Wes (SosaCub4Life)
Burn: 94
"Excellent burn throughout." –Stefan (Stefan)
Construction: 93
"Overall construction was good. The cigar held a good ash and had a good draw and burn." –Wes (SosaCub4Life)
Overall Strength: Medium-Strong
Overall Body/Complexity: Medium
Overall Experience: 89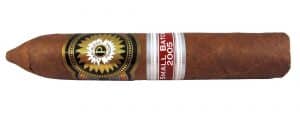 "My overall experience with this cigar was positive, and while it's not a complex cigar, it remained a very consistent one. I would recommend this if you were going to be sipping a scotch and reading a book, or even having a conversation with friends. It won't blow your socks off or make you want to pick up a box, but it is a great smoke when you want to relax, zone out for a little while and have a smoke." –Jeff (ExpendableYouth)
"A solid smoke overall with flawed construction." –Stefan (Stefan)
"This cigar I would have to say was just OK for me. The final third was the worst and the first two thirds were pretty good. There was some good spicy pepper and the cigar was also creamy with a hint of sweetness, but then the end turned rather bitter." –Wes (SosaCub4Life)
"Anxiously awaiting the reveal on this one. The flavors were right up my alley, and performance was strong. I'd smoke this one again anytime." –Dave (mdwest)
–
Smoking Time (in minutes): 76
Reviewer

Appearance

Aroma

1/3

2/3

3/3

Draw

Burn

Constr.

Overall
Experience

Jeff
ExpendableYouth)
97
90
90
88
87
97
100
100
90
Stefan
Stefan)
90
90
88
88
85
90
90
85
88
Wes
SosaCub4Life)
92
90
90
90
85
95
95
95
90
Dave
mdwest)
88
88
90
88
87
85
93
90
90
To view the complete scores and notes, click here.
–
Blind Cigar Review: Perdomo | Small Batch 2005 Sun Grown Belicoso
Blind Cigar Review: Perdomo | Small Batch 2005 Sun Grown Belicoso
90
Total Score - Very Good