Vital Stats: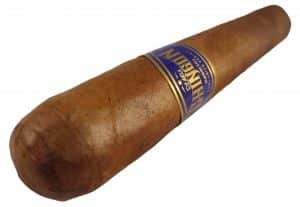 This cigar was reviewed blind (no bands) by a panel of at least 4 reviewers. They did not know what they were smoking beforehand. The scores are an average of all the reviewers' scores with outliers removed. All of our cigars reviewed are shipped to the panelists with Boveda packs to ensure optimal smoking experience.
Vitola: Double Toro
Length: 6.5″
Ring Gauge: 60
Country of Origin: Honduras
Wrapper: Ecuadorian Habana 2000
Binder: Honduran Corojo
Filler: Dominican Republic, Honduras and Mexico
Factory: Agroindustria LAEPE S.A.
Blender: Matt Booth
Number of reviewers: 5—–Jeff (ExpendableYouth) Jiunn (jliu) Dan (Danfish) Ron (shuckins) Alan (Eulogy)
Price: $7.50
Age: 3 Months
Release Date: April 2015
Contributed by: Famous Smoke Shop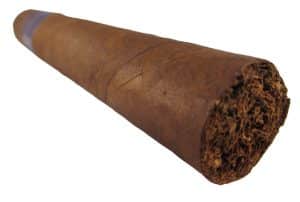 Initial Impressions
Appearance: 88
"This is a nice looking cigar. It is well rolled with tight seams, minimal veins and a well applied quad cap. The cigar itself has a medium brown wrapper with no blemishes and uniform in color from the head to the foot." –Alan (Eulogy)
Aroma: 92
"Quite pleasant aroma of cedar and tobacco with a bit of pepper. I didn't pick up much from the pre-light draw, but there was a bit of sweetness and wood." –Dan (Danfish)
First Third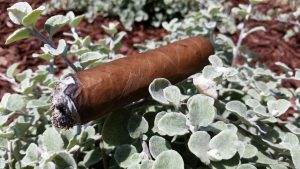 Flavor: 89
Strength: Medium
Body/Complexity: Medium
"First thirds flavors reveal spades of sweet creaminess that reminds me of sweet Hawaiian bread. Surrounding these flavors, notes of cedar, leather and slight black pepper. Through the retrohale, the intensity of the black pepper increases making the flavor profile more well rounded. The finish is of a lingering cedar and leather. Both body and strength at a solid medium." –Jiunn (jliu)
"Starts off with a dry tasting cedar up front, followed closely by a light peppery tobacco flavor. The cigar smoked along smoothly this way until a touch of coffee found its way into the mix, bringing a stale tasting leather flavor with it." –Ron (shuckins)
Second Third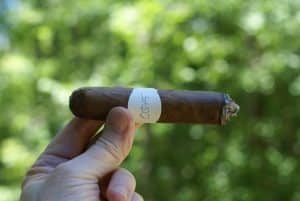 Flavor: 88
Strength: Medium
Body/Complexity: Medium
"The second third continues with more of the same smoky tobacco, salt and mineral retrohale as earlier and stays that way the entire length of this third. Towards the end of the second third, it picks up the cedar flavor that was lost in the first third and the smokiness fades out now. The retrohale is still an earthy mineral flavor with some woodiness now." –Jeff (ExpendableYouth)
"The second third continues the same flavors the first third ended with. Just some cedar and tobacco. The cedar sometimes is a little dry and other times isn't. No transitions whatsoever so the stick is a bit boring." –Dan (Danfish)
Final Third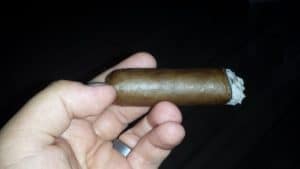 Flavor: 86
Strength: Medium
Body/Complexity: Medium
"No noticeable changes in flavors as I smoke toward the end, just a bit of jostling for position. More coffee, less leather, more wood, less cedar taste. The pepper stayed about the same, but never did anything noteworthy, which was a disappointment and left the cigar lacking an exciting finish." –Ron (shuckins)
"The biggest change so far in the cigar happens now with the loss of cream on the retrohale. Dry leather is still the most dominant flavor on the draw with undertones of hay and cedar still. The retrohale has developed a strong mineral flavor with floral undertones. The nicotine level has spiked considerably over this last third." –Alan (Eulogy)
Overall Impressions
Draw: 88
"Draw was on the looser end of the spectrum. Very similar to just breathing air. This worried me from the get go, risking the smoke being too hot. Thankfully, this did not happen." –Jiunn (jliu)
Burn: 87
"The burn was great throughout the smoke and only needed one touch up." –Jeff (ExpendableYouth)
Construction: 88
"Burned and smoked with little effort on my part, probably because if it being rolled too loose." –Ron (shuckins)
Overall Strength: Medium
Overall Body/Complexity: Medium
Overall Experience: 87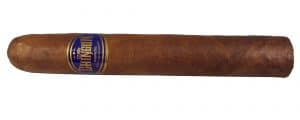 "I am not really a fan of large ring gauges, and this one by no means blew me a way, but it wasn't a bad smoke either. While I had a few construction issues, a burn issue and it lacked complexity, it was a good smoke to relax with because you really don't have to think too hard about this one. I wouldn't personally buy a box, or even a fiver for that matter, but I wouldn't turn it down if I was offered one." –Jeff (ExpendableYouth)
"Overall, a good one dimensional cigar. The sweet creamy bread, cedar, leather and subtle black pepper made this an enjoyable cigar. But given such a big cigar, in order to be great, there needs to be more complexities and transitions in flavor, body and strength. Given the opportunity, I would smoke this again but will not seek out to buy any." –Jiunn (jliu)
"This cigar wasn't bad, but it didn't have enough going for it to keep me interested. If offered to me in a much smaller ring gauge, I would smoke it again, but it's not one I will be seeking out. If it's available at a low price point it's a decent cigar for a newer smoker or as something you don't need to pay much attention to during yardwork/golfing." –Dan (Danfish)
"I'm gonna put this in the "middle of the road" section, as nothing really stood out, but it wasn't a total waste of time either. Hopefully others have better results, and I can put this one down as just a bad one in the bunch as happens from time to time." –Ron (shuckins)
"I enjoyed this cigar. It was a bit one dimensional, but it was pleasant. Due to its size, I would have trouble finding time to smoke this as an every day cigar, but when I am reading a book outside or playing poker with friends I think this would be great cigar because it doesn't require a lot of attention." –Alan (Eulogy)
–
Smoking Time (in minutes): 99
Reviewer

Appearance

Aroma

1/3

2/3

3/3

Draw

Burn

Constr.

Overall
Experience

Jeff
ExpendableYouth)
88
90
90
88
85
95
90
90
87
Jiunn
jliu)
85
88
88
88
87
85
83
85
87
Dan
Danfish)
85
92
88
85
85
83
85
85
85
Ron
shuckins)
90
92
88
88
85
83
90
83
85
Alan
Eulogy)
90
92
90
90
90
92
87
95
90
To view the complete scores and notes, click here.
–
Blind Cigar Review: Room101 | El Mas Chingon No. 3
Blind Cigar Review: Room101 | El Mas Chingon No. 3