Vital Stats: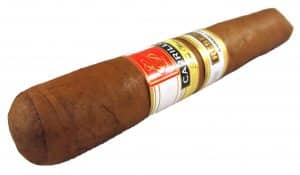 Vitola: Robusto
Length: 5″
Ring Gauge: 50
Country of Origin: Dominican Republic
Wrapper: Ecuadorian Connecticut
Binder: Connecticut Broadleaf
Filler: Nicaragua and Dominican Republic
Factory: Tabacalera La Alianza S.A.
Blender: E.P. Carrillo
Number of reviewers: 5—–Jeff (ExpendableYouth) Jiunn (jliu) Craig (WyldKnyght) Kent (Throck) Wes (SosaCub4Life)
Price: $6.65
Age: 3 Months
Release Date: December 2014
Contributed by: Blind Man's Puff
This cigar was reviewed blind (no bands) by a panel of at least 4 reviewers. They did not know what they were smoking beforehand. The scores are an average of all the reviewers' scores with outliers removed. All of our cigars reviewed are shipped to the panelists with Boveda packs to ensure optimal smoking experience.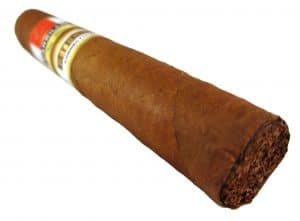 Initial Impressions
Appearance: 90
"A natural tan brown wrapper with almost no oils present. Cigar is decently rolled with a couple soft spots present (one near the foot and one near the cap). Veins are for the most part are slobbishly pressed. The cap is finished off with a well adhered triple cap." –Jiunn (jliu)
Aroma: 91
"Mostly grass, hay, some slight cedar… Nothing too exciting." –Wes (SosaCub4Life)
First Third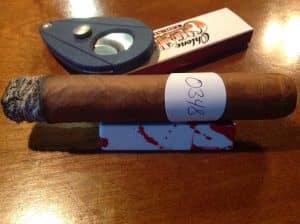 Flavor: 91
Strength: Medium
Body/Complexity: Medium
"This cigar was fairly easy to light and started with a mild spiciness and nutty flavor. The burn was very even. I started to pick up flavors of nuts and woody notes as it went along. The smoke felt oily and it was light and wispy. I started to get a metallic flavor near the end of the third." –Craig (WyldKnyght)
"I considered the first third the best section. Leather flavors were present along with a slow burn on the back of my tongue. It was definitely not the most complex cigar that I've had, but it left me thinking that more complexity was yet to come." –Kent (Throck)
Second Third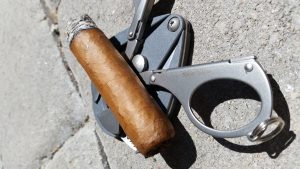 Flavor: 88
Strength: Medium
Body/Complexity: Medium
"Second third is for the most part a continuation of the first third. The once copious amounts of sweet cream is now more of an intermittent flavor. The core of the flavors has become dried nuts and cedar. The finish now has a pronounced bitterness mixing in with the white pepper. Body is still at a medium minus and strength still at a medium. " –Jiunn (jliu)
"The second third was much like the first. Some nice overall spice to the cigar. Picking up a bit of sweetness also. The ash held on amazing, the draw has loosened up and it's producing a lot of smoke. Good cigar so far." –Wes (SosaCub4Life)
Final Third
Flavor: 85
Strength: Medium
Body/Complexity: Medium
"As I continue into the final third, I find that the grassiness has left and was replaced with a toasted bread note that really rounds out the roasted coffee flavors on the tongue. The retrohale continues to have a sweet floral profile that has been pleasant throughout the whole smoke. This overall profile remains the same until the end of the smoke." –Jeff (ExpendableYouth)
"Last third mimics the second third. Intermittent sweet cream, plentiful notes of dried nuts, cedar and bitterness. Body is still at a medium minus and strength still at a medium. " –Jiunn (jliu)
Overall Impressions
Draw: 97
"This smoke had a perfect draw throughout. The resistance was spot on and the smoke output was phenomenal." –Jeff (ExpendableYouth)
Burn: 98
"The burn was beautiful. It was even and the ash was adherent to the cigar for almost an inch, and when it fell, it stayed together." –Kent (Throck)
Construction: 92
"This cigar seemed to be really well made, it was very soft when squeezed and the weight was fairly light. The ash was rough and was marbled grey in color and solid. The smoke seemed to change with each third, it started out thin, then thick during the second third, then medium for the final third." –Craig (WyldKnyght)
Overall Strength: Medium
Overall Body/Complexity: Medium
Overall Experience: 88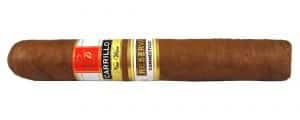 "This was a really nice mild cigar. It had everything I look for in a nice smoke. The burn and construction were perfect, the flavor profile changes kept me interested throughout and it was a solid smoke the whole way through. My only real complaint would be that the transitions were small at best, and I would have liked to see a light white pepper or a citrus note or something like that to break up the consistency. I would definitely like to pick up a fiver to try a few more and see if it is as consistently good, but having only one I would still recommend it." –Jeff (ExpendableYouth)
"Not much to get excited about this cigar. Overall, the cigar was missing body and build up of flavors. The bitterness present within the entire cigar made for an unpleasant experience often times taking away from the good flavors (sweet cream, cedar, dried nuts). This is an easy pass for me." –Jiunn (jliu)
"This cigar started out with so much promise, the construction and aroma seemed almost flawless. The burn and draw were perfect, the first third was great, but then it went down hill from there. There was a metallic flavor that persisted for the rest of the cigar." –Craig (WyldKnyght)
"This was a lower-middle end cigar for me. It was not terrible, but nothing that I would actively go out and smoke again. The flavor combination was fairly basic and at times, one note. The sulphur taste at the cap was a disappointing end." –Kent (Throck)
"Overall, I did enjoy this cigar. I didn't notice any real changes to it throughout the smoke, but it was very good all the way through. Had a nice amount of spice while staying creamy with a hint of sweetness. I would smoke again." –Wes (SosaCub4Life)
–
Smoking Time (in minutes): 69
Reviewer

Appearance

Aroma

1/3

2/3

3/3

Draw

Burn

Constr.

Overall
Experience

Jeff
ExpendableYouth)
97
92
97
97
97
100
100
100
95
Jiunn
jliu)
83
88
85
80
80
83
90
85
83
Craig
WyldKnyght)
95
95
92
85
75
100
100
92
85
Kent
Throck)
83
88
88
83
83
95
98
85
85
Wes
SosaCub4Life)
92
90
90
92
90
93
95
97
90
To view the complete scores and notes, click here.
–
Blind Cigar Review: E.P. Carrillo | New Wave Connecticut Reserva Robusto
Blind Cigar Review: E.P. Carrillo | New Wave Connecticut Reserva Robusto
90
Total Score - Very Good