Vital Stats:
Vitola: Perfecto
Length: 6.62″
Ring Gauge: 52/38
Country of Origin: Honduras
Wrapper: Nicaraguan Habano
Binder: Nicaragua
Filler: Nicaragua
Factory: Fabricas Unidas
Blender: Christian Eiroa
Number of reviewers: 5 —– Robert (NavyPiper) Sandeep (Djangos) Craig (WyldKnyght) Milton (mjohnsoniii) Derek (StogieNinja)
Price: $9.00
Age: 5 months rest
Release Date: June 2013
Contributed by: Blind Man's Puff
Initial Impressions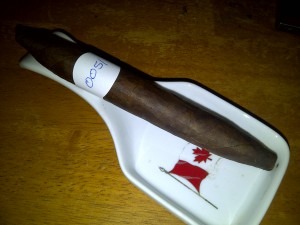 Appearance: 90
"Nice figurado shape. Beautiful variegated chocolate color. Wrapper is slightly toothy with a few veins, and nice flat seams." –Derek (StogieNinja)
This cigar was reviewed blind (no bands) by a panel of at least 4 reviewers. They did not know what they were smoking beforehand. The scores are an average of all the reviewers' scores with outliers removed. All of our cigars reviewed are shipped to the panelists with Boveda packs to ensure optimal smoking experience.
Aroma: 90
"Very nice milk chocolate smell and flavor on the dry puff." –Craig (WyldKnyght)
Construction: 90
"Very well constructed, firm with a little give. This cigar looks very appealing." –Craig (WyldKnyght)
First Third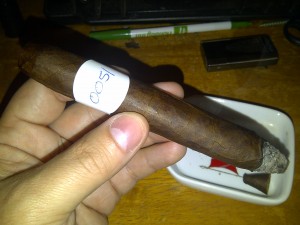 Flavor: 88
Strength: Medium-Strong
Body/Complexity: Medium
"This was a very nice start! Spice, brown sugar, cinnamon and bread dough, reminded me of a Bear Claw with some zip! A tiny bit of pepper. Very smooth and great flavors- none overpowering and blending well together. This is a great start with a lot of smoke, I loved this third!" –Robert (NavyPiper)
"Sweet, spicy and nutty. I was expecting the usual blast of pepper upon the initial light but to the contrary, I was greeted by hints of walnuts, coffee and a mixture of nutmeg and cinnamon. At the end of this third, the burn got a little wacky and the smoke didn't billow as much as I would've liked it to." –Milton (mjohnsoniii)
Second Third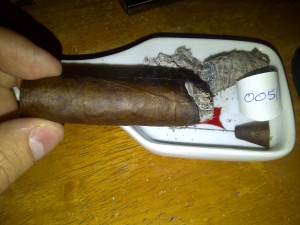 Flavor: 89
Strength: Medium-Strong
Body/Complexity: Medium
"The smoke thickened and became a lot creamier than it had been during the first third. The burn looked as if it could begin to even itself out as well. The coffee and walnuts have subsided leaving the slight sweetness of the nutmeg and a very small hint of cinnamon. The retrohale leaves a very creamy coating on the palate and some spice in the back of the throat. So far, this cigar has proven to be very good." –Milton (mjohnsoniii)
"Pepper amps up just a little, with bitter chocolate and espresso at the front, a little nuttiness and some spices also present. There's still a bit of metallic bitterness there. A dry wood has also appeared, which helps round things out nicely." –Derek (StogieNinja)
Final Third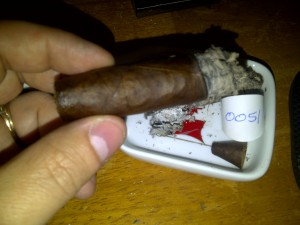 Flavor: 88
Strength: Medium-Strong
Body/Complexity: Medium-Full
"The flavors are almost the same consisting mostly of cedar and leather. Some tobacco and pepper are still present. However now some harshness is creeping in. The burn line is much better and almost straight now. The wrapper is no longer unraveling at this time. The ash is as flaky as ever and at least twice fell on my keyboard. The smoke and draw are still almost perfect. I am definitely being left wanting more from this one." –Sandeep (Djangos)
"Still pepper at the front, occasional chocolate and nuts, especially on the retrohale, and still that persistent harshness that smacks of iron or herbal bitterness." –Derek (StogieNinja)
Overall Impressions
Draw: 92
"The draw really did this cigar some justice. It had the right amount of resistance that allowed me to enjoy all that it had to offer." –Milton (mjohnsoniii)
Burn: 89
"Nice even burn, no complaints." –Craig (WyldKnyght)
Overall Strength: Medium-Strong
Overall Body/Complexity: Medium-Full
Overall Experience: 87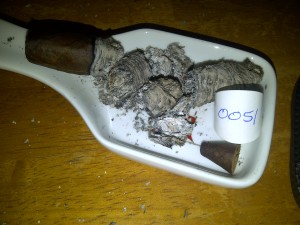 "I loved this thing! I enjoyed the flavors, body, draw, burn, everything! I'd take one of these anytime! Can't wait to see what it was so I can get some!" –Robert (NavyPiper)
"Overall, the cigar was very one dimensional with a lot of pepper and woodsy flavors. I wish it had more complexity and change in flavors. I experienced a lot of issues with the wrapper unraveling and hence causing burn issues. Not sure if it was just me or a general fault. In all, probably ok but not in my flavor profile." –Sandeep (Djangos)
"This cigar was definitely not to my liking, way too much pepper. Those who enjoy a lot of pepper will probably like this cigar." –Craig (WyldKnyght)
"The flavors of this cigar blended wonderfully. The nutty flavors, hints of sweetness and spice along with the barnyard notes had me reaching for my DrawPoker so I could nub it as much as possible. I would venture to say that this cigar could be in the mid to upper tier category of cigars and will probably be accompanied with a pretty steep price tag. Hopefully not because I'd love to end up with a box or two of these in the humidor for future pleasure." –Milton (mjohnsoniii)
"I really wanted to like this one. It had hallmarks of a cigar I'd like: great burn, lots of smoke, decent draw, and mostly great flavors. But the herbal and metallic bitterness throughout was distracting, and took away from an otherwise pleasant experience. I'm really hoping that the bitterness was a one-off situation, and will be very interested to see what the group as a whole says." –Derek (StogieNinja)
Smoking Time (in minutes): 66
Total Score: 89 (Good)
Edit
Reviewer
Appea-
rance
Aroma
Constr.
1/3
2/3
3/3
Draw
Burn
Overall
Robert
89
89
89
94
94
94
94
94
94
Sandeep
89
90
89
89
89
87
92
87
86
Craig
90
90
90
88
87
86
90
90
85
Milton
91
90
90
89
90
92
94
87
91
Derek
91
90
92
87
88
87
90
93
87
Overall
90
90
90
88
89
88
92
89
87
To view the complete scores and notes, click here
Blind Cigar Review: Edgar Hoill | Pasion