Vital Stats:
Vitola: Robusto
Length: 5″
Ring Gauge: 50
Country of Origin: Dominican Republic
Wrapper: Ecuadorian Connecticut
Binder: Dominican Criollo 98
Filler: Olor Dominicano, Piloto Cubano
Factory: Tabacalera Real de Felipe Gregorio
Blender: Felipe Gregorio
Number of reviewers: 6 —– Brian (B-daddy) Cindy (Ms_CindyLynn) Robert (NavyPiper) Sandeep (Djangos) Jason (bigslowrock) Emmett (rhetorik)
Price: $5.50
Age: 4 Months Rest
Release Date: July 2013
Contributed by: Felipe Gregorio
Cigar Info:
From Manufacturer – "In an age where the trend is to smoke stronger blends, many aficionados find the cigars too full bodied. White smoke is a medium bodied cigar that delivers the flavor but not the punch."
This cigar was reviewed blind (no bands) by a panel of at least 4 reviewers. They did not know what they were smoking beforehand. The scores are an average of all the reviewers' scores with outliers removed. All of our cigars reviewed are shipped to the panelists with Boveda packs to ensure optimal smoking experience.
Initial Impressions
Appearance: 89
"The wrapper was a tan color with a yellow green tint. There were minimal veins and there were small black dots that mainly appeared by the cap." –Cindy (Ms_CindyLynn)
Aroma: 89
"Sweet hay, tobacco, and touch of cocoa. Nice. Not too pronounced." –Brian (B-daddy)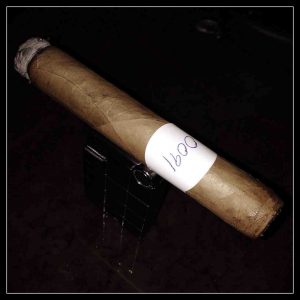 Construction: 90
"Construction looks good, no soft spots or major problems, but again the wrapper is just a little shorter than the binder." –Emmett (rhetorik)
First Third
Flavor: 90
Strength: Mild-Medium
Body/Complexity: Medium
"This third of the cigar is delivering some nice flavors. Honey and grassiness are the dominate drivers with a nice touch of cloves in the background. I'm also picking up some touches of earthiness as I progress through the third." –Jason (bigslowrock)
"Not much strength or pepper to start, but the initial flavors are nice. The first flavors are very nutty, perhaps marzipan, mixed in with some earth. After the first few puffs the smoke volume increases nicely and starts to get a little spice mixed in. Pretty mellow spices, maybe some nutmeg and allspice. Getting further into this third, the flavors continue to develop, but the finish has a distinct papery taste, a common problem with connecticut wrappers." –Emmett (rhetorik)
Second Third
Flavor: 88
Strength: Mild-Medium
Body/Complexity: Medium
"Starting to get a 'tanginess' on the draw, and the cigar seems to be running hot. Pepper has decreased. Still has the old wood flavor, and now a flavor like sagebrush is coming in. An interesting combination of flavors that seems to work well together." –Robert (NavyPiper)
"The second third takes the flavors from the first and takes it forward. Predominantly hay and leather. the problem is that half way into the third the tar begins to build up again. This is causing a bitterness in my mouth. After a little more snipping the flavors are back again. The draw and burn again are to die for with a lot of creamy smoke. The ash is very firm now and holding close to an inch and half before falling off. The pepper is slowly dying down towards the end of this third but persisting towards the back of the throat." –Sandeep (Djangos)
Final Third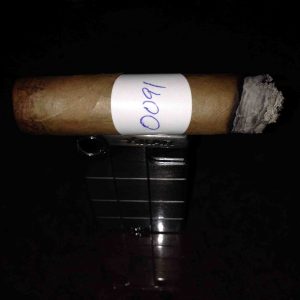 Flavor: 88
Strength: Medium
Body/Complexity: Medium
"In the final third, the wood flavors turn ashy with some vegetal bitterness, kind of like celery seed. There's a little bit of ammonia bite in the retrohale. The smoke stays pretty cool through to the nub but the flavors aren't very pleasant." –Brian (B-daddy)
"Nice creamy mouth feel with earth and cloves throughout most of this third. Unfortunately, the third ends on a pretty harsh note leaving me to dock it a couple points." –Jason (bigslowrock)
Overall Impressions
Draw: 92
"Just a little tighter than I would prefer, but no problems." –Emmett (rhetorik)
Burn: 92
"Almost a perfect razor sharp burn. Great ash retention and decent smoke output." –Jason (bigslowrock)
Overall Strength: Medium
Overall Body/Complexity: Medium
Overall Experience: 89
"I enjoyed this cigar. It had an interesting combination of flavors that seemed to work well together. It did run hot the whole time, and the draw was difficult, which was my only problem with this cigar. Other than that it was a pleasure to smoke." –Robert (NavyPiper)
"There was not much to this cigar. Flavors were ok to start but turned muddled, then bland, then unpleasant. I wouldn't smoke it again."
"Had it not been for the tar build up the cigar would definitely have scored higher on the scale. the flavors are pleasant and like able throughout. I will try this one again for sure. The burn and draw are to almost die for on this one." –Sandeep (Djangos)
"It wasn't very interesting. This cigar was very dry and salty. To be honest, I wouldn't smoke this again." –Cindy (Ms_CindyLynn)
"I really liked this cigar. If I was in the mood for this flavor profile, would smoke it again without hesitation." –Jason (bigslowrock)
"This cigar was good flavor-wise, but has some technical difficulties that made the experience harder to enjoy. The burn gave me trouble and I had intermittent bitterness and a papery finish. Parts were very good, but they did not outweigh the problems." –Emmett (rhetorik)
Smoking Time (in minutes): 60
Total Score: 90 (Very Good)
To view the complete scores and notes, click here
Edit
Reviewer
Appea-
rance
Aroma
Constr.
1/3
2/3
3/3
Draw
Burn
Overall
Brian
94
91
90
89
87
84
98
88
86
Cindy
88
85
90
79
77
71
85
98
72
Robert
88
88
87
91
92
91
84
93
91
Sandeep
91
88
90
89
86
89
93
93
89
Jason
92
93
94
92
94
90
93
95
93
Emmett
88
88
90
89
86
87
90
84
87
Overall
89
89
90
90
88
88
92
92
89
Blind Cigar Review: Felipe Gregorio | White Smoke Biretta