Cigar Info
This is another cigar from United Cigar Retailers, the group that brought you the Atabey, which we recently scored a hefty 92. The Fleur de Reine is available in both a natural and maduro wrapper in 4 different sizes: Quatre (4.875 x 52); Cinq (5.5 x 54); Six (5.875″ x 60) and Sept (7 x 58). The cigars can be found on 2guyscigars.com, which is owned by United Cigar Retailers, as well as other authorized United Cigar Retailers.
This cigar was reviewed blind (no bands) by a panel of at least 4 reviewers. They did not know what they were smoking beforehand. The scores are an average of all the reviewers' scores with outliers removed. All of our cigars reviewed are shipped to the panelists with Boveda packs to ensure optimal smoking experience.
According to United Cigar Retailers this cigar is "Bold and rich with spicy, full flavor, Fleur de la Reine is made up of a blend of Honduran and Nicaraguan filler tobaccos surrounded by a Dominican binder, but the wrapper is what separates the flavors between the Natural or Maduro versions. Ecuadorian Sumatra is highlighted on the Natural and it's U.S.A. Connecticut Broadleaf on the Maduro version."
Vital Stats:
Vitola: Robusto
Length: 5.5″
Ring Gauge: 54
Country of Origin: Honduras
Wrapper: Connecticut Broadleaf Maduro
Binder: Dominican Republic
Filler: Honduras and Nicaragua
Factory: Plasencia
Blender: David Garofalo
Number of reviewers: 5—–Gregg (McGreggor57) Alan (Eulogy) Sandeep (Djangos) Craig (WyldKnyght) Jack (Jack_H)
Price: $6.29
Age: 3 Months
Release Date: August 2010
Contributed by: United Cigar Group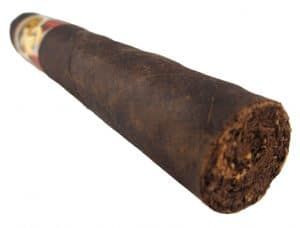 Initial Impressions
Appearance: 92
"This cigar is beautiful, the wrapper is this dark, toothy beast with few veins. There are some discolorations, but nothing I am concerned about." –Jack (Jack_H)
Aroma: 93
"The cigar has a scent of cedar from the wrapper. The pre-light draw and foot has a dark chocolate and raisin smell." –Alan (Eulogy)
First Third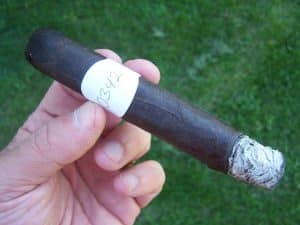 Flavor: 92
Strength: Medium-Strong
Body/Complexity: Medium-Full
"There is a noticeable absence of spice as this cigar jumps headfirst into rich coffee and earthy flavors. A little nutmeg in the background adds a nice finishing touch. Midway in, the earthier notes are fading, allowing more of the baking spices to mingle with the stronger coffee. This third is full of flavor and subtle movements." –Gregg (McGreggor57)
"The first few puffs have a very distinct coffee flavor that leads into a cedar and chocolate flavor. The retrohale tastes of earth, coffee and nuts reminding me of a Illusione Rothchild. I really enjoy the dichotomy of the standard draw and the retrohale, it's almost like smoking two great cigars." –Alan (Eulogy)
Second Third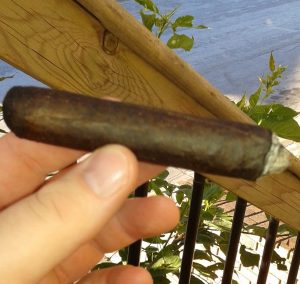 Flavor: 88
Strength: Medium-Strong
Body/Complexity: Medium-Full
"Some cocoa develops and pairs nicely with the nutmeg/allspice and coffee. The flavors move around, re-establish and then change up again. This is a fun third to smoke." –Gregg (McGreggor57)
"The second third increases in two things that seem contrary but somehow work together; sweetness and strength. I get (and this may sound crazy) burnt marshmallow. I feel the need to explain myself here, the cigar is sweet, but also somewhat harsh so it creates this burnt sweetness that is pretty unique." –Jack (Jack_H)
Final Third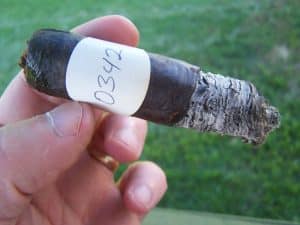 Flavor: 89
Strength: Medium-Strong
Body/Complexity: Medium
"The final third also has the similar flavors of hay and grass with some woodiness now. There is a mild cedar like characteristic. The pepper is still not very prominent. There is some more pronounced leather flavor now towards the end. Also, towards the very end, the pepper picks up and increases in intensity until the very end. This is a welcome respite to the otherwise underwhelming flavor profile for this cigar. No issues present with the burn and draw." –Sandeep (Djangos)
"This third had pretty much the same flavor from the first two thirds, lots of pepper and wood, but was mellower. The one good thing was that the smoke really got thick and creamy." –Craig (WyldKnyght)
Overall Impressions
Draw: 95
"No issues encountered with the draw from the start to the finish." –Sandeep (Djangos)
Burn: 93
"Volumes of thick smoke with a nice light ash that hung on for days." –Gregg (McGreggor57)
Construction: 91
"This cigar seemed to be well constructed. It was firm with some sponginess when squeezed. It felt like it had some weight to it. The ash was a medium grey in color and solid." –Craig (WyldKnyght)
Overall Strength: Medium-Strong
Overall Body/Complexity: Medium-Full
Overall Experience: 89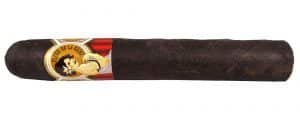 "Wonderful flavors through and through made this an enjoyable experience. The richer coffee and earthiness was balanced perfectly with some cocoa and nutmeg/allspice. I appreciated the transitions within the profile and will be looking to pick more of these up in the future." –Gregg (McGreggor57)
"The second half is what really lowers the overall experience. The first half was a standout and was almost like smoking two really great cigars. If the whole experience was like the first half I would go out and buy a box immediately. The second third was not enjoyable. It took almost 45 minutes to get through it and the increasing mineral flavor on the retrohale and draw made it almost unsmokeable. I might try another but I certainly wouldn't purchase one." –Alan (Eulogy)
"Overall, the cigar was quite ordinary and underwhelming with respect to the flavor profile. The major flavors were a muted hay and grass with a mild pepper thrown in. I was left wishing for a stronger flavor profile and transitions. It's not something that I would go seeking for." –Sandeep (Djangos)
"There were some good things, construction and thick ceamy smoke at the end, and one bad thing, the burn, but overall it was a good smoke, which I would smoke again." –Craig (WyldKnyght)
"I liked this cigar, I didn't love it. There was a lot of strength, a lot of flavor and a lot of good things going for this cigar, but for some reason it didn't click with me. It was a little too bitter too often for it to click with me. I would try it again with some age to see if it smooths out some more." –Jack (Jack_H)
–
Smoking Time (in minutes): 91
Reviewer

Appearance

Aroma

1/3

2/3

3/3

Draw

Burn

Constr.

Overall
Experience

Gregg
McGreggor57)
88
90
92
92
90
90
93
90
92
Alan
Eulogy)
95
95
97
83
90
95
93
95
88
Sandeep
Djangos)
92
88
85
88
88
97
90
92
85
Craig
WyldKnyght)
90
97
92
88
88
100
83
90
88
Jack
Jack_H)
95
93
90
90
90
90
97
90
90
To view the complete scores and notes, click here.
–
Blind Cigar Review: Fleur de la Reine | Maduro Cinq
Blind Cigar Review: Fleur de la Reine | Maduro Cinq
91
Total Score - Very Good