The "Revisited" review concept allows us to perform a follow up review on a cigar we have reviewed previously. These follow up reviews will be performed when the cigar has a year or more of age on them to see if time has been kind or not so kind to the cigar. The same reviewers are participating in both the original and follow up reviews whenever possible.
Vital Stats:
This cigar was reviewed blind (no bands) by a panel of at least 4 reviewers. They did not know what they were smoking beforehand. The scores are an average of all the reviewers' scores with outliers removed. All of our cigars reviewed are shipped to the panelists with Boveda packs to ensure optimal smoking experience.
Vitola: Robusto
Length: 5″
Ring Gauge: 52
Country of Origin: Dominican Republic
Wrapper: Ecuadorian Habano
Binder: Nicaraguan Rosado
Filler: Nicaraguan and Dominican Ligero, Brazilian Mata Fina and American Dark Fire
Factory: Cuevas
Blender: Sam Leccia
Number of reviewers: 5—–Ron (shuckins) Gregg (McGreggor57) Sandeep (Djangos) Robert (NavyPiper) Wes (SosaCub4Life)
Price: $8.30
Age: 1 Year
Release Date: May 2013
Contributed by: Leccia Tobacco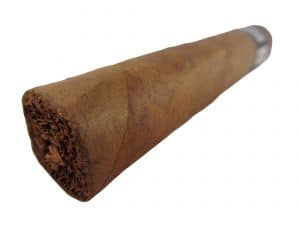 Initial Impressions
Appearance: 92
"Nice looking robusto with minimal veins and very nice seams. Very light shade of brown, but doesn't look like a Connecticut." –Wes (SosaCub4Life)
Aroma: 91
"Leather and hay greet me on the wrapper while a nice surprise of hay and campfire were present on the foot. The cold draw was more campfire with a little sweet cedar." –Gregg (McGreggor57)
First Third
Flavor: 91
Strength: Medium
Body/Complexity: Medium-Full
"The initial third starts off with a blast of white pepper and then moves on to a more spicy cayenne. The spice level increases over the next half inch. After this point, the spice and pepper begins to mellow out quite rapidly. After the pepper mellows out, the major flavors are hay and grass with a leather background. There is still pepper in every puff that adds to the complexity. Overall, a good start. The burn was skewed to start with but straightened out on its own. No issues with the draw. The ash was almost white and flaky and held for about an inch before falling off." –Sandeep (Djangos)
"Very nice start. The cigar has some nice spice to it, especially on the retrohale, but also has a nice smooth creaminess to it as well. So far it's been a perfect balance." –Wes (SosaCub4Life)
Second Third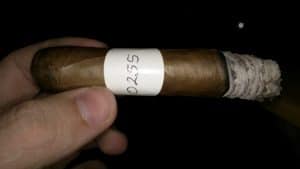 Flavor: 90
Strength: Medium
Body/Complexity: Medium
"Leather is providing a creaminess to the oak as the smokiness of some campfire pushes the coffee into the background. A little allspice is present from time to time adding a touch of sweetness. Nearing the end, an earthiness comes into the mix." –Gregg (McGreggor57)
"Moving into the second third, the flavors are the same, but while progressing into the third, I find them very slowly increasing in strength. It was such a gradual change I didn't catch it at first, as I was totally relaxed and enjoying this stogie. Also, at maybe roughly the 1/2 way point, there was a gradual shift in flavor. In addition to the anise, there was an additional spice flavor that blended perfectly with the existing flavors, morphing the anise into it. Still very smooth, with an amazing combo of flavors that is a joy to my palate. Some spice zing in the sinuses, but not displeasing in any way." –Robert (NavyPiper)
Final Third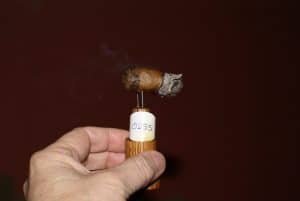 Flavor: 90
Strength: Medium
Body/Complexity: Medium
"A little light pepper flavor jumped in to join the nutmeg and chase the creaminess away. The cedar, along with a trace of cocoa, kept a fair amount of sweetness to the cigar. There was a pleasant little kick at the very end, but not enough of one to boost the strength level of the cigar." –Ron (shuckins)
"The final third does a 180 as allspice and nutmeg mix with some grasses and faint florals. Leather remains in the background while cedar transitions, replacing the oak in the profile. I was not expecting this dramatic of a shift. It was a very nice surprise." –Gregg (McGreggor57)
Overall Impressions
Draw: 89
"The draw was a little firm at times, but still produced plenty of tasty smoke." –Ron (shuckins)
Burn: 92
"The burn started off skewed but corrected itself without the need for any touch ups." –Sandeep (Djangos)
Construction: 92
"There were absolutely no issues with the construction during the smoke. It seemed like a very quality made stogie." –Robert (NavyPiper)
Overall Strength: Medium
Overall Body/Complexity: Medium-Full
Overall Experience: 91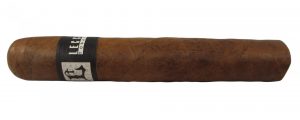 "I really enjoyed this cigar. There were not a lot of flavor changes, but the ones it had were very pleasing to my palate." –Ron (shuckins)
"This cigar was a treat to smoke. The flavors of the first third seemed to find their way into the mix one at a time while the middle married them together in a near perfect balance. The complete change of direction during the final third allowed this cigar to gradually ramp down and finish on a softer, sweeter note. The transitions were noticeable and provided a solid range of developed flavors." –Gregg (McGreggor57)
"Overall, this cigar was a pleasant experience with a reasonable degree of complexity. I was slightly put off with some harshness and bitterness, but this did not last very long and probably because it's not aged. I will definitely try this one again." –Sandeep (Djangos)
"OK, I loved it, and I want more, more, more, and MORE! Need I say more?! LOL! This was a terrific stogie, from its appearance, to smoking it. It was smooth and full of flavor. After getting back into the groove of my civilian job after my 2 weeks annual active military duty and a meeting immediately after work tonight, coming home to this stogie was definitely a nice way to begin a weekend of rest and relaxation. Like I said, unless it's a review, I don't smoke Churchill sized stogies, but for this guy, I'd make an exception. 70 minutes for this smoke was way too short for my satisfaction!" –Robert (NavyPiper)
"Overall, I'd have to say the cigar was pretty good. It was definitely more spicey up front and then turned into more of a smooth, creamy smoke with the spices coming back towards the end. I would probably smoke this again to see if the draw was better. I can see this being a good morning cigar with coffee." –Wes (SosaCub4Life)
–
Smoking Time (in minutes): 66
Original Score: 92 (Excellent)
To view the original review, click here.
Reviewer

Appearance

Aroma

1/3

2/3

3/3

Draw

Burn

Constr.

Overall
Experience

Ron
shuckins)
92
92
90
90
90
90
95
88
90
Gregg
McGreggor57)
90
90
92
92
92
90
90
90
92
Sandeep
Djangos)
92
92
90
90
90
97
88
95
90
Robert
NavyPiper)
90
90
90
90
90
88
90
95
95
Wes
SosaCub4Life)
95
88
97
90
90
88
95
92
90
To view the complete scores and notes, click here.
–
Blind Cigar Review: Leccia | Black 552 Robusto – Revisited
Blind Cigar Review: Leccia | Black 552 Robusto – Revisited
91
Revisited Total Score - Very Good