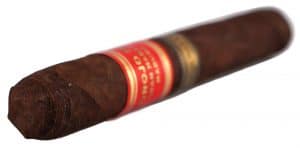 Vital Stats:
This cigar was reviewed blind (no bands) by a panel of at least 4 reviewers. They did not know what they were smoking beforehand. The scores are an average of all the reviewers' scores with outliers removed. All of our cigars reviewed are shipped to the panelists with Boveda packs to ensure optimal smoking experience.
Vitola: Toro
Length: 6″
Ring Gauge: 54
Country of Origin: Honduras
Wrapper: Nicaragua
Binder: Habano
Filler: Nicaragua and Costa Rica
Factory: G.R. Tabacaleras Unidas, S.A.
Blender: George A. Rico
Number of reviewers: 5—–Gregg (McGreggor57) Sandeep (Djangos) Craig (WyldKnyght) Alan (Eulogy) Stefan (Stefan)
Price: $8.00
Age: 4 Months
Release Date: July 2015
Contributed by: Gran Habano
Initial Impressions
Appearance: 86
"This Robusto Extra sized cigar had a rough, oily wrapper that was oscuro in color. It had a couple large veins and a bunch of medium sized ones. The seam was nearly invisible and it had a nice triple cap." –Craig (WyldKnyght)
Aroma: 90
"A leathery aroma with hints of dry semi-sweet cocoa. Cold draw has woodsy flavors." –Stefan (Stefan)
First Third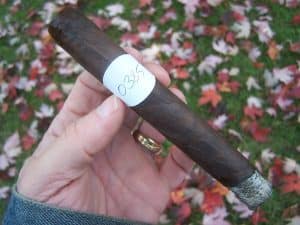 Flavor: 90
Strength: Medium-Strong
Body/Complexity: Medium
"Not much spice to start with, rather an oak base with some coffee and chocolate highlights. There is an earthy leather flavor in the background helping to shape the profile. As the third progresses, some of the pre-light cedar appears on the retrohale." –Gregg (McGreggor57)
"This cigar was fairly easy to light. The initial flavor I got was that of a smokey fire pit. There was an uneven burn to start. As it progressed, I started to get lots of pepper on my throat. There was lots of thick creamy smoke." –Craig (WyldKnyght)
Second Third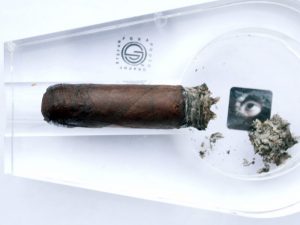 Flavor: 88
Strength: Medium-Strong
Body/Complexity: Medium
"It's hard not to notice how great the ash is on this cigar. It wasn't until the halfway point that the ash fell and landed with a thud. The coffee flavor at the start of this third was more like chewing coffee beans than drinking coffee, but it was short lived. The flavor profile changed dramatically around the halfway point becoming dominated with a strong mineral flavor with leather and pepper hanging around. The retrohale has the same floral and heavy cream flavor as the first third." –Alan (Eulogy)
"The second third loses some of the herbal notes while the underlying cocoa flavor becomes drier, shifting from semi-sweet cocoa to semi-bitter dry cocoa powder. The white pepper also becomes more faded on the finish. Past the midpoint, there is an addition of bourbon barrel flavors on the palate and some red pepper spice on the finish." –Stefan (Stefan)
Final Third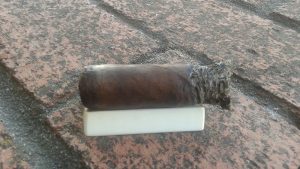 Flavor: 88
Strength: Medium-Strong
Body/Complexity: Medium
"A slight sourness develops as some grasses creep into the picture. It creates an interesting contrast to the cocoa and newly arriving allspice. Sadly, the balance of flavors never materializes before becoming a little bitter." –Gregg (McGreggor57)
"The final third starts off with the same chemical and ash like flavor that persists from the last third. The pepper makes a reappearance in this third and increases in intensity as the third progresses to the very end. As the pepper increases in intensity, the less desirable flavors, even though present, are somewhat masked. Seems quite one dimensional in the last two thirds. No issues with the burn or the draw. Overall, the cigar is quite one dimensional and mediocre." –Sandeep (Djangos)
Overall Impressions
Draw: 95
"No issues with the draw." –Sandeep (Djangos)
Burn: 89
"The burn was a little off due to the wrapper cracking and did require one relight." –Alan (Eulogy)
Construction: 90
"The lack of much smoke and a fair burn line lead me to think there might be some construction issues at the root." –Gregg (McGreggor57)
Overall Strength: Medium-Strong
Overall Body/Complexity: Medium
Overall Experience: 87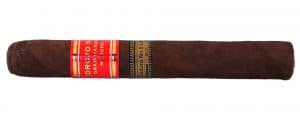 "This cigar started with a lot of potential that was never realized. The flavors were OK, but got a little muddy after the first third. The grassy notes that developed near the end created a sourness before becoming bitter. Perhaps some additional rest would benefit this cigar." –Gregg (McGreggor57)
"Overall, this cigar was one dimensional with a bevy of flavors that did not quite come together in harmony. The ash and chemical flavors were less than desirable. This one is definitely not for me." –Sandeep (Djangos)
"Overall, this was not a bad cigar if you like a pepper bomb or one dimensional flavor. I did like the draw and the larger amounts of thick creamy smoke." –Craig (WyldKnyght)
"The start of the cigar was by far the best with the middle and final third becoming a little overpowered by the mineral and bitterness that it brought. I probably wouldn't purchase any of these as it's kind of just a middle of the road smoke." –Alan (Eulogy)
"A classic Maduro smoke." –Stefan (Stefan)
–
Smoking Time (in minutes): 98
Reviewer

Appearance

Aroma

1/3

2/3

3/3

Draw

Burn

Constr.

Overall
Experience

Gregg
McGreggor57)
87
90
88
88
88
90
85
88
87
Sandeep
Djangos)
85
88
88
85
85
93
92
90
85
Craig
WyldKnyght)
95
90
88
88
88
100
83
85
85
Alan
Eulogy)
87
90
95
90
90
97
90
90
87
Stefan
Stefan)
85
90
92
90
88
95
92
95
90
To view the complete scores and notes, click here.
–
Blind Cigar Review: Gran Habano | Corojo No. 5 Maduro 2011 Gran Robusto