Vital Stats: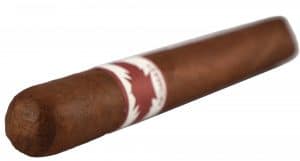 This cigar was reviewed blind (no bands) by a panel of at least 4 reviewers. They did not know what they were smoking beforehand. The scores are an average of all the reviewers' scores with outliers removed. All of our cigars reviewed are shipped to the panelists with Boveda packs to ensure optimal smoking experience.
Vitola: Toro
Length: 6″
Ring Gauge: 54
Country of Origin: Nicaragua
Wrapper: Ecuadorian Habano Rosado
Binder: Nicaraguan Habano Jalapa
Filler: Nicaragua and Dominican Republic
Factory: Tabacalera Fernandez
Blender: Fred Rewey
Number of reviewers: 5—–Jiunn (jliu) Jack (Jack_H) Kent (Throck) Jeff (ExpendableYouth) Robert (NavyPiper)
Price: $7.49
Age: 2 Months
Release Date: July 2015
Contributed by: Nomad Cigar Company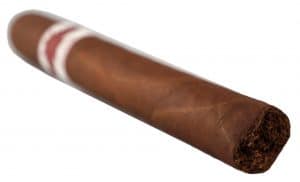 Initial Impressions
Appearance: 92
"Tonight's stogie is just awesome, and I've just been looking at it for about 10 minutes because it looks just so dang great. Shape is absolutely perfect, almost as if it was turned on a lathe! Measures at 6X49. Color is a medium brown, dull with no sheen. Head is mildly rounded, the cap is perfectly centered and the seams are very well done. One thing to note is that this stogie is rock hard and feels heavier than expected." –Robert (NavyPiper)
Aroma: 90
"There was a light leather smell with a faint "funk" to it. It was a very pleasant smell for a cigar." –Kent (Throck)
First Third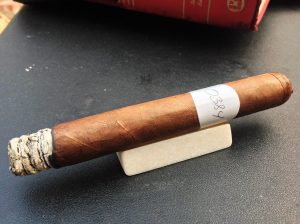 Flavor: 91
Strength: Medium
Body/Complexity: Medium-Full
"It is very, very smooth from the first second I light up and throughout the first third. On the palate, this cigar is very oaky and walnutty. This thing is really, really good so far. The burn is what I call razor sharp and the ash is powder white and it holds forever." –Jack (Jack_H)
"The first third of the cigar has a mild white pepper and cedar profile to it. As I continue into the first third, the pepper dies down a bit and is replaced with more woody notes, and a strong barnyard profile." –Jeff (ExpendableYouth)
Second Third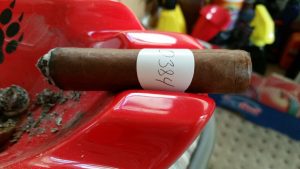 Flavor: 91
Strength: Medium
Body/Complexity: Medium
"Second thirds flavor profile builds nicely off the first third. At the core of it, the flavors remain unchanged. Still getting lots of dry roasted nuts, bread/yeast and milk chocolate. There is now a great sweet cream and well rounded black pepper spice mixing in with the core flavors. The spice is just right, adding a nice layer to the core flavors. Strength and body continues to be at a solid medium." –Jiunn (jliu)
"This is still super smooth but I get some fresh flavor in the form of pepper. I don't get a lot of spice, but I do still get the same clean flavor of the first third. There are no impurities or foul flavors in this smoke, and the ash has still held as evidence of the superb construction." –Jack (Jack_H)
Final Third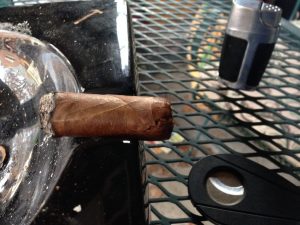 Flavor: 89
Strength: Medium
Body/Complexity: Medium
"The almond flavor continued to intensify and I was able to detect a faint hint of cherry as well. This was my favorite third and was almost a "dessert" course of the cigar." –Kent (Throck)
"Final third began with a very slow gradual decline in flavors, and not as crisp and clean as the other thirds. Still mighty good though, but I would've been stoked with it staying the same crisp clean flavors." –Robert (NavyPiper)
Overall Impressions
Draw: 94
"The cigar smoked well through the entire stick, and I have no complaints in this department." –Jeff (ExpendableYouth)
Burn: 93
"Very good burning cigar. The burn line stayed fairly sharp. The ash fell in solid chunks averaging 2 centimeters." –Jiunn (jliu)
Construction: 93
"Fantastic construction. I would be surprised if this didn't come out of an established factory because it was that solid." –Jack (Jack_H)
Overall Strength: Medium
Overall Body/Complexity: Medium
Overall Experience: 90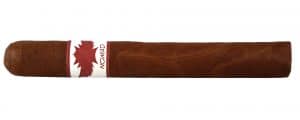 "Overall, this was a good cigar giving good earthy flavors mixed in with well mannered spice and medium bodied sweet cream. Although a good cigar, there wasn't anything special about the cigar. I would smoke this again given the opportunity but would not purchase any just because there are quite a few cigars out in the market with this type of profile." –Jiunn (jliu)
"Two words that would aptly describe this cigar would be Solid and Smooth. This is the embodiment of both. I say this would be the perfect cigar for a beginner, but not as an insult or slander, but because it is so well constructed and approachable. This is a great cigar and one that I can't wait to see what it is because it has me stumped." –Jack (Jack_H)
"I really enjoyed the flavors of this cigar, but the construction ultimately let it down. I wouldn't mind giving these another go around after seasoning them in the humidor for another year or so." –Kent (Throck)
"The first two thirds of the cigar were alright, but the final third kind of disappointed. I wasn't a huge fan, and it didn't really fall within my wheelhouse. It would be a pretty easy pass for me." –Jeff (ExpendableYouth)
"I loved it! All aspects of this stogie were fantastic! This will be one, that if I can afford, it will occupy a lot of space in the ol' humidor." –Robert (NavyPiper)
–
Smoking Time (in minutes): 75
Reviewer

Appearance

Aroma

1/3

2/3

3/3

Draw

Burn

Constr.

Overall
Experience

Jiunn
jliu)
90
88
85
88
88
100
90
95
88
Jack
Jack_H)
90
97
92
92
90
90
97
93
92
Kent
Throck)
88
92
90
90
90
90
95
83
92
Jeff
ExpendableYouth)
95
90
90
90
83
90
88
90
85
Robert
NavyPiper)
95
90
92
92
90
100
95
93
92
To view the complete scores and notes, click here.
–
Blind Cigar Review: Nomad | Therapy Habano Toro
Blind Cigar Review: Nomad | Therapy
Habano
Toro
91
Total Score - Very Good