Vital Stats:
Vitola: Petit Corona
Length: 5″
Ring Gauge: 44
Country of Origin: Honduras
Wrapper: Sun Grown Corojo
Binder: Undisclosed
Filler: Nicaragua, Honduras and Costa Rica
Factory: Tabacos de Oriente S.A.
Blender: Jesus Fuego
Number of reviewers: 5—–Ron (shuckins) Gregg (McGreggor57) Jason H. (Jokey Smurf) Sandeep (Djangos) Emmett (rhetorik)
Price: $2.80
Age: 6 Months
Release Date: 2011
Contributed by: J. Fuego Cigars
This cigar was reviewed blind (no bands) by a panel of at least 4 reviewers. They did not know what they were smoking beforehand. The scores are an average of all the reviewers' scores with outliers removed.
Initial Impressions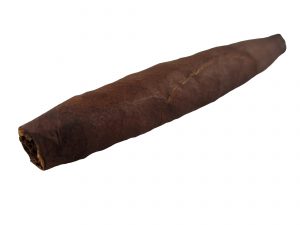 Appearance: 86
"The cigar doesn't conform to the looks of a regular cigar. It is about 4.5 inches long and looks like a double perfecto snipped on both sides. It would have been difficult to tell at a glance which end the foot was if it hadn't been for the numbered band. Has a dark chocolate color with a very toothy surface. The veins are quite prominent but there are no major discolorations on the surface." –Sandeep (Djangos)
Aroma: 88
"The wrapper has a very smoky, almost peaty aroma. The foot is too tiny, it's hard to pick out anything else. Pre-light draw is earthy and a bit musty." –Emmett (rhetorik)
First Third
Flavor: 90
Strength: Medium
Body/Complexity: Medium
"A little bit of pepper that fades quickly bringing out grass, hat and some celery. The flavors are really subtle but nice. There is just a hint of some type of nut with a little coffee on the background." –Gregg (McGreggor57)
"The initial puffs of this cigar produced a voluminous cloud of white smoke that was heavy on leather and had a salty undertone. There was also a woody note that came out as the leather faded from my palate. This is a very nice start to this cigar. There is a bit of power to this cigar, but the smoke remains smooth as I pass it through my nostrils on the retrohale." –Jason H. (Jokey Smurf)
Second Third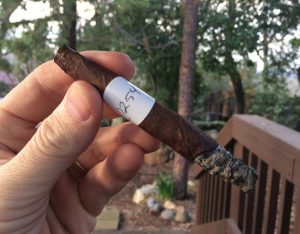 Flavor: 88
Strength: Medium
Body/Complexity: Medium
"More pepper comes to the front, bringing a good dose of wood tasting tobacco with it. This pushed the coffee flavor to the background along with what little earthy taste that was left." –Ron (shuckins)
"This third has changed pretty dramatically from the first third. Pepper and wood now dominate the flavors instead of cocoa and coffee. The wood is pretty bold and spicy like oak. The pepper is black pepper and lingers on the finish." –Emmett (rhetorik)
Final Third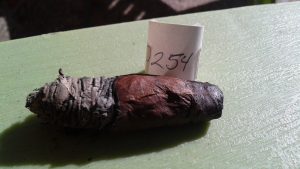 Flavor: 88
Strength: Medium-Strong
Body/Complexity: Medium
"The wood taste turns to more of a cedar flavor towards the end. This lets more coffee and earthiness through also,which helps keep the pepper in line, providing a cool finish to the cigar without losing the kick it had." –Ron (shuckins)
"Cedar is coming into the mix and the grass is becoming more vegetal in nature. This transition seems to work well. There is still the occasional spice on my nose, but it's hit or miss." –Gregg (McGreggor57)
Overall Impressions
Draw: 94
"The draw on this slender cigar was just the way I like it, making it easy to control the temperature and rate of burn while squeezing out the maximum flavor. For such a rough looking little cigar, this was a welcome surprise." –Jason H. (Jokey Smurf)
Burn: 89
"Wavy burn with mostly no issues." –Sandeep (Djangos)
Construction: 93
"Smaller cigars usually suffer from wrappers coming apart. Not in this case. Even the cap stood up well." –Gregg (McGreggor57)
Overall Strength: Medium-Strong
Overall Body/Complexity: Medium
Overall Experience: 89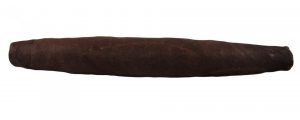 "A fun little cigar to smoke. It had decent flavors for the most part, and it gave me a nostalgic feeling while smoking it." –Ron (shuckins)
"The first and final third were nice with the grassy and vegetal properties. The middle third developed a nutmeg flavor that seemed out of place. While I wish the bit of coffee would've developed more, I can't say that I missed it. I would gladly grab another one and would love to try a different vitola as well." –Gregg (McGreggor57)
"This was really a very good cigar. The flavors were full and rich, and even transitioned a bit during the cigar. The performance was exceptional as well, enhancing the enjoyment of the cigar. I have a suspicion as to what this cigar is…can't wait to see if I'm right." –Jason H. (Jokey Smurf)
"Overall, this cigar was not to my liking. The flavors were harsh with no changes and the bitterness mixed with the harshness in the final third made me stop smoking." –Sandeep (Djangos)
"This was a good cigar for what it was… a quick budget cigar. I believe this is a Fuego Original, which I think fits well into this category. They aren't flashy, but if you want a solid, quick smoke at a very cheap price, there isn't much better. I would definitely keep some of these on hand if they are as cheap as I believe them to be." –Emmett (rhetorik)
–
Smoking Time (in minutes): 39
Edit

| Reviewer | Appearance | Aroma | 1/3 | 2/3 | 3/3 | Draw | Burn | Constr. | Overall |
| --- | --- | --- | --- | --- | --- | --- | --- | --- | --- |
| Ron | 85 | 85 | 88 | 88 | 88 | 88 | 88 | 88 | 88 |
| Gregg | 90 | 92 | 90 | 88 | 90 | 93 | 92 | 93 | 90 |
| Jason H. | 87 | 88 | 90 | 90 | 90 | 97 | 97 | 93 | 90 |
| Sandeep | 85 | 88 | 88 | 88 | 85 | 93 | 88 | 88 | 85 |
| Emmett | 85 | 88 | 90 | 88 | 85 | 100 | 90 | 93 | 88 |
To view the complete scores and notes, click here.
–
Blind Cigar Review: J. Fuego | Gran Reserva Originals
Blind Cigar Review: J. Fuego | Gran Reserva Originals