Vital Stats:
Vitola: Petit Corona
Length: 5″
Ring Gauge: 44
Country of Origin: Honduras
Wrapper: Nicaraguan Sun Grown Corojo
Binder: Nicaraguan Criollo
Filler: Nicaraguan Corojo and Nicaraguan Criollo
Factory: Tabacos de Oriente S.A.
Blender: Jesus Fuego
Number of reviewers: 5 —– Dave (mdwest) Gregg (McGreggor57) Wes (SosaCub4Life) Craig (WyldKnyght) Jason (bigslowrock)
Price: $2.80
Age: 5 Months
Release Date: 2011
Contributed by: J. Fuego Cigars
This cigar was reviewed blind (no bands) by a panel of at least 4 reviewers. They did not know what they were smoking beforehand. The scores are an average of all the reviewers' scores with outliers removed. All of our cigars reviewed are shipped to the panelists with Boveda packs to ensure optimal smoking experience.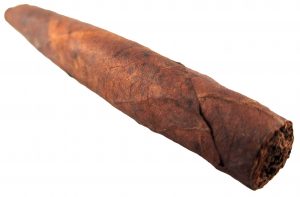 Initial Impressions
Appearance: 86
"An interesting oblique, perfecto-ish shaped cigar open on both ends. The foot is flattened a bit giving it a slight duckbill look." –Gregg (McGreggor57)
Aroma: 92
"The aroma from the wrapper was that of of caramel sweetness, the foot smelled like tobacco and the dry puff tasted like cocoa and coffee." –Craig (WyldKnyght)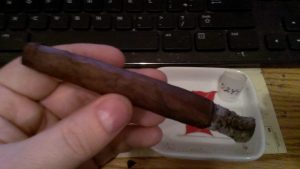 First Third
Flavor: 91
Strength: Medium-Strong
Body/Complexity: Medium
"Young grasses up front with some heat hitting the back of my throat. Once the grass establishes itself, some allspice creeps in and adds an element of sweetness. A nice start to this small cigar." –Gregg (McGreggor57)
"The cigar is delivering some good flavors of pepper, wood and cocoa with the pepper dominating the flavor profile. It generally teeters on being on harsh." –Jason (bigslowrock)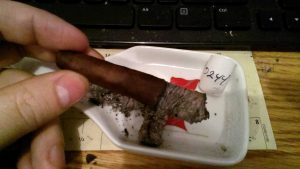 Second Third
Flavor: 90
Strength: Strong
Body/Complexity: Medium
"Impressive smoke production from this small vitola. The strength is picking up as some cocoa comes out to play with the grassy notes. The pepper returns just before the halfway mark. Coffee, butterscotch and raisin alternate in small doses in the background. This is a very interesting and flavorful third." –Gregg (McGreggor57)
"This little sucker puts out a lot of smoke. Still lots of spice but as it goes along you get some creaminess in there and a hint of sweetness." –Wes (SosaCub4Life)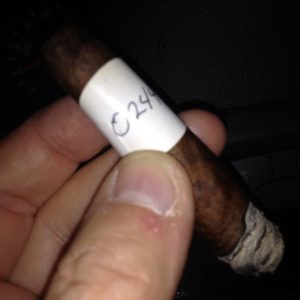 Final Third
Flavor: 92
Strength: Medium
Body/Complexity: Medium
"Into the final third, the cigar has gotten real soft. It seems very loosely rolled. Again, reminding me a lot of a Backwoods but with better flavor. Still lots of spice with some creaminess in the background. Still producing lots of smoke and the burn line has stayed good even though the cigar has gotten so soft." –Wes (SosaCub4Life)
"The final third continued to have some pepper that mellowed, after a bit I started getting some nutty flavor. Definitely a very good finish." –Craig (WyldKnyght)
Overall Impressions
Draw: 88
"A decent draw that was just a bit too tight for my liking, but might be appealing to others." –Dave (mdwest)
Burn: 89
"A decent burn with no touch ups or maintenance required."-Dave (mdwest)
Construction: 88
"While visually not my thing, from a performance standpoint the construction of this stick appears to have been solid with no issues or problems encountered." –Dave (mdwest)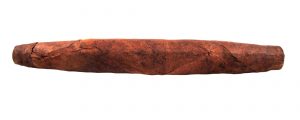 Overall Strength: Medium-Strong
Overall Body/Complexity: Medium
Overall Experience: 91
"An OK cigar overall, but really just not my thing. Far too much strength and the bitterness and ashtray flavors in the first third made it hard to recover and enjoy the rest of the stick." –Dave (mdwest)
"This was an impressive little cigar. Very flavorful from beginning to end with pockets of surprises, such as butterscotch and raisin. The occasional spice enhanced the grassy notes that made up the bulk of the profile. I was also surprised with the increased strength offered up during the second third. The smaller size was perfect for those days when time doesn't allow for a longer smoke." –Gregg (McGreggor57)
"This was an interesting little stick. Rustic and loosely rolled, but still smoked nice. Very spicy throughout but did have some creaminess and a bit of sweetness behind the spice after you got through the first third. I could see this being a quick smoke for those that enjoy a good kick." –Wes (SosaCub4Life)
"Never judge a book by its cover is how I would describe this cigar. It is definitely one of the ugliest cigars I've seen, yet it is also one of the most enjoyable ones I have had as well. Can't wait to see what this was." –Craig (WyldKnyght)
"Assuming this is a budget cigar and you're a fan of pepper, this might be a candidate as a daily smoker for you. Otherwise, I would probably pass." –Jason (bigslowrock)
Smoking Time (in minutes): 44
Edit

| Reviewer | Appearance | Aroma | 1/3 | 2/3 | 3/3 | Draw | Burn | Constr. | Overall |
| --- | --- | --- | --- | --- | --- | --- | --- | --- | --- |
| Dave | 85 | 88 | 85 | 85 | 85 | 88 | 88 | 88 | 85 |
| Gregg | 90 | 90 | 92 | 92 | 90 | 88 | 90 | 90 | 92 |
| Wes | 95 | 92 | 95 | 95 | 92 | 90 | 95 | 92 | 92 |
| Craig | 85 | 95 | 90 | 90 | 92 | 95 | 90 | 83 | 92 |
| Jason | 85 | 92 | 90 | 88 | 85 | 88 | 88 | 85 | 88 |
To view the complete scores and notes, click here.
–
Blind Cigar Review: J. Fuego | Sangre de Toro Originals
Blind Cigar Review: J. Fuego | Sangre de Toro Originals
90
Total Score - Very Good