Vital Stats:
Vitola: Lancero
Length: 7″
Ring Gauge: 40
Country of Origin: USA
Wrapper: Ecuadorian Habano
Binder: Ecuador
Filler: Dominican Republic & Nicaragua
Factory: El Titan de Bronze
Blender: Bill Paley
Number of reviewers: 5 —– Sandeep (Djangos) Gregg (McGreggor57) Ron (shuckins) Aaron (aaron72) Jason H. (Jokey Smurf)
Price: $16.50
Age: 2 Months Rest
Release Date: May 2014
Contributed by: Blind Man's Puff
This cigar was reviewed blind (no bands) by a panel of at least 4 reviewers. They did not know what they were smoking beforehand. The scores are an average of all the reviewers' scores with outliers removed. All of our cigars reviewed are shipped to the panelists with Boveda packs to ensure optimal smoking experience.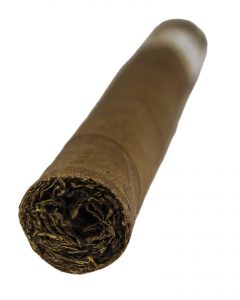 Initial Impressions
Appearance: 93
"This cigar is presented in a Lonsdale/Lancero format with a light brown wrapper leaf that is expertly applied. The body of the cigar is smooth with minimal veins and slightly visible seams. There appears to be a triple cap and a pigtail twist. One interesting note is that the pigtail appears to be made from the second cap, and the final cap is cut in such a way to wrap around the pigtail…Not something I've noticed before." –Jason H. (Jokey Smurf)
Aroma: 92
"Pleasant aroma of nutmeg with light cedar and a hint of coffee." –Ron (shuckins)
First Third
Flavor: 90
Strength: Medium
Body/Complexity: Medium
"There are a lot of flavors bouncing around here. Mild coffee, leather, occasional pine and a sweet nuttiness. A light toast on the finish remains consistent and ties the flavors together." –Gregg (McGreggor57)
"Peppery nutmeg with dry cedar flavor on light up. After a bit, the pepper faded, letting a taste of coffee through although the dryness of the cedar remained up front. The nutmeg provided a hint of sweetness but was mostly in the background."  –Ron (shuckins)
Second Third
Flavor: 91
Strength: Medium
Body/Complexity: Medium
"The middle third is quite eventful with the change of flavor profile completely. Going from woodsy flavors now it takes on a stronger leather and tobacco. The Pepper is still present and gravitates to the back of the throat. There is an oiliness that is coating my tongue. Towards the end of the third there is a cinnamon like sweet spice that is causing a tingling sensation all over the tongue. The draw and burn are as good as ever and the smoke is creamy and delicious." –Sandeep (Djangos)
"Light coffee and cream with a touch of sweetness of honey. The leather is keeping everything nice and smooth while a sharp spice (clove?) hits the retrohale occasionally. This cigar pairs nicely with my morning coffee." –Gregg (McGreggor57)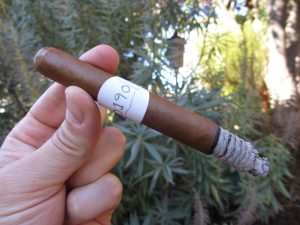 Final Third
Flavor: 88
Strength: Medium
Body/Complexity: Medium
"This cigar is now showing a little more strength. A creamy clove and allspice is moving to the front and a bit of toast is hanging on the finish. I'm glad the leather is still present, helping smooth out the flavors." –Gregg (McGreggor57)
"Consistent is what this cigar is. It is consistently mild and creamy with the occasional subtle flavor note creeping in. I am a frequent smoker of lancero type cigars, so I'm used to dealing with heat issues. That being said, the mysterious harsh notes that continue to appear every second or third puff are perplexing to me. I know I'm not over smoking the cigar, but the harsh bite has remained from the first third. Personally, I'd like a whole lot more flavor than I'm getting…what I get is not bad, but it is not much." –Jason H. (Jokey Smurf)
Overall Impressions
Draw: 91
"The draw was very good, especially with the small ring gauge." –Aaron (aaron72)
Burn: 91
"The burn started off a little uneven, but quickly corrected itself and was problem free thereafter." –Ron (shuckins)
Construction: 91
"The cigar seems well made and feels firm mostly with a little give. No soft spots. There are three well applied caps." –Sandeep (Djangos)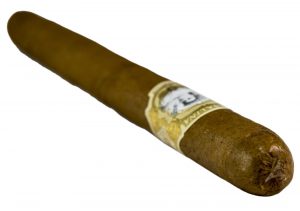 Overall Strength: Medium
Overall Body/Complexity: Medium
Overall Experience: 90
"Overall the cigar was a pleasant smoke. The initial and final thirds were not up to mark, but the middle third was excellent with several changes in flavors and with perfect burn and draw. I will definitely try this one again to see if some time in the humi might get rid of the harshness in the very final third of the cigar." –Sandeep (Djangos)
"What a wonderful way to begin the day. The first third had some rapid fire flavor changes that were mild and well balanced with a consistent finish of light toast. The middle section settled down a bit and, while I'm not a big fan of clove or allspice, the final third was kept in check by a creamy leather." –Gregg (McGreggor57)
"A mild-medium bodied/strength cigar with flavors that are gentle on the palate making it a nice middle of the day cigar." –Ron (shuckins)
"The flavors started out very good, but didn't transition much as it went along, so it wasn't a real attention grabber. The performance was very good and the smoke output was tremendous. Plenty of smoke to grab flavor from and retrohale. I could see smoking this cigar again as it does have flavors that are appealing." –Aaron (aaron72)
"Much too mild for my tastes. I love the Lancero vitola for the enhanced wrapper flavors but this cigar was mainly mild tobacco with cream…not bad with the morning coffee, I guess, but not something I'd choose to end my day with. I can't honestly say I'd be interested in smoking another based on this sample." –Jason H. (Jokey Smurf)
Smoking Time (in minutes): 66
Total Score: 91 (Very Good)
Edit

| Reviewer | Appea-rance | Aroma | 1/3 | 2/3 | 3/3 | Draw | Burn | Constr. | Overall |
| --- | --- | --- | --- | --- | --- | --- | --- | --- | --- |
| Sandeep (Djangos) | 93 | 90 | 90 | 95 | 90 | 97 | 97 | 95 | 90 |
| Gregg (McGreggor57) | 93 | 92 | 90 | 92 | 88 | 90 | 92 | 92 | 90 |
| Ron (shuckins) | 95 | 92 | 90 | 90 | 90 | 90 | 90 | 90 | 90 |
| Aaron (aaron72) | 93 | 88 | 92 | 90 | 88 | 95 | 90 | 92 | 90 |
| Jason H. (Jokey Smurf) | 90 | 92 | 88 | 88 | 88 | 90 | 92 | 90 | 88 |
| Overall | 93 | 92 | 90 | 91 | 88 | 91 | 91 | 91 | 90 |
To view the complete scores and notes, click here.