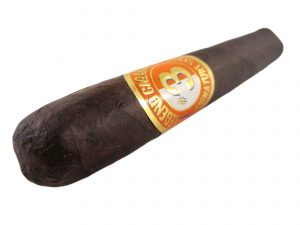 Vital Stats:
Vitola: Robusto
Length: 5″
Ring Gauge: 52
Country of Origin: Dominican Republic
Wrapper: Brazilian Maduro
Binder: Dominican Republic
Filler: Dominican Republic
Factory: Charles Fairmorn
Blender: Rolando Villamil
Number of reviewers: 5 —– Paul (pmr1010) Wes (SosaCub4Life) Gregg (McGreggor57) Craig (WyldKnyght) Jason H. (Jokey Smurf)
Price: $7.95
Age: 3 Months
Release Date: December 2012
Contributed by: Legend Cigars
This cigar was reviewed blind (no bands) by a panel of at least 4 reviewers. They did not know what they were smoking beforehand. The scores are an average of all the reviewers' scores with outliers removed. All of our cigars reviewed are shipped to the panelists with Boveda packs to ensure optimal smoking experience.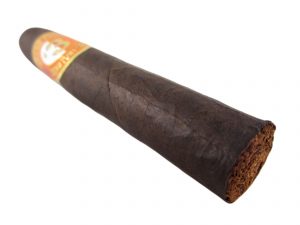 Initial Impressions
Appearance: 93
"This robusto sized cigar was a very appealing looking cigar. It had a nice dark brown, almost black, wrapper. It was fairly toothy with some thin to medium sized veins." –Craig (WyldKnyght)
Aroma: 92
"The pre-light aroma is very nice, with some light nutmeg and sweetness. At the foot of the stick, there is a slight compost aroma that is homey and reminds me of a clean barnyard." –Jason H. (Jokey Smurf)
First Third
Flavor: 91
Strength: Medium
Body/Complexity: Medium
"With such a pronounced leather aroma about this cigar, I expected it upon lighting too but it wasn't. Roasted coffee beans and dark chocolate came in slowly, but after several puffs became more prevalent. The smoke grew creamier and creamier as the first third went on with the roasted coffee bean flavor growing more nutty. Right from the start, the burn was uneven and required a touch up just before the first third became the second." –Paul (pmr1010)
"The initial flavors are reminiscent of green wood and new grass with coffee in the background. There's not much spice to this point. As the third progresses, so do the flavors. They are a bit bolder as the grass and wood turn to a rich earthiness which is mixing well with the dark roast coffee." –Gregg (McGreggor57)
Second Third
Flavor: 95
Strength: Medium
Body/Complexity: Medium-Full
"The second third started off with the creamy nutty flavors growing stronger and the chocolate mostly gone. A brothy flavor was coming in as well now and was tangy. The leather I expected earlier was making its entrance about half way into the cigar. The burn cleaned up and was going fairly evenly at this point which was nice because the flavors were great and a bad burn could dampen my enthusiasm. Thankfully that wasn't the case. Most of the initial flavors have completely gone now but have been replaced by great new ones." –Paul (pmr1010)
"The second third is starting off a little rough due to an uneven burn that requires correction. Flavor wise, this third continues to be pleasant with consistent sweetness and a salty note that has developed…really reminding me of a great salted caramel candy. In addition, there is a faint leather note that has developed in the background. There has also been an increase in the spice through the nose which is welcome." –Jason H. (Jokey Smurf)
Final Third
Flavor: 94
Strength: Medium
Body/Complexity: Medium
"The spice has picked up some here in the final third. It's still a nice creamy smoke with some spice and a hint of sweetness. The burn throughout has been flawless and it's still producing just tons of smoke." –Wes (SosaCub4Life)
"The final third of this cigar has shown a sharp transition into a medium/full bodied smoke. The draw has opened up and the burn completely evened out. There is much more spice now and a gritty leather flavor that lingers long after the puff. The nutmeg and sweetness is completely gone, however, the salty notes have remained. This transition was totally unexpected and is totally welcome!" –Jason H. (Jokey Smurf)
Overall Impressions
Draw: 95
"One of the best drawing cigars in recent memory. From the cold draw to the nub it was near perfect." –Gregg (McGreggor57)
Burn: 93
"The burn was straight and even from start to finish." –Craig (WyldKnyght)
Construction: 91
"Construction has been great. The cigar produces tons of smoke. Burn and ash have been great. Very well made cigar." –Wes (SosaCub4Life)
Overall Strength: Medium
Overall Body/Complexity: Medium-Full
Overall Experience: 93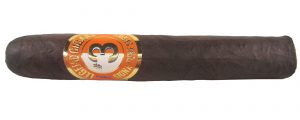 "I was really surprised by the changes in flavor profile. The complexity in this cigar really caught me off guard as the dark DARK wrapper told my eyes one thing but my nose and tongue were telling a totally different story. I enjoyed this cigar from start to finish even if the burn was slightly uneven in the beginning. Not too long of a smoke too so you can certainly find the time to squeeze one in." –Paul (pmr1010)
"Overall, this has been a very nice cigar. While not the best I've ever smoked it has been quite good. For me it has seemed to stay mostly the same all throughout with the spice picking up a bit here and there. Overall, a very nice smooth creamy smoke with some sweetness and enough spice to keep it interesting." –Wes (SosaCub4Life)
"While there were not a cornucopia of flavors, this cigar stayed true to its profile from the word go. Wonderful coffee, chocolate and earthy notes highlighted by a little sweetness of nutmeg. There was just the right amount of spice on the retro. The richness of the second third caused me to close my eyes and get lost in the flavors. I'm looking forward to smoking this one again." –Gregg (McGreggor57)
"I thoroughly enjoyed this cigar and can't wait to see what it was. From the mild pepper, to cinnamon, to sweetness, the change in complexity was nice and subtle and they seamlessly flowed together." –Craig (WyldKnyght)
"I liked this cigar in the end…not so much in the beginning. The tight draw, crooked burn and overall mildness were immediate turn-offs…Much to my pleasure, once things began to sort themselves out the cigar really came into its own and left me wanting another one. The variation in flavor from beginning to end was dramatic and impressive. I hope the other reviewers didn't have to deal with the draw issues and were fully able to experience the flavors this stick had to offer." –Jason H. (Jokey Smurf)
Smoking Time (in minutes): 56
Edit

| Reviewer | Appearance | Aroma | 1/3 | 2/3 | 3/3 | Draw | Burn | Constr. | Overall |
| --- | --- | --- | --- | --- | --- | --- | --- | --- | --- |
| Paul | 95 | 95 | 90 | 95 | 95 | 95 | 88 | 92 | 95 |
| Wes | 95 | 97 | 95 | 95 | 95 | 97 | 100 | 97 | 95 |
| Gregg | 90 | 90 | 92 | 95 | 93 | 97 | 93 | 90 | 93 |
| Craig | 90 | 90 | 90 | 93 | 93 | 90 | 95 | 90 | 93 |
| Jason H. | 93 | 92 | 90 | 93 | 90 | 88 | 90 | 90 | 93 |
To view the complete scores and notes, click here.
–
Blind Cigar Review: Legend Cigars | John Starks #3 Signature Series Maduro Robusto
Blind Cigar Review: Legend Cigars | John Starks #3 Signature Series Maduro Robusto
93
Total Score - Excellent