Vital Stats:
Vitola: Toro
Length: 6″
Ring Gauge: 54
Country of Origin: Nicaragua
Wrapper: Brazilian Habano Maduro
Binder: Nicaragua
Filler: Nicaragua
Factory: Tabacalera Fernandez
Blender: AJ Fernandez
Number of reviewers: 9 —– Will (Dubv23) Emmett (rhetorik) Craig (WyldKnyght) Brian (B-daddy) Robert (NavyPiper) Derek (StogieNinja) Ian (Sp@rky426) Milton (mjohnsoniii) Jason (bigslowrock)
Price: $8.00
Age: 3 months
Release Date: July 2013
Contributed by: Meier & Dutch
This cigar was reviewed blind (no bands) by a panel of at least 4 reviewers. They did not know what they were smoking beforehand. The scores are an average of all the reviewers' scores with outliers removed. All of our cigars reviewed are shipped to the panelists with Boveda packs to ensure optimal smoking experience.
Initial Impressions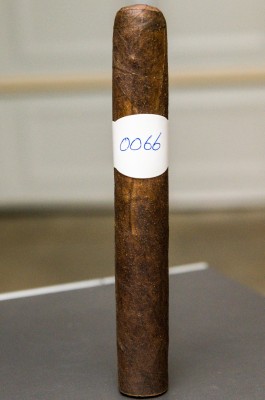 Appearance: 91
"This cigar looks great. It looks like a perfectly molded and round cigar. It has a very nice dark espresso color but the veins were darker in color contrasting the wrapper. There was small tooth all throughout and has what appears to be a double cap." –Will (Dubv23)
Aroma: 89
"Smells like a sweet chocolate and caramel. Very appealing." –Craig (WyldKnyght)
Construction: 90
"Nice round roll with a firm feel that gives very slightly when pinched. The cigar had zero soft spots or imperfections that stood out." –Will (Dubv23)
First Third
Flavor: 91
Strength: Medium
Body/Complexity: Medium
"The first puff greets me with a familiar maduro flavor consisting of coffee and leather, with just a hint of spice. After a few minutes I'm starting to get a salty and sweet flavor, like salted caramel. Moving into the heart of this third, I'm really enjoying the cigar. It's fairly complex and just below the strong level of spice. Just how I like it. I'm still getting lots of earthy tones like leather and tea, but with that same hint of sweetness." –Emmett (rhetorik)
"First third starts off with pretty strong tobacco and strong black coffee. There is a lingering aftertaste. Tight firm ash in this third and good burn and draw." –Robert (NavyPiper)
Second Third
Flavor: 92
Strength: Medium
Body/Complexity: Medium
"Pepper is all but gone, nice smoky wood flavors. Started getting some hay flavor during this third. Nice almost white ash. Completely smooth and creamy." –Craig (WyldKnyght)
Final Third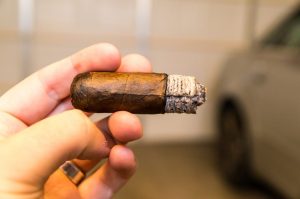 Flavor: 90
Strength: Medium
Body/Complexity: Medium-Full
"Continuing with the whiskey theme in this third, I'm getting some roasted barley and more molasses with just a hint of coffee. Towards the middle of this third, the coffee is taking over again, but now with a little hint of walnut. Towards the end of this third a buttery creaminess has been added to the profile, another great third." –Emmett (rhetorik)
"Nearly identical to the second third: dark cocoa with a dark cherry sweetness, espresso and a little stronger wood flavor, with cedar and leather hanging in there. Smokes great right up to the nub, when it gains just a bit of dry harshness." –Derek (StogieNinja)
Overall Impressions
Draw: 93
"The draw was great the whole time and had no problems." –Robert (NavyPiper)
Burn: 91
"From the time I lit it, the burn on this cigar stayed on point and remained even throughout." –Milton (mjohnsoniii)
Overall Strength: Medium
Overall Body/Complexity: Medium
Overall Experience: 91
"This was really just a good cigar. The flavors were promising for those who favor a strong full body experience but there were metallic flavors and that copper taste at the end that took away from the experience. Construction was good and burn was nothing to be mad about but if that metallic currency flavor decided to stay home I would have rated this better. Maybe rest would do this well and I would be interested in finding out." –Will (Dubv23)
"This was a very, very good cigar that, if the price is right, I could see being added to my regular rotation. It kept me entertained and the flavors were very enjoyable. I would recommend these for almost anyone, although may be too strong for beginners. Normally I like cigars in a smaller ring gauge, but in this case, the toro works very well. I would try other vitolas for comparison, but wound't be disappointed if this is the only available vitola. It was very well balanced and was not overpowered by any flavors at any time, the whole cigar had a pretty dark flavor profile, in a good way." —Emmett (rhetorik)
"Great cigar, will definitely be smoking this again, had everything I love about smoking a cigar. Smooth creamy thick smoke, great draw and burn." –Craig (WyldKnyght)
"I can't say I liked anything about this cigar. The appearance, construction, burn, flavors and draw were all bad. I hope the other reviewers fared better and this was just a dud. I wouldn't recommend this cigar to anyone." –Brian (B-daddy)
"A good, solid, powerful smoke. For me it was just about the right size, long enough to maintain it's enjoyment, but not too long to where you could get burned out or bored with it. It got a little soft at the end." –Robert (NavyPiper)
"Everything you hope for in a maduro. Chocolate, coffee, sweet cedar. Rich, sweet, and creamy. I'd absolutely recommend this to fans of Fuente's Anejo line, or similar sweet maduros with that slight raisin or dark cherry sweetness. I actually prefer a little less sweetness, and a little bit more of the rich tobacco core (think the Regios Reserva, or the UF-13) but that's a minor quibble. This cigar was great!" –Derek (StogieNinja)
"I really didn't get too much out of this cigar. The middle third had some decent flavor, but the first third was flavorless. I was then greeted with harsh smoke to finish the cigar. I think this is a skip for me." –Jason (bigslowrock)
"The combination of flavors, burn and draw of this cigar made for an excellent smoking experience. I would honestly be surprised if this wasn't a top tier stogie. It's definitely a keeper." –Milton (mjohnsoniii)
Smoking Time (in minutes): 83
Total Score: 91 (Very Good)
Edit
Reviewer
Appea-
rance
Aroma
Constr.
1/3
2/3
3/3
Draw
Burn
Overall
Will
92
90
94
93
91
89
95
88
89
Emmett
92
95
93
95
95
96
98
89
94
Craig
90
90
90
90
90
90
94
94
92
Brian
82
91
84
84
80
76
85
76
77
Robert
91
88
90
90
92
92
92
90
90
Derek
93
94
91
94
94
93
91
94
93
Ian
87
87
87
87
87
87
90
90
88
Milton
91
90
94
93
94
94
97
97
94
Jason
83
87
90
85
91
88
92
92
87
Overall
91
89
90
91
92
90
93
91
91
To view the complete scores and notes, click here
Blind Cigar Review: Man O' War | Dark Aged Maduro