Vital Stats:
This cigar was reviewed blind (no bands) by a panel of at least 4 reviewers. They did not know what they were smoking beforehand. The scores are an average of all the reviewers' scores with outliers removed. All of our cigars reviewed are shipped to the panelists with Boveda packs to ensure optimal smoking experience.
Vitola: Churchill
Length: 7″
Ring Gauge: 50
Country of Origin: Nicaragua
Wrapper: Pennsylvania Broadleaf
Binder: Ecuadorian Habano
Filler: Cuban-Seed Nicaragua Corojo and Criollo
Factory: Tabacalera Oliva
Blender: Ernesto Padilla
Number of reviewers: 5 —– Craig (WyldKnyght) Ron (shuckins) Milton (mjohnsoniii) Jason H. (Jokey Smurf) Derek (StogieNinja)
Price: $13.00
Age: 2 Months Rest
Release Date: July 2013
Contributed by: Padilla Cigars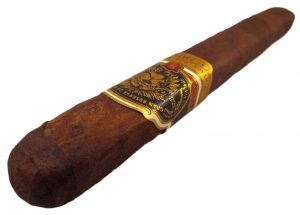 Initial Impressions
Appearance: 91
"I'd say this cigar is a 7×50 box press with a nice dark oily wrapper. There were some medium sized veins. Very nice looking cigar." –Craig (WyldKnyght)
Aroma: 91
"A pleasant aroma of coffee and sweet smelling leather, with a little pepper to give my nose a tickle." –Ron (shuckins)
First Third
Flavor: 89
Strength: Medium
Body/Complexity: Medium
"The first puff of this cigar delivered a strong pepper blast that woke me up and made my nostrils sizzle on the retro hale…a couple of puffs in, the pepper faded and a deep, rich espresso developed, overlaying a note of wood. My interest is definitely piqued…" –Jason H. (Jokey Smurf)
"From the start it's cocoa, and espresso. A little light leather, a little nuttiness and some pepper in the background. There's a definite sweetness as well. It's quite nice, but there's a but of harshness. By the end of the first third, the harshness has subsided and the profile has settled into a bittersweet cocoa with hints of coffee bean." –Derek (StogieNinja)
Second Third
Flavor: 90
Strength: Medium
Body/Complexity: Medium
"During the second third the spice mellowed out and the flavor was smooth, the leather flavor was the most dominant flavor, which overpowered any others that I could make out." –Craig (WyldKnyght)
"The ash has held strong with billowing smoke and flavors really coming through at this point. The pepper has evolved into more of a mild white pepper with hints of leather, cedar and a faint sweetness. It's become a bit more complex…and tastier." –Milton (mjohnsoniii)
Final Third
Flavor: 92
Strength: Medium-Strong
Body/Complexity: Medium-Full
"The coffee flavor is a little lighter as the pepper kicks it up a notch. The woodsy tobacco taste has also picked up a bit as the leather fades into the background the nearer to the end it got." –Ron (shuckins)
"Much of the same from the second to third portion of the cigar. One difference is that a floral note has developed which has really enhanced the wood note of the cigar. The finish is lingering longer on my palate and the cigar has become even more enjoyable for me." –Jason H. (Jokey Smurf)
Overall Impressions
Draw: 95
"The draw was just right on this cigar…plenty of smoke and an effortless draw. Just like I like!" –Jason H. (Jokey Smurf)
Burn: 91
"Very nice burn, especially for a box pressed cigar as they tend to have problems at times." –Ron (shuckins)
Construction: 91
"Excellent construction, firm with no soft spots. No issues detected during smoking time." –Milton (mjohnsoniii)
Overall Strength: Medium-Strong
Overall Body/Complexity: Medium-Full
Overall Experience: 90
"Other than the fact that it took until the middle of this cigar to become more enjoyable, it was not a bad cigar at all." –Craig (WyldKnyght)
"Honestly, I wasn't expecting to be overwhelmed by this cigar, but its complexity and fullness kept me wanting more as I puffed my way to a nub. This is one that I know will only get better with time and would be a welcomed addition to my stash. I'd buy a box to store in the back of the humi until time comes when I stumble across it and be like, "Oh yea! I forgot all about these!" –Milton (mjohnsoniii)
"Overall, a solid smoking cigar with decent flavors, although another dimension would have been nice." –Ron (shuckins)
"Flavors were decent, and there were no major problems. I liked the mix of cocoa and coffee, but it desperately needed some slight sweetness or creaminess to bring balance, and that didn't occur until the final third. It was never bad, but it was never exceptional either. Perhaps some downtime might benefit this cigar, eliminate the slight touch of harshness and allow the blend to meld just a little bit more. I'd be interested to find out what this is, as it seemed familiar. If it's a cheap bargain stick I might recommend grabbing a few and letting them rest to see how the are in six months, but I wouldn't recommend it if it's priced at regular or premium prices." –Derek (StogieNinja)
"This was a cigar that was right in my wheelhouse. The look, flavor and performance were just right for me. One note was that I did catch just a little nicotine buzz from this stick…nothing too much, just enough to make it fun! When I find out what this is I'll recommend it to my friends!" –Jason H. (Jokey Smurf)
Smoking Time (in minutes): 88
Total Score: 91 (Very Good)
Edit

| Reviewer | Appea-rance | Aroma | 1/3 | 2/3 | 3/3 | Draw | Burn | Constr. | Overall |
| --- | --- | --- | --- | --- | --- | --- | --- | --- | --- |
| Craig | 90 | 90 | 90 | 90 | 92 | 95 | 95 | 92 | 90 |
| Ron | 90 | 90 | 88 | 88 | 88 | 88 | 90 | 90 | 88 |
| Milton | 90 | 88 | 90 | 92 | 92 | 95 | 90 | 90 | 95 |
| Jason | 95 | 95 | 92 | 92 | 95 | 97 | 95 | 95 | 97 |
| Derek | 92 | 92 | 88 | 88 | 90 | 88 | 92 | 92 | 88 |
| Overall | 91 | 91 | 89 | 90 | 92 | 95 | 91 | 91 | 90 |
To view the complete scores and notes, click here.