Cigar Info
A milder version of the Padrón brand—a Nicaraguan cigar draped in blonde Connecticut-seed wrapper and shaped in the round, rather than pressed square. The cigar, a first for the Padrón family, is meant to appeal to those who tend to smoke milder cigars. The cigars are rolled with Connecticut-seed wrappers and a blend of Nicaraguan filler and binder tobaccos. Padrón Cigars Inc. officially unveiled the cigars at the International Premium Cigar & Pipe Retailers trade show in New Orleans and began shipping them in September.
This cigar was reviewed blind (no bands) by a panel of at least 4 reviewers. They did not know what they were smoking beforehand. The scores are an average of all the reviewers' scores with outliers removed. All of our cigars reviewed are shipped to the panelists with Boveda packs to ensure optimal smoking experience.
The new brand is named after an influential ancestor of the Padrón family who started the tradition of growing cigar tobacco in Cuba. In the late 1800s, Dámaso Padrón emigrated from the Canary Islands to Cuba and began farming a rental property in Las Obas, part of the Pinar del Río province in Western Cuba. After a time, he saved enough money to buy his own land, and eventually fathered 12 children, one of whom, Francisco Padrón, would father José Orlando Padrón. In 1961, José Orlando Padrón, who had developed a passion for tobacco farming, left Cuba for Spain and later that year he came to the United States. Fifty years ago last September, he formed Padrón Cigars Inc., a Miami company that has grown into one of the world's most acclaimed handmade cigar producers.
The Padróns have been working on Padrón Dámaso for nearly a year, but the concept of the cigar preceded its title. Padrón Dámaso comes in four sizes to begin with, each of them named for the age of one of José Orlando Padrón's grandchildren. No. 8 measures 5 1/2 inches long by 46 ring gauge; No. 12 is 5 by 50; No. 15 is 6 by 52 and No. 17 is 7 by 54. All of these sizes are parejos, or traditional straight-sided cigars. The blend is different, and the tobaccos are treated differently, so the new cigars are not being rolled in the main Padrón Cigar Factory in Estelí, Nicaragua, but in a separate area in the Padrón compound. "It's made next to the existing factory, in an area where we used to store bales. We moved the bales and made that into the factory," said Jorge Padrón. "Everything is still the same—we just didn't want to mix the two. It's important to separate."
Vital Stats:
Vitola: Robusto
Length: 5″
Ring Gauge: 50
Country of Origin: Nicaragua
Wrapper: Connecticut Seed
Binder: Nicaragua
Filler: Nicaragua
Factory: Damaso (near Piloto Cigars Inc.)
Blender: Jorge Padron
Number of reviewers: 5—–Jiunn (jliu) Robert (NavyPiper) Alan (Eulogy) Gregg (McGreggor57) Emmett (BMP_Emmett)
Price: $13.50
Age: 2 Months
Release Date: July 2015
Contributed by: Padrón
Initial Impressions
Appearance: 90
"The cigar is a light tan Robusto, measuring out at 5X48. Color is uniform and had no defects. There is also no sheen to the wrapper. Head is flat, and the cap covers it well and is centered. Seams are about as perfect as it gets." –Robert (NavyPiper)
Aroma: 88
"A strong barnyard comes off the wrapper with a bit of tobacco joining it at the foot. The cold draw offers a mix of cedar and hay." –Gregg (McGreggor57)
First Third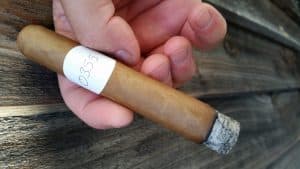 Flavor: 88
Strength: Medium
Body/Complexity: Medium
"First third started off with pepper as the main flavor, followed by tobacco and toast. No complaints here as I like peppery stogies. Ash was a light grey and was pretty solid, lasting the length of the third. Great draw and good smoke output." –Robert (NavyPiper)
"A strong tobacco flavor with a pepper finish dominates the first third. An occasional black tea flavor breaks up the monotony and adds a bit of dimension. The retrohale is very similar to the draw with tobacco and pepper notes. Just before the first third ends, a slight sweetness develops." –Alan (Eulogy)
Second Third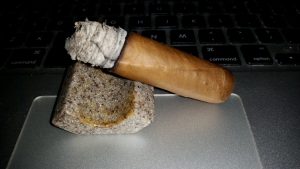 Flavor: 93
Strength: Medium
Body/Complexity: Medium
"An underlying earthiness is present along with the hay and grass. Leather enters the picture and really pulls all the flavors together creating a smooth and mellow profile. The wrapper begins to split near the burn line. Hopefully it won't become an issue." –Gregg (McGreggor57)
"This third has been graced by the presence of some pepper spice in a great way, adding just that something extra. The grassy flavor from the previous third has turned into a woody taste now and is lingering on the finish." –Emmett (BMP_Emmett)
Final Third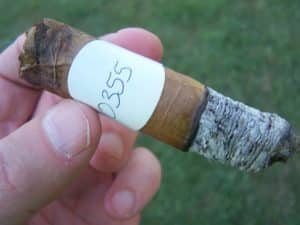 Flavor: 87
Strength: Medium
Body/Complexity: Medium
"Last thirds flavor works off similar flavors as the first third. The prominent bitterness has been significantly dialed back (although still slightly present). This makes the sweet hay and faint caramel move up front. Notes of cedar gets introduced into the mix providing a good extra depth of flavors. Spice is still only present through the retrohale. Body and strength still at a medium minus." –Jiunn (jliu)
"The leather and earthy notes begin to fade in favor of a sweeter tobacco. While it pairs well with the the grasses, a little harshness begins to creep into the picture. Just enough heat appears on the retrohale to take notice." –Gregg (McGreggor57)
Overall Impressions
Draw: 93
"The draw was great. Slightly on the looser end, but the cigar never over-heated from the loose draw." –Jiunn (jliu)
Burn: 95
"It burned perfectly, the ash held very well and required no touch-ups." –Alan (Eulogy)
Construction: 91
"Overall, this cigar performed very well. My only complaint is that I think it was packed a little bit light, if felt light in the hand, and the draw was a bit loose, but that didn't affect the performance or flavor of the cigar." –Emmett (BMP_Emmett)
Overall Strength: Medium
Overall Body/Complexity: Medium
Overall Experience: 86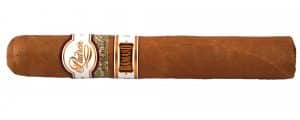 "This was a subpar cigar in my book. My main gripes about a Connecticut shade cigar came true in this cigar; bitterness, lack of spice and lack of body. Rarely do I find a Connecticut shade wrapper that is not one or all of these things. Will pass on the future opportunity to smoke one." –Jiunn (jliu)
"Overall, it was good. Kind of got overloaded on pepper, but if you are a pepper fan in stogies, then this stogie is for you. I enjoy peppery stogies, and this one satisfied that aspect, but some spice as a compliment would've been nice as well. I'd smoke another anytime." –Robert (NavyPiper)
"This cigar just isn't in my wheelhouse. It smoked well, required no touch-ups and had some interesting notes with the graham-cracker, but I'm just not a huge fan of dominant tobacco flavors. Some rest might help ease the bitterness of the final third, but it was almost unsmokeable as it stands right now." –Alan (Eulogy)
"This cigar offered a fairly solid smoke. The milder flavors transitioned nicely for the first two thirds. Once the leather left during the final third, the cigar developed a bit of harshness while the remaining flavors failed to achieve much of a balance." –Gregg (McGreggor57)
"I loved this cigar. It was not as mild as I was expecting from the appearance, and it was packed full of flavor. There were so many transitions and so many flavors in each of the first two thirds. Combine this with a perfect burn and overall really good construction, and you have a cigar that I would smoke any time, and recommend to everybody." –Emmett (BMP_Emmett)
–
Smoking Time (in minutes): 65
Reviewer

Appearance

Aroma

1/3

2/3

3/3

Draw

Burn

Constr.

Overall
Experience

Jiunn
jliu)
90
88
85
80
83
95
97
95
83
Robert
NavyPiper)
90
88
88
90
90
93
90
90
87
Alan
Eulogy)
88
88
88
90
80
90
95
88
85
Gregg
McGreggor57)
88
90
90
93
87
95
90
88
87
Emmett
BMP_Emmett)
92
95
95
97
95
93
100
92
95
To view the complete scores and notes, click here.
–
Blind Cigar Review: Padrón | Dámaso No. 12
Blind Cigar Review: Padrón | Dámaso No. 12