Cigar Info
To create Punch Signature, Master Blender Agustin Garcia and his team kept true to the original Punch blend by using tobaccos from the same countries of origin. Agustin Garcia said, "Punch Signature is inspired by Punch original blend. Think of it as a brother who has a lot of fire in him, but also respects tradition and the family name."
This cigar was reviewed blind (no bands) by a panel of at least 4 reviewers. They did not know what they were smoking beforehand. The scores are an average of all the reviewers' scores with outliers removed. All of our cigars reviewed are shipped to the panelists with Boveda packs to ensure optimal smoking experience.
Development of the Punch Signature blend began in 2012. Agustin and his team found a small batch of Ecuadoran tobacco they wanted to use, but had to ensure that they would have enough to make Punch Signature a full-time addition to Punch. So they started working with a grower to cultivate a special Ecuadoran Corojo wrapper exclusively for this cigar. The wrapper is related to the original Cuban Corojo seed. The Punch blending team in Honduras aged and sorted the tobacco, and prepared it for launch three years later. The wrapper has a lot of natural oil which makes the leaf silky, gives it elasticity and imparts a hint of cocoa, with an earthy spice. The binder is made from a proprietary Connecticut Habano leaf.
The blend composition is a story all its own. The leaves are from the Dominican Republic and Nicaragua and they are of the same variety as in the original Punch blend. Here's what's different: Some of the filler leaves are very aged, and others are less so. The aged leaves bring flavor and balance, and the newer leaves deliver more strength. It's all about incredible, balanced flavor.
Vital Stats: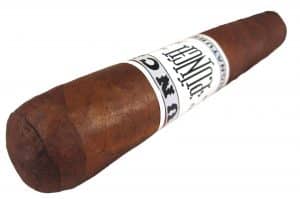 Vitola: Robusto
Length: 5″
Ring Gauge: 54
Country of Origin: Honduras
Wrapper: Ecuadorian Corojo
Binder: Connecticut Habano
Filler: Dominican Republic and Nicaragua
Factory: STG Danlí
Blender: Agustin Garcia
Number of reviewers: 5—–Steve (ThaGreatWazoo) Dan (Danfish) Ron (shuckins) Robert (NavyPiper) Emmett (BMP_Emmett)
Price: $6.79
Age: 4 Months
Release Date: March 2015
Contributed by: General Cigar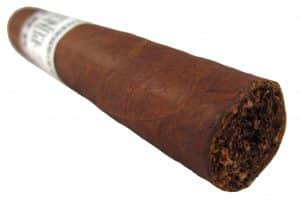 Initial Impressions
Appearance: 91
"This is a very nice and appealing stogie. One that just makes you (at least me) look at it for a while. It measures 5X55, and is an amazing color. It's a cross between brown and a deep, deep dark red that I've never seen before, it is this striking (again at least to me). It also has a mild sheen to it that just highlights the red in it. The head is almost flat, with a short rounded shoulder. The cap is centered and looks good, as do the seams. There are some lumps and bumps under the wrapper, but seem to add a rustic, old fashioned look to it. This stogie weighs a ton, much more than I expected!" –Robert (NavyPiper)
Aroma: 90
"The cigar smelled of cedar, tobacco and a hint of barnyard. A sniff at the foot of the cigar added some pepper tingle to the mix. The pre-light draw tasted of raisin, pepper and cherry. One of the best smelling cigars I've ever experienced." –Dan (Danfish)
First Third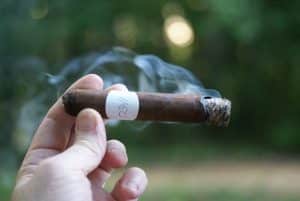 Flavor: 90
Strength: Medium-Strong
Body/Complexity: Medium-Full
"Upon lighting, I'm greeted with pepper, nuts, earth and tobacco. A few puffs in, some charred oak joins on the finish, as well as extremely dark roasted coffee. The pepper leaves for the most part a half inch down and the coffee and bitterness gradually grow. Unfortunately, the sauna that has been Pennsylvania for the past couple weeks seems to have over humidified this cigar a bit, as evidenced by the bitterness. Otherwise, the flavors in the first third were impeccable." –Dan (Danfish)
"First third is a great start. After a couple minutes of a pepper blast, things settle down to a great combination of a smoky spice, tobacco and wood. The draw is amazingly easy considering how heavy it was (I was expecting it to be a very tight draw). There is good smoke output, and the ash was a dark grey, seems loose and flaky on the outside, but was very solid overall, lasting into the second third before dropping off. A few burn waves which a couple of quick spot touch ups took care of. Enjoyed the remainder of the third with no changes." –Robert (NavyPiper)
Second Third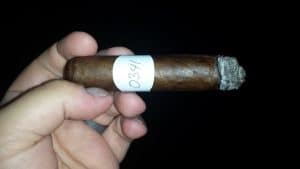 Flavor: 91
Strength: Medium-Strong
Body/Complexity: Medium-Full
"The second third continues with the heat and pepper blasts. Still has the coffee and leather tones with more black pepper built in. The burn has wavered dramaticaly causing several relights and touchups. The retrohale is very difficult to handle at this point, but still yields a little extra." –Steve (ThaGreatWazoo)
"More nutmeg flavor joins the cedary tasting tobacco, bringing a hint of creaminess with it as it pushes the heat from the pepper out. This lets more coffee come through, which blends well with the pepper lingering in the background." –Ron (shuckins)
Final Third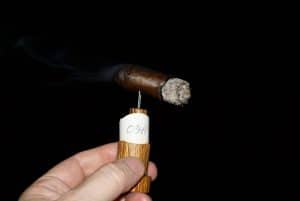 Flavor: 91
Strength: Medium-Strong
Body/Complexity: Medium-Full
"Finishes a lot smoother than it started, although enough pepper remained until the end to keep things interesting. The nutmeg and cedar mix kept most of it's creaminess thanks to the coffee fading the closer to the end it got." –Ron (shuckins)
"This third has seen a nice transition, the spice has mellowed and all the flavors have really balanced. The woodiness has really come out minus the char and the finish is spicy now. This was definitely the best third of the cigar. It never got hot at the nub." –Emmett (BMP_Emmett)
Overall Impressions
Draw: 95
"Very good draw to this cigar. I cut the cap and it was a perfect amount throughout." –Steve (ThaGreatWazoo)
Burn: 88
"Not the best of burns, but one that straightened out after a touch up." –Ron (shuckins)
Construction: 91
"The construction was overall very good, no problems of any kind." –Emmett (BMP_Emmett)
Overall Strength: Medium-Strong
Overall Body/Complexity: Medium-Full
Overall Experience: 92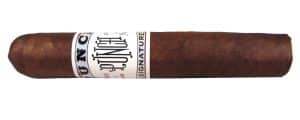 "All in all, this was a very good smoke at night. Definitely not a morning or early afternoon cigar. This needs to be smoked on a full stomach with something to wash the flavors down with. Other than that, if you are looking for a powerful cigar to sit back and enjoy, this could be in your ballpark. Enjoy if you can and get ready for a true pepper bomb experience towards the end." –Steve (ThaGreatWazoo)
"I'm disappointed in myself for letting this cigar get slightly wet, as it washed out some of the excellent flavors in favor of unwelcome bitterness. The cigar is of obvious high quality and is one I'd highly recommend picking up if you're a fan of full flavors. I'm looking forward to the reveal as this will be one I add to my buy list." –Dan (Danfish)
"Although it wasn't a multi-dimensional cigar, the basic flavors were spot on overall." –Ron (shuckins)
"Overall, I loved it. True, the flavors remained consistent throughout the smoke, but the flavors did increase through the thirds. This was quite an enjoyable smoke for me, and would love to have some in my humidor!" –Robert (NavyPiper)
"At first, I wasn't crazy about this cigar with its kind of average appearance and boring first third, but it won me over with the transitions and balance of the last two thirds. I would definitely smoke some more of these, but I don't think I'd buy a box or pay more than $7 for one. Definitely recommend to see how you like it." –Emmett (BMP_Emmett)
–
Smoking Time (in minutes): 84
Reviewer

Appearance

Aroma

1/3

2/3

3/3

Draw

Burn

Constr.

Overall
Experience

Steve
ThaGreatWazoo)
90
92
90
92
92
93
90
90
95
Dan
Danfish)
92
97
92
88
90
100
88
97
92
Ron
shuckins)
90
90
88
90
90
95
85
90
90
Robert
NavyPiper)
97
88
90
90
90
90
88
90
92
Emmett
BMP_Emmett)
85
90
88
92
92
95
95
92
90
To view the complete scores and notes, click here.
–
Blind Cigar Review: Punch | Signature Robusto
Blind Cigar Review: Punch | Signature Robusto
91
Total Score - Very Good