The "Revisited" review concept allows us to perform a follow up review on a cigar we have reviewed previously. These follow up reviews will be performed when the cigar has a year or more of age on them to see if time has been kind or not so kind to the cigar. The same reviewers are participating in both the original and follow up reviews whenever possible.
Vital Stats:
This cigar was reviewed blind (no bands) by a panel of at least 4 reviewers. They did not know what they were smoking beforehand. The scores are an average of all the reviewers' scores with outliers removed. All of our cigars reviewed are shipped to the panelists with Boveda packs to ensure optimal smoking experience.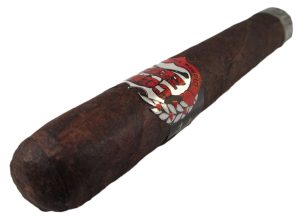 Vitola: Toro
Length: 6″
Ring Gauge: 52
Country of Origin: Nicaragua
Wrapper: Nicaraguan Habano Maduro
Binder: Nicaragua
Filler: Honduras
Factory: Segovia
Blender: David Blanco
Number of reviewers: 5—–Jeff (ExpendableYouth) Kent (Throck) Craig (WyldKnyght) Ron (shuckins) Emmett (BMP_Emmett)
Price: $7.00
Age: 1 Year, 5 Months
Release Date: August 2013
Contributed by: CZ Cigars
Initial Impressions
Appearance: 93
"This cigar sports a nice dark wrapper with a beautiful non-oily sheen to it. The veins are small and uniform throughout the complete length of the stick, and the wrapper lines are blended so well they are hard to discern, adding to the overall aesthetics of this smoke. The triple cap is smooth and perfectly blended. It is not an overly hefty stick, but it is solid and firm with no soft spots and just the right amount of suppleness." –Jeff (ExpendableYouth)
Aroma: 93
"I get pure chocolate and barnyard from the wrapper. Mostly the same from the foot and chocolate and sugar form the pre-light draw." –Emmett (BMP_Emmett)
First Third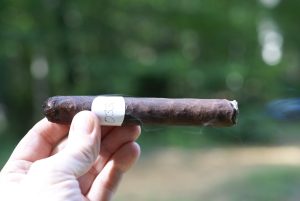 Flavor: 90
Strength: Medium-Strong
Body/Complexity: Medium
"The first thing I register after my initial light is that a thick oily pepper immediately coats my mouth, and I am left with a pleasant woodsy cedar flavor on my palate. I would say for the first half an inch it is a bit of a pepper bomb, but then recedes a bit and the woody flavor moves to the front. The retrohale has an interesting licorice/anise flavor that I can't recall if I've encountered before. I really don't enjoy black licorice as a flavor but found that I didn't mind it in this cigar. As far as the smoke output was concerned, it was picture perfect, with a clean burn line and a solid white ash." –Jeff (ExpendableYouth)
"The first puff is phenomenal, all chocolate and earth. After the first few puffs, a nice spice comes in to balance out the sweetness. The burn is taking a little bit of convincing to get even, but it's coming around. Once the burn really gets going, this stick is making a ton of smoke. This third finishes off with a bit of a minty finish continuing with the core of chocolate and earth." –Emmett (BMP_Emmett)
Second Third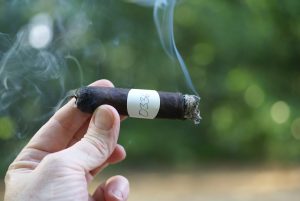 Flavor: 89
Strength: Medium-Strong
Body/Complexity: Medium
"The complexity dropped in this segment with a subtle loss of the clove and citrus. A nice thread of cherry and leather picked up. I enjoyed this third a little more as the char flavor from the initial light dwindled." –Kent (Throck)
"A wood tasting tobacco has joined the fray, chasing away any hint of creaminess that was trying to ease its way into the coffee/leather mix. The strength lever got a little boost as the pepper enjoyed the woodsy presence, and let it show." –Ron (shuckins)
Final Third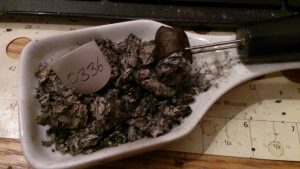 Flavor: 88
Strength: Medium-Strong
Body/Complexity: Medium-Full
"Well hello spice and pepper! The third section had the greatest spectrum of flavors that reintroduced spice flavors and a new pepper sensation. The cherry flavor picked up in intensity during this section which was a beautiful foundation to build the complexity upon." –Kent (Throck)
"During the final third the flavor mellowed out quite a bit and I started to get a tingling feeling in my mouth, which I believe was cinnamon flavor. The burn continued to be wavy, but it was more even than the first two thirds. The smoke thinned out considerably and was more light and fluffy." –Craig (WyldKnyght)
Overall Impressions
Draw: 95
"The draw was nice and easy, no issues here." –Craig (WyldKnyght)
Burn: 89
"The burn was iffy a couple of times, but corrected itself with no touch ups needed." –Ron (shuckins)
Construction: 92
"No issues with the construction. The cigar held its shape and did not threaten to split during its smoke. Seemed to be a matured cigar." –Kent (Throck)
Overall Strength: Medium-Strong
Overall Body/Complexity: Medium-Full
Overall Experience: 90
"While my overall experience with this cigar was positive, I didn't really love this smoke. It wasn't a bad cigar, it just seemed a bit middle of the road. I wouldn't turn one down if it was offered, but on that same token I wouldn't seek out a fiver or put it into my rotation either. It felt like this stick might really benefit from a couple years of age to round off some of it harsher edges and move it out of being just middling." –Jeff (ExpendableYouth)
"I enjoyed the changing complexity of the cigar. It could be that I was having a scotch on the side, but I appreciated the char flavor off the initial light. I would definitely recommend this cigar to a friend that enjoys a milder smoke with changing flavors." –Kent (Throck)
"I would have to say this cigar was not bad, but not great, and I would smoke it again. It was fairly easy to light. The burn issue was the worst of it. I wasn't fond that the thick creamy smoke it started out with thinned out after about halfway, but it was definitely not a deal breaker." –Craig (WyldKnyght)
"A decent cigar with bold flavors. I wish the flavors had been able to blend together better as it would have made for a more enjoyable cigar." –Ron (shuckins)
"Overall, I did like some of the flavors, but the construction issues really held it back. I would try it again to see if my sample was a fluke, but based on this one, I can't recommend it. Hopefully others had better luck." –Emmett (BMP_Emmett)
–
Smoking Time (in minutes): 82
Original Score: 93 (Excellent)
To view the original review, click here.
Reviewer

Appearance

Aroma

1/3

2/3

3/3

Draw

Burn

Constr.

Overall
Experience

Jeff
ExpendableYouth)
95
88
90
90
85
97
100
97
90
Kent
Throck)
95
97
90
88
92
97
95
95
95
Craig
WyldKnyght)
90
90
90
90
90
93
83
90
90
Ron
shuckins)
93
93
88
88
88
93
85
92
88
Emmett
BMP_Emmett)
93
95
90
88
85
85
83
85
85
To view the complete scores and notes, click here.
–
Blind Cigar Review – Revisited: CZ Cigars | Metal Toro
Blind Cigar Review – Revisited: CZ Cigars | Metal Toro
91
Revisited Total Score - Very Good