Cigar Info
Released in 2014, this is the maduro followup to the original Psyko Seven which came out in 2013. The original blend scored a 91 and was quite successful for the company. This version has a Mexican San Andres wrapper. Be sure to check out the end of this review for a contest, we are giving away a box of Ventura Cigars Psyko Seven Maduro Robusto.
This cigar was reviewed blind (no bands) by a panel of at least 4 reviewers. They did not know what they were smoking beforehand. The scores are an average of all the reviewers' scores with outliers removed. All of our cigars reviewed are shipped to the panelists with Boveda packs to ensure optimal smoking experience.
Vital Stats: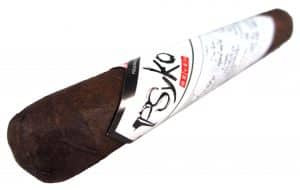 Vitola: Robusto
Length: 5.5″
Ring Gauge: 50
Country of Origin: Dominican Republic
Wrapper: Mexican San Andres
Binder: Ecuadorian Hybrid 151
Filler: Nicaragua, Peru, Honduras, Dominican Republic and United States
Factory: Tabadom
Blender: Henke Kelner
Number of reviewers: 5—–Stefan (Stefan) Gregg (McGreggor57) Dan (Danfish) Steve (ThaGreatWazoo) Wes (SosaCub4Life)
Price: $7.00
Age: 2 Months
Release Date: May 2015
Contributed by: Ventura Cigars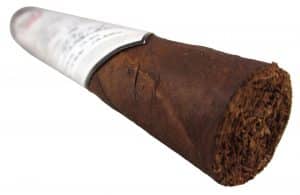 Initial Impressions
Appearance: 93
"This is a gorgeous looking cigar. Even, dark brown wrapper with more tooth than I've seen in a long time. Almost looks good enough to take a bite out of." –Dan (Danfish)
Aroma: 91
"Wrapper aromas include notes of sweaty leather, dry cocoa and Ovaltine powders. The foot exhibits additional notes of malt and some bourbon oak barrel, alongside what seems to be a good dose of nicotine. The cold draw is less enticing, marked mostly by flavors of dry wood, fresh cocoa, some malty sweetness and hints of black pepper." –Stefan (Stefan)
First Third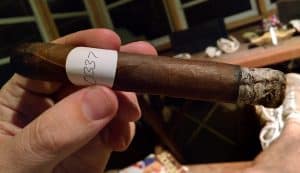 Flavor: 89
Strength: Medium-Strong
Body/Complexity: Medium-Full
"Starts off medium-full with understated, dry notes of dark cocoa joined by hints of white pepper on the backpalate and nose. There's also a prolonged, soft note of white and black pepper on the aftertaste. The profile gets much more interesting 3/8″ in with an addition of notes of savory herbs and sweet mint. And while there is no pepper noticeable on the palate, the drying smoke leaves an impression of white and even Cayenne-like pepper at the back of my throat. Following the first ashing, midway though the first third, the flavor profile shifts again to a sweeter cocoa framed by notes of malt and some baking soda while still leaving a slightly gritty aftertaste of dry cocoa powder." –Stefan (Stefan)
"It's very difficult for me to get much in the way of flavors out of the cigar because the draw is so tight. What I get is excellent though. It's a very smooth tobacco flavor with some cocoa mixed in. I can tell there's a lot more for the cigar to give, but I just can't get enough smoke from the draw to get more flavor. Smoke billows from the foot making this problem even more saddening." –Dan (Danfish)
Second Third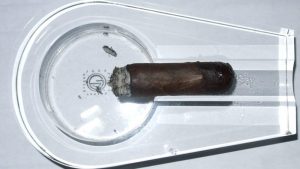 Flavor: 90
Strength: Medium-Strong
Body/Complexity: Medium
"The draw is beginning to open a little more. Leather is overshadowing the light toast and grasses that are developing in the background. Near the end of this third, some oak comes in to challenge the leather creating a bit more interest." –Gregg (McGreggor57)
"The second third continued with the pepper forward complexity. The salt hints subsided and the leather came forward to balance out the pepper quite nicely. The retrohale becomes rather harsh due to the heat coming off of the cigar. The burn wavered significantly during the second third and required lots of attention and relighting." –Steve (ThaGreatWazoo)
Final Third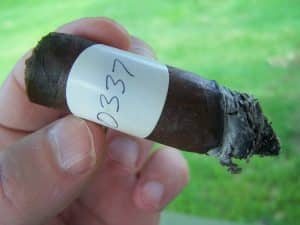 Flavor: 88
Strength: Medium-Strong
Body/Complexity: Medium-Full
"A nice balance of oak, leather and nutmeg allows this cigar to end on a positive flavor note. The grassiness in the backgound adds to the profile." –Gregg (McGreggor57)
"The spice came back in the last third and was sitting on the back of my throat. The overall creaminess of the smoke allowed the spices and flavors to linger. The draw did remain a bit tight, but the burn was perfect and it held a great ash. This cigar finished well." –Wes (SosaCub4Life)
Overall Impressions
Draw: 88
"The draw was pretty tight throughout but did loosen up some during the final third. Maybe I got a bad draw stick.. Not sure." –Wes (SosaCub4Life)
Burn: 90
"The burn began very nicely, however; the draw wavered significantly throughout the end of the first third and during most of the second third. This lead to a lot of relighting, which attributed to the greater heat draws that neutralized the flavors." –Steve (ThaGreatWazoo)
Construction: 89
"Very spongy from cap to foot, most likely caused by pulling on it aggressively to combat the tight draw. No hard spots or blockage that I could feel, but I suspect my sample had some underlying construction issues that contributed to my woes." –Gregg (McGreggor57)
Overall Strength: Medium-Strong
Overall Body/Complexity: Medium-Full
Overall Experience: 88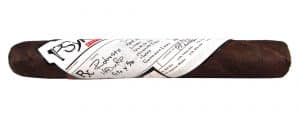 "This was bit too gritty for my liking overall (and, in spite of the gritty cocoa leitmotif, it ended up being overwhelmed by a Russian Imperial Stout). I think I would have enjoyed it better if it had more age on it (in which case it might pair well with a regular Stout beer)." –Stefan (Stefan)
"On the positive, there were some nice flavors in the mix. Oak, leather with a little nutmeg and grasses had the potential to create a nice profile. Unfortunately, my sample suffered from some major draw issues. Because of this, I could never taste any fully developed flavors. Hopefully mine was the exception." –Gregg (McGreggor57)
"Construction issues are never pleasant, but they're even worse when they happen to an obviously excellent cigar like this one. Everything about this cigar oozed quality and I was really looking forward to trying it. Unfortunately, the draw issue made it a poor experience. With hand made cigars, this happens occasionally, so I would gladly try this cigar again assuming none of the other reviewers have similar construction issues." –Dan (Danfish)
"This cigar was very good considering the deficiencies that it produced. A very nice pepper and leather flavor profile came through and the strength was very maduro-esque. A little time to develop should help these grow into a delightful cigar." –Steve (ThaGreatWazoo)
"Overall, I enjoyed this cigar. It had the strong spice up front, then it faded and the true creamy, smooth side of the cigar came through the rest of the way. The overall spice made a nice return at the end. Overall, a very good stick that I would like to smoke again to see of the draw was better." –Wes (SosaCub4Life)
–
Smoking Time (in minutes): 77
Reviewer

Appearance

Aroma

1/3

2/3

3/3

Draw

Burn

Constr.

Overall
Experience

Stefan
Stefan)
88
95
88
88
90
92
92
90
88
Gregg
McGreggor57)
90
90
85
88
88
83
88
85
85
Dan
Danfish)
95
90
88
90
85
70
85
70
80
Steve
ThaGreatWazoo)
92
90
92
92
88
90
88
90
90
Wes
SosaCub4Life)
97
93
92
90
95
88
97
92
95
To view the complete scores and notes, click here.
–
Blind Cigar Review: Ventura Cigars | PSyKo Seven Maduro Robusto
Contest
Ventura Cigars has offered Blind Man's Puff readers an exclusive  giveaway as part of this review! This giveaway is for a box of the cigar in this review, Psyko Seven Maduro Robusto 20 count.
We'll be choosing one random winner and contacting them for shipping information, so make sure you use accurate info. Contest ends 11:59PM MST 8/12/15. You must be 18 years of age or older in order to enter. US residents only. Use the rafflecopter app below to enter the giveaway contest.
Blind Cigar Review: Ventura Cigars | PSyKo Seven Maduro Robusto
Blind Cigar Review: Ventura Cigars | PSyKo Seven Maduro Robusto