Revisited
The "Revisited" review concept allows us to perform a follow up review on a cigar we have reviewed previously. These follow up reviews will be performed when the cigar has a year or more of age on them to see if time has been kind or not so kind to the cigar. The same reviewers are participating in both the original and follow up reviews whenever possible.
This cigar was reviewed blind (no bands) by a panel of at least 4 reviewers. They did not know what they were smoking beforehand. The scores are an average of all the reviewers' scores with outliers removed. All of our cigars reviewed are shipped to the panelists with Boveda packs to ensure optimal smoking experience.
Cigar Info
After a two year hiatus following his departure from Oliva, Sam Leccia returned to the cigar industry with a bang in 2013 at the IPCPR trade show debuting the Black & White lines. Black and White is comprised of two different blends. The Black blend is being manufactured in the Dominican Republic and the White blend is being manufactured in Nicaragua. The White Nicaraguan blend uses an African Sun Grown wrapper (Cameroon) with a binder from Ecuador. The filler is Nicaraguan Ligero with Seco leaves from Pennsylvania. Black and White will each has 4 sizes: 4 x 46; 5 x 52; 6 x 50 and 6 x 60. The MSRP for the cigars ranges $7.00 – $9.00. Last year, distribution of the Black & White changed from Torano to General Cigar, when they acquired his brands and hired him on to the company.
Vital Stats: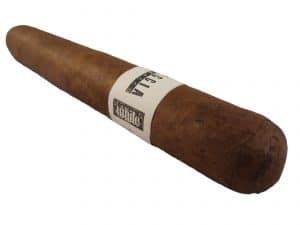 Vitola: Robusto
Length: 5″
Ring Gauge: 52
Country of Origin: Nicaragua
Wrapper: African Sun Grown (Cameroon)
Binder: Ecuadorian Habano
Filler: Nicaraguan & Dominican Ligero and American Pennsylvania Seco
Factory: American Caribbean
Blender: Sam Leccia
Number of reviewers: 5—–Ron (shuckins) Jason H. (Jokey Smurf) Craig (WyldKnyght) Wes (SosaCub4Life) Sandeep (Djangos)
Price: $7.96
Age: 1 Year
Release Date: April 2013
Contributed by: Leccia Tobacco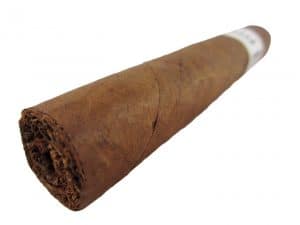 Initial Impressions
Appearance: 90
"Great looking robusto sized cigar with a darker chocolate colored wrapper. The cigar is firm to the touch with no soft spots. The wrapper is mostly smooth with some bumps. The veins are visible but not prominent to the touch. No major blemishes to the surface of the wrapper. There are three well applied caps." –Sandeep (Djangos)
Aroma: 92
"The main aromas are sweet and spicy; the baking spice variety that makes my jaw ache and my saliva start pumping! Can't wait to light this one up." –Jason H. (Jokey Smurf)
First Third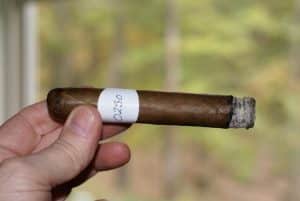 Flavor: 91
Strength: Medium-Strong
Body/Complexity: Medium
"The initial puffs on this cigar were really nice. Smooth, creamy smoke filled my mouth and coated my palate with almond and nutmeg. There was a cinnamon spiciness on the retrohale that was nice as well. A great start." –Jason H. (Jokey Smurf)
"This cigar was easy to light. The first couple puffs I got mild pepper, which quickly turned to a strong pepper taste. I got spice and pepper all over my mouth and on the back of my throat. The burn was uneven to start, touched it up and then it was fine. The smoke was creamy and I detected no bitterness." –Craig (WyldKnyght)
Second Third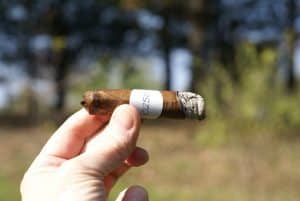 Flavor: 89
Strength: Medium-Strong
Body/Complexity: Medium
"Smooth, creamy and sweet tasting cedar is up front, with a light allspice following close behind. Most of the pepper flavor has faded, which let a touch of nutmeg sneak in and join the allspice as I smoke the cigar past halfway." –Ron (shuckins)
"The middle third is definitely better than the initial third as I am actually able to make out many of the flavors that were just drowned by the pepper. More leather and tobacco are evident now with a hay and grass in the background. There is also some cedar in the background. The pepper is still present in every puff and gravitating to the back of the throat, but more pleasant. Towards the end of the third, however, the pepper is again picking up. No issues with the burn and draw in this third as well." –Sandeep (Djangos)
Final Third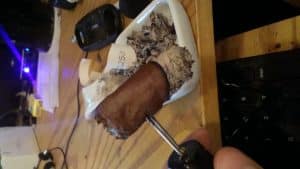 Flavor: 89
Strength: Medium-Strong
Body/Complexity: Medium-Full
"The creaminess of the cedar faded as more allspice flavor moved to the front. This chased the taste of nutmeg to the back and let more pepper through, which added enough of a pop to give the cigar a little kick at the very end." –Ron (shuckins)
"Throughout the entire time, the cigar has produced lots of smoke and this last third is no different. The cigar has become a bit soft in this last third but it is not effecting the smoke at all. There is still a nice overall creaminess to the cigar along with the spice that has stayed consistent. The overall spiciness has seemed to really pick up right towards the end of the smoke." –Wes (SosaCub4Life)
Overall Impressions
Draw: 96
"Excellent draw with plenty of tasty smoke, although there was a little heat at first." –Ron (shuckins)
Burn: 94
"The burn has been pretty good. It has gotten off a bit here and there but nothing drastic." –Wes (SosaCub4Life)
Construction: 94
"This cigar seemed to be well constructed, firm with a little give when squeezed. It had a lightweight feel to it. There was a flaky, light grey ash, and the smoke was thick and creamy." –Craig (WyldKnyght)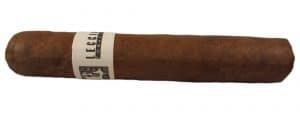 Overall Strength: Medium-Strong
Overall Body/Complexity: Medium-Full
Overall Experience: 91
"I enjoyed this cigar and the flavors it provided to please my palate. I would definitely smoke another one, along with recommending it to a friend." –Ron (shuckins)
"The beginning and end saved this cigar for me. Had the middle portion been how it started, I may have tossed the stick. I like a strong cigar but that portion was pure strength with no subtlety…a strong turn off. As it was though, the beginning was captivating, and the end brought back just enough to let me know that there is real promise in this cigar…age will work magic here, I think." –Jason H. (Jokey Smurf)
"This cigar was definitely stronger then I prefer, but not bad. The burn issue was definitely an interesting aspect. I would smoke this cigar again, but would not go looking for it." –Craig (WyldKnyght)
"Overall, I enjoyed this cigar. It had a real good mix of being creamy with a hint of sweetness at the end of the first third, going into the second third. It had a nice amount of overall spice throughout also. The spice did seem to pick up some right towards the end. Good smoke. I would definitely smoke it again." –Wes (SosaCub4Life)
"Overall, this cigar was a good smoke but a very peppery and spicy one. If this is to your liking in a cigar, then this one is for you. I personally think that this may mellow out once given a chance to rest for a while. I will try this one again with some time in the humidor." –Sandeep (Djangos)
–
Smoking Time (in minutes): 61
Original Score: 89 (Good)
To view the original review, click here.
Reviewer

Appearance

Aroma

1/3

2/3

3/3

Draw

Burn

Constr.

Overall
Experience

Ron
shuckins)
83
90
88
90
90
90
95
90
90
Jason H.
Jokey Smurf)
92
92
92
88
90
95
93
95
92
Craig
WyldKnyght)
88
90
92
90
88
95
83
90
88
Wes
SosaCub4Life)
95
95
92
95
95
97
93
95
95
Sandeep
Djangos)
92
92
88
90
88
97
97
97
88
To view the complete scores and notes, click here.
–
Blind Cigar Review – Revisited: Leccia | White 552
Blind Cigar Review – Revisited: Leccia | White 552
92
Revisited Total Score - Excellent