New Release: Macanudo Estate Reserve Jamaica
New Release: Macanudo Estate Reserve Jamaica
New Release: Macanudo Estate Reserve Jamaica
New Release: Macanudo Estate Reserve Jamaica
New Macanudo Logo
New Macanudo Logo
New Release: Partagas Anniverario
New Release: Partagas Anniverario
New Release: Partagas Anniverario
New Release: Partagas Anniverario
New Release: Partagas Anniverario
New Release: Partagas Anniverario
New Release: Partagas Anniverario
New Release: Cohiba Luxury Selection No. 2
New Release: Cohiba Luxury Selection No. 2
New Release: Cohiba Luxury Selection No. 2
New Release: Cohiba Luxury Selection No. 2
New Release: Foundry Bolivar and Ramon Allones
New Release: Foundry Bolivar and Ramon Allones
New Release: Foundry Bolivar and Ramon Allones
New Release: Foundry Bolivar and Ramon Allones
New Release: Foundry Bolivar and Ramon Allones
New Release: Foundry Bolivar and Ramon Allones
New Release: Foundry Bolivar and Ramon Allones
New Release: Foundry Bolivar and Ramon Allones
New Release: Foundry Bolivar and Ramon Allones
New Release: Foundry Bolivar and Ramon Allones
The Crew with Sam Leccia and Flex Armstrong
New Release: CAO Margaritaville Havana Daydreamin'
New Release: CAO Margaritaville Havana Daydreamin'
New Release: CAO Margaritaville Havana Daydreamin'
New Release: CAO Margaritaville
New Release: CAO Pilon
New Release: CAO Pilon
New Release: CAO Pilon
New Release: CAO Pilon
New Release: CAO Pilon
New Release: CAO Pilon
New Release: CAO Pilon
New Release: CAO Pilon
New Release: CAO Pilon
New Release: CAO Pilon
The Booth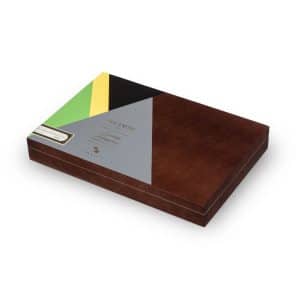 IPCPR: The Show in Pictures 2015 – General Cigar
General Cigar introduced a ton of new things at the show this year, and we are pretty excited about some of them. We'll take you through the same order we toured the booth.
Macanudo
We started off at the Macanudo section where they were showing off their new Macanudo Estate Reserve Jamaica. For the 2015 release of Macanudo Estate Reserve, the artisans of Macanudo blended a 10 year old Connecticut Broadleaf wrapper from the sun-drenched, highest priming, with proprietary Jamaican tobacco cultivated on small, independent farms and aged exclusively for this year's small batch offering. The dark, well-oiled wrapper adds a new dimension of complexity to the flavor that ignited the passion for one of the world's most beloved cigars.
Jhonys Diaz, master blender and vice president of operations said, "We selected a broadleaf wrapper for this year's release to deepen the flavor profile of the cigar. The wrapper delivers bold notes of leather and earth, while complementing the unique attributes of the Jamaican filler. This is a rich and complex smoke, one that will appeal to the true cigar lover."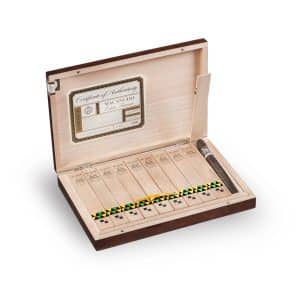 The Jamaican tobacco tells a story all its own. The varietal used in Macanudo Estate Reserve is called Silver Tongue, a native seed favored by locals. It is an extremely low-yield tobacco and is the most expensive long-filler leaf in the world.
Due to the scarcity of Silver Tongue, this exquisite cigar will only be available until the limited release of 1,800 boxes per size is depleted. Macanudo Estate Reserve 2015 will be available in three frontmarks, each protected in 10-count boxes and shipping in October. They are:
No. 7 — 7 x 50; SRP per cigar is $17.00
No. 8 — 6 x 57; SRP per cigar is $18.00
No. 9 — 5 x 50; SRP per cigar is $16.00
They also unveiled the new and updated Macanudo logo, which at first glance is not much different from its predecessor, but is a nice tweak.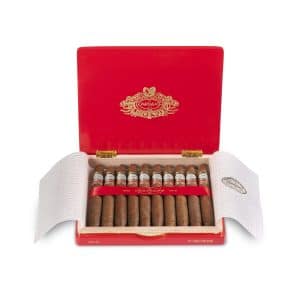 Partagas
Next we took a look at the new offerings from Partagas. General Cigar's master blenders spent the past four years developing this exceptional, limited edition cigar, in anticipation of Partagas' anniversary. The team has called Partagas Aniversario one of the best cigars they have ever made.
Alan Willner, vice president of marketing said, "We set out to honor the legacy of Partagas with a special cigar that highlights the unique range of flavors that can only be achieved by blending with proprietary tobacco. This cigar pays tribute to the Partagas brand and to the cigar masters before us who passed down their expertise and their love of tobacco. Our new product development team did a wonderful job developing a blend that we are extremely proud to call Partagas Aniversario."
The four-country blend encompasses a meticulously-configured combination of ligero and viso leaves from the Dominican Republic and Nicaragua, and includes a proprietary Nicaraguan Gurdian leaf. The binder is Connecticut Havano.
Partagas Aniversario is crowned with a stunning, organically-grown Cameroon wrapper cultivated exclusively for General Cigar by the Meerapfel family in the equatorial forest of Kadei. There, the rich soil is awash in nutrients, eliminating the need for fertilizers. Sun grown and harvested from the highest priming, the wrapper leaf lends a layered, nuanced approach to the art of the cigar, imparting buttery notes and a rich, peppery flavor.
Partagas Aniversario will debut with three frontmarks, each protected in 10-count boxes and shipping in September.
Salomone 7.25 x 54; SRP per cigar is $17.99
Toro 6 x 54; SRP per cigar is $16.99
Robusto 5 x 50; SRP per cigar is $15.99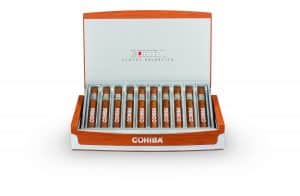 Cohiba
Cohiba announced an extension to the Luxury Selection line with a new, limited edition vitola called No. 2. The new pareo ships in October and is made with the identical, sublime blend of tobaccos that made Cohiba Luxury Selection. The blend begins in a primitive, equatorial African forest, where generations of the Meerapfel family have painstakingly cultivated a particularly refined Cameroon wrapper called Meerapfel African Gold. This extraordinary leaf is the stuff of legend, for the blood red soil yields an extremely rare tobacco that is a sight to behold as it is to smoke. Aged for five years, this ethereal tobacco comprises the very foundation of Cohiba Luxury Selection.
The binder and filler leaves are hand-selected and carefully fermented in a proprietary process lasting four months before undergoing an additional six months of aging in rum barrels.
Upon emerging from the artisans hands, the freshly-rolled cigars rest in special aging cases sprinkled with cedar shavings and tobacco leaves to enhance their flavor. The result is a cigar of incomparable taste and aroma. Given the rarity of tobaccos and the amount of time it takes to create Cohiba Luxury Selection, only 1,000 boxes of the No. 2 frontmark have been made.
Cohiba Luxury Selection No. 2 — 6" x 52
SRP per cigar is $38.00
Foundry
General Cigar has given the reins of two classic brands to Michael Giannini and Foundry Tobacco Company.  These heritage brands are shone in a modern and contemporary light. Here is a futuristic interpretation of how two storied brands could look 10 years from now. The world's best tobaccos mixed with the forbidden fruit.  But for now, while those leaves remains locked away, the blends tell the story. The best tobaccos from the Dominican Republic, Ecuador, Nicaragua and the USA expertly developed in true Foundry style.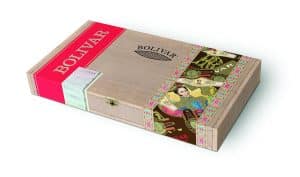 Bolivar
It starts with an optical lesson in history. Right on the box. Bolivar cigars are named for Simon Bolivar. The legendary liberator who led wars of independence in South America. The brand began in Cuba in the 1900s. Its classic taste reimagined by Foundry Tobacco Company. The new cigar is a bold tribute. Worthy of its pedigree. Tobaccos spanning six countries. Conventions broken with visos and ligeros. Its time has come.
660 — 6 x 60, SRP per cigar $7.49
652 — 6 x 52, SRP per cigar $6.99
550 — 5 x 50, SRP per cigar $6.49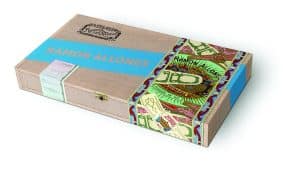 Ramon Allones
Introduced in Cuba in 1837. Today, there's passport to the future with each draw. An unfinished foot. A nod to old-world craftsmanship. A dark and lustrous wrapper. A modern puro blended with Foundry Tobacco Company expertise. Full-flavored and fully Nicaraguan. A color-blocked passport to the future.
660 — 6 x 60, SRP per cigar $7.49
652 — 6 x 52, SRP per cigar $6.99
550 — 5 x 50, SRP per cigar $6.49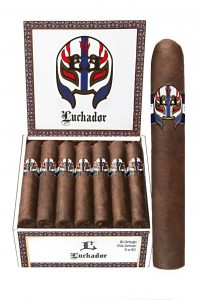 Sam Leccia
The Leccia Tobacco Luchador series continues with the introduction of El Gringo, a full-flavored, four-cigar line up that commands as much attention as a pro wrestler.
Medium-to-full bodied with notes of dark cocoa and pepper spice, this red, white and blue themed line delivers rich, Nicaraguan-fueled flavor. With a Nicaraguan Oscuro wrapper, Nicaraguan Habano binder and blend of three ligeros from Esteli, Jalapa and Pennsylvania, El Gringo is a force to be reckoned with.
While the vitolas are named after well-known wrestling moves, the taste is as serious as it gets.
Squared Circle 6.5 x 64, SRP per cigar $8.79
Pile Driver 6 x 60, SRP per cigar $8.49
Frog Splash 4.5 x 70, SRP per cigar $8.25
Chin Music 6 x 48, SRP per cigar $7.99
Also, we happened to catch Sam Leccia throwing down with Flex Armstrong… enjoy.
CAO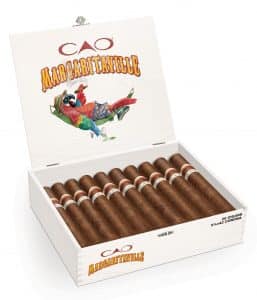 General Cigar is proud to announce the debut of "Margaritaville," a duo of new brands debuting under the CAO portfolio.
Alan Willner, vice president of marketing for General Cigar said, "Margaritaville is a blockbuster brand, one that aligns perfectly with the cool, laid back vibe of CAO. This strategic addition to our portfolio is a natural fit for CAO and paves the way for more exciting collaborations in the future."
Margaritaville Cigars
The allure of palm trees, cocktails and lazy days spent relaxing on the beach are just a light away with CAO's new Margaritaville line.  A cool new addition to the Flavours collection, Margaritaville is a piña colada-flavored cigar available in a Petit Corona and Corona size. Featuring a Cameroon-wrapped blend of Dominican tobacco, an escape to an island paradise is just a light away. Margaritaville cigars will hit retail in October. The Corona size will be packed in 20-count boxes, while a box of Petit Coronas will contain 25 cigars.
Margaritaville Corona 5.25 x 42 – SPR per cigar $6.99
Margaritaville Petit Corona 4 x 40 – SPR per cigar $5.49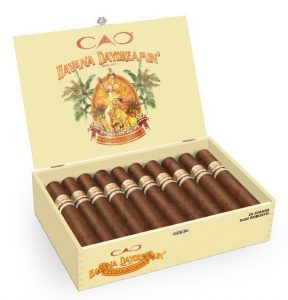 Havana Daydreamin'
CAO is keeping the carefree spirit of summer alive all year long with Havana Daydreamin,' a new premium smoke that's also making its debut as part of the brand's Margaritaville series. Havana Daydreamin' offers a smooth and flavorful escape from the everyday, with a blend of Nicaraguan tobaccos topped with a silky, golden-hued Ecuadoran Connecticut wrapper. A mild-to-medium-bodied offering, Havana Daydreamin' delivers notes of toasted spice and is the ideal complement to any tropical daydream. Havana Daydreamin' will debut at retail in October, with three cigars. Each will be packaged in boxes containing 20 cigars.
Havana Daydreamin' Torpedo 6.25 x 52 – SRP per cigar $7.99
Havana Daydreamin' Toro 6.5 x 50 – SRP per cigar $7.49
Havana Daydreamin' Robusto 5 x 50 – SRP per cigar $6.99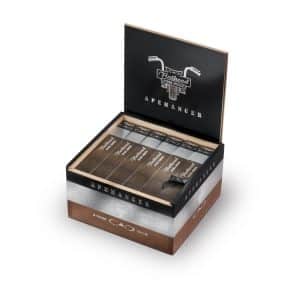 CAO Steel Horse
CAO is answering the call of bikers everywhere with a duo of new frontmarks created under the banner of Steel Horse. A spin-off of its wildly-popular Flathead line, Steel Horse delivers a unique taste created with the motorcycle enthusiast in mind.
Rick Rodriguez said, "We came out with Flathead in 2013 because the people I met at CAO events were always talking about cars when they weren't talking about cigars. Turns out the bikers felt left out. Believe me, I've heard all about it. So we decided to come up with a cigar that would appeal to the guys and gals that are into motorcycles." Steel Horse is a complex new blend, made with the signature flat head cap.
Wrapped in a proprietary Connecticut Habano Grueso leaf and featuring tobacco from four-countries, these medium-to-full bodied smokes are the perfect companion for a slow ride or the perfect excuse to make a pit stop. The four-country blend is made with Brazilian Arapiraca as the binder. Honduran, Nicaraguan and Dominican tobaccos comprise the filler. Easy-smoking flavors of leather and spice are prevalent, and the cigars are individually packaged to fit in a rider's saddle bag. The Steel Horse frontmarks are housed in 20-count boxes and will hit retail in August.
Bullneck 6.5 x 66 – SRP per cigar $9.99
Apehanger 5.5 x 58 — SRP per cigar $8.99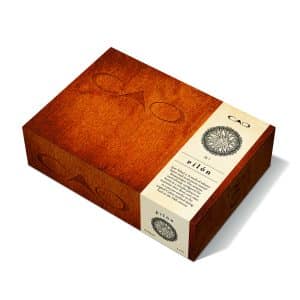 CAO Pilon
When the CAO blending team set out to create a new cigar for the Classic Series, they went with a fermentation technique used in old-world Cuba, the round pilón. Dating back to the 19th century, a pilón is a stack of tobacco leaves meticulously arranged in small configurations. This process of natural fermentation maximizes the flavor and color of the leaves to deliver a taste and appearance unattainable through other methods.
The practice of pilón fermentation was abandoned nearly a half century ago in favor of less time-consuming methods. Still, CAO chose to use this method because it really delivers when it comes to flavor. It also reduces the ammonia and sugar content of the wrapper leaf, to improve burning and combustibility.
CAO Pilón is the brainchild of Agustin Garcia and Rick Rodriquez. Rick said, "We have experimented with pilón fermentation for several years. It's a very labor intensive process and we took our time perfecting it. We thought it was the right time to create a line around this classic technique because it does such incredible things to the tobacco. This is the first time we're using the pilón method, but I can tell you, it won't be the last."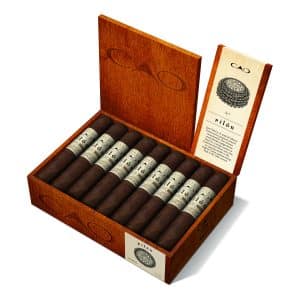 The blending team applied pilón fermentation exclusively to the silky Cuban seed Ecuadoran wrapper and built the blend with spicy Nicaraguan filler and binder leaves from the distinctive growing regions of Esteli and Ometepe. The result is a collection of well-balanced cigars that bear a deep, rich color and an incredible depth of flavor, featuring with notes of wood, spice and a touch of sweetness. CAO Pilón ships in August and will be available in three classic sizes, each housed in rustic, 20-count boxes.
Churchill 7x 48 – SRP per cigar $7.25
Robusto 5 x 52 – SRP per cigar $6.50
Corona 5.5 x 44 – SRP per cigar $6.00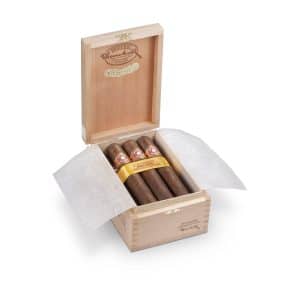 Dunhill
Heritage
The artisans at Dunhill Cigars proudly present Heritage, an elegant, full-bodied collection that celebrates the brand's rich history of award-winning cigars. Crafted by Dunhill Cigars' master blender, Heritage by Dunhill reveals an exciting harmony of flavors derived from the world's richest soils.
"For more than 100 years, Dunhill has searched the world in a quest for sourcing tobacco of exceptional flavor and complexity. The goal is to epitomize smoking excellence, and we believe we have delivered that with Heritage by Dunhill," said Steven Kron, regional account manager for Dunhill cigars.
Dressed in a bold Ecuadoran Habano ligero and blended with exotic tobaccos including ten-year aged Nicaraguan Ometepe, eight-year aged Honduran Jamastran and three-year-aged Nicaraguan Esteli, Heritage by Dunhill is bound with Nicaraguan Jalapa. The flavor is bold, full-bodied, complex and positively Dunhill. Dunhill Cigars has chosen this new range to be produced at General Cigar's Honduran factory, adding another country to the production landscape of its acclaimed cigars. Heritage by Dunhill will premiere at retail in August with four frontmarks. The cigars will be presented in 10-count boxes, inspired by vintage Dunhill cigars of the brand's Cuban years.
Gigante 6 x 60, SRP per cigar $12.95
Churchill 7.5 x 50, SRP per cigar $12.55
Toro 6 x 50, SRP per cigar $11.25
Robusto (box-pressed) 5 x 50, SPR per cigar $10.15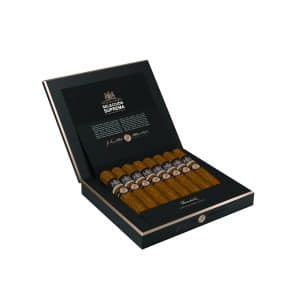 Seleccion Suprema
Dunhill Cigars celebrates the 80th anniversary of its acclaimed Don Candido line with Dunhill Signed Range Selección Suprema, the brand's most exclusive launch to date.  Steven Kron, regional account manager of Dunhill Cigars said,
"Don Candido was the first cigar ever manufactured solely for Dunhill, thus beginning the brand's legacy of exclusivity. It is with great pride that we debut Selección Suprema, a cigar that honors Dunhill Cigars' commitment to bringing the very finest handmade cigars to connoisseurs throughout the world."
This landmark cigar combines a Nicaraguan Jalapa shade wrapper with three exceptional fillers: full-bodied Nicaraguan Esteli and Jalapa, and rare Brazilian Matafina, and a hearty Connecticut Broadleaf binder. To achieve Seleccion Suprema's incredible character, the artisans of Dunhill Cigars select only the finest leaves for intensive fermentation and aging. After being hand-rolled by master torcedors, the cigars emerge, flawlessly crafted, and uniquely Dunhill. Spicy-sweet, full-flavored and well balanced, Dunhill Signed Range Seleccion Suprema is indeed a cigar for the true aficionado, as an extremely limited number of boxes have been created for global distribution.
The exquisite blend will be released in just one size, a 6×50 Toro that was developed to maximize the flavor of the tobaccos. The cigars are showcased in elegant, matte finish black boxes, each protecting eight cigars. Premiering in October, Dunhill Signed Range Selección Suprema will sell for $20.00 per cigar, or $160 per box, until the limited U.S. allotment is depleted.
IPCPR: The Show in Pictures 2015 – General Cigar