New Release: Montecristo Espada Estoque
New Release: Montecristo Espada Estoque
New Release: Henry Clay Tattoo
New Release: Henry Clay Tattoo
Henry Clay Display Case
Display Case
Gispert
H. Upmann The Banker New Size
H. Upmann The Banker New Size
New Release: ROMEO by Aging Room
New Release: Montecristo 80th
New Release: Montecristo 80th
New Release: Montecristo 80th
New Release: Montecristo 80th
New Release: Montecristo 80th
Montecristo Display
Curing Tobacco
Curing Tobacco
The booth from out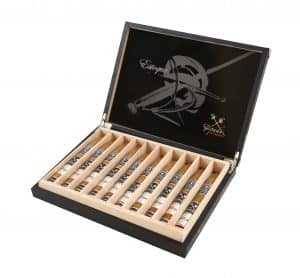 Montecristo Espada Estoque
The first thing we were shown at the Altadis booth was the new addition to the Montecristo Espada, the Espada Estoque. The original Espada scored a 92 in our blind review here and made our Top 25 list of 2014. The Altadis booth had a lot to offer in 2015. The Grupo de Maestros and the Plasencia Family worked together in the creation of the original Espada by Montecristo. Together, they are excited to introduce their very limited line extension of Espada by Montecristo, the ESTOQUE.
Estoque is the term for the special, flat and elegantly shaped sword wielded by Spanish Matadors in the bullfighting arena. The ESTOQUE is a dark, full-bodied cigar filled with great flavor and mystery that puts the same heritage and magnificence in your hand.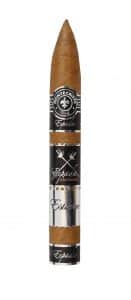 The new ESTOQUE blend bursts with rare Vintage 100% Nicaraguan tobaccos, which are carefully cured, fermented and meticulously handcrafted by skilled artisans. It is made with an extraordinary blend of filler tobaccos, including Nicaraguan Corojo Seco Estelí Vintage 2009, Nicaraguan Criollo Viso Ometepe Vintage 2013, and Nicaraguan Criollo Viso Condega Vintage 2013 fillers, ensconced in a Nicaraguan Criollo Seco Jalapa Vintage 2002 binder and finished with an Upper Priming Nicaraguan Cuban Seed Viso Jalapa Vintage 2013 wrapper.
A very limited line extension, the ESTOQUE will be available in one size: 50 x 6 Torpedo and priced $14.50 per stick. With only 5,000 boxes being produced, the ESTOQUE will be presented in an exquisite, 10 – count, black leather box. Scheduled to ship after IPCPR in August, don't let a box of ESTOQUES escape your grasp, as they are sure to be among your most prized cigars.
Montecristo 80th Anniversary
Next up was the The Montecristo 80th Anniversary. The Montecristo brand has had a rich and glorious history. Dating back to 1935, Montecristo cigars have ranked among the most highly regarded and sought-after premium, handcrafted cigars in the world, known for their impeccable workmanship and superior and consistent quality. In honor of this iconic brand's proud legacy, the makers of Montecristo are announcing the scheduled release of the Montecristo 80th Anniversary cigar.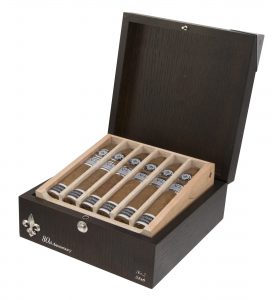 The Montecristo 80th Anniversary is a very special, very limited edition cigar exclusively featuring, for the first time, Dominican Pilotico tobacco, grown from seeds hand carried by Pepe Mendez before fleeing Cuba. Set aside until recently, the Mendez family has carefully grown these coveted seeds in the fertile Navarrete region of the Dominican Republic. Naturally producing fewer and smaller leaves, the Navarrete area brings out the rich, bold and complex flavors of the tobacco, making for a wonderfully complex smoke.
Montecristo 80th Anniversary features a dark, rich and oily Ecuadorian Sumatra wrapper that burns well with a full-bodied and spicy taste. The binder is a Dominican Olor 2010 Villa Gonzalez Crop, notable for its slightly natural sweetness and floral tones. The filler is a blend of the new and exclusive Dominican Pilotico tobacco combined with some Nicaraguan Criollo '98, a dark, heavy bodied tobacco noted for its strength and robust taste, as well as Nicaraguan Corojo '99, a wonderfully aromatic tobacco well known for a great burn and uniform white ash.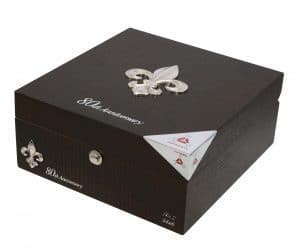 The Montecristo 80th Anniversary cigar will be available in a 54 x 6 square-pressed iconic Belicoso No. 2 size, packaged in a handmade, dark oak, 12-count box, handsomely adorned with a silver Fleur de Lis. Priced at $22 per cigar, the Montecristo 80th Anniversary is scheduled to launch at the 2015 IPCPR in July, there will be only 3,000 boxes available as well as fifty, 80-count, limited – edition Montecristo 80th Anniversary humidors.
Montecristo White Vintage Connecticut
After that we were shown the new Montecristo White Vintage Connecticut. Carefully grown in the sandy, mineral-rich soil of the Connecticut River Valley, Connecticut Shade Wrapper is prized for its unique, silky texture, golden color and delicate flavor. The finest leaves are nurtured on Montecristo's company farms and reserved exclusively for these special cigars.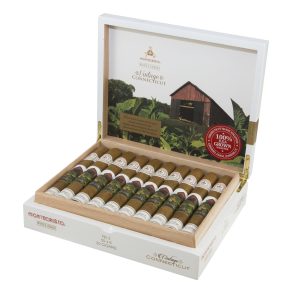 Montecristo White Vintage Connecticut marries the subtle nuances of a vintage 2008, aged Connecticut Shade Wrapper to a sensual blend of hand-selected binder and fillers. Rich. Flavorful. Complex. For generations, Connecticut Shade Wrapper has been highly sought-after by the world's finest cigar makers. The leaves are grown in the sandy loam, unique to the Connecticut River Valley, under special tenting that filters the sun and elevates humidity to ideal levels. These conditions culminate in leaves that are prized for their silky texture, golden appearance, delicate flavor and flawless burn. The very finest of these leaves are carefully nurtured on Montecristo's company farms and are reserved for Montecristo cigars.
Montecristo's expert artisans have patiently aged select leaves to create the MONTECRISTO WHITE VINTAGE CONNECTICUT cigar. The subtle taste nuances of the wrapper are married to a sensual blend of rich, hand-selected binder and filler tobaccos, culminating in a sophisticated smoke – with complex flavor sensations. This exquisite cigar is certain to delight the aficionado.
No. 3 50 x 6"
Double Corona 50 x 6 ¼"
Wrapper: Vintage 2008 Connecticut Shade (Grown in U.S.A. on Montecristo Company Farms, Exclusive to A.U.S.A.)
Binder: Nicaraguan
Filler: Dominican, Nicaraguan & Peruvian
Country of Origin: Dominican Republic
These cigars are scheduled to ship in July. Priced between $10.50 and $14.50 per cigar.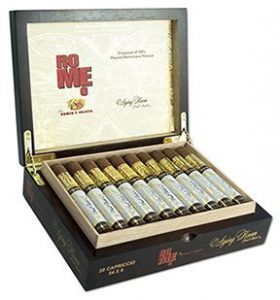 ROMEO by Aging Room
Something we were all looking forward to seeing was the ROMEO by Aging Room. We have been fans of this new trend of Boutique brands collaborating with big established brands and seeing what they can do. Combining the wisdom and passion of award-winning cigar makers Romeo y Julieta and Aging Room, Altadis U.S.A. is proud to announce that the ROMEO by Romeo y Julieta Aging Room cigar was released in May 2015.
"Immaculately constructed by Aging Room artisans under the guidance of Romeo y Julieta's famed Grupo de Maestros, this Dominican puro exemplifies the best qualities of two storied brands," said an Altadis U.S.A. spokesperson. "It is a rare smoke that will truly be treasured."
Elegant and aromatic, ROMEO by Romeo y Julieta's Aging Room is a rich, savory, medium- to full-bodied cigar. Perfectly balanced and highlighted by subtle and complex nuances of flavor, it is handcrafted with 100% Habano Dominican tobaccos. These rare leaves are carefully grown in the Cibao valley — one of the most fertile tobacco growing regions on earth — and patiently aged.
Designated F-25, this limited – edition, single batch cigar was imagined on Friday, the 25th of the month. The exclusive premium cigar is available in three sizes: 54 x 6" Capriccio, 52 x 6" Cantaor and 48 x 5" Copla.
Packaged in a beautiful box, handcrafted with the same care as the cigars it will carry, the ROMEO by Romeo y Julieta Aging Room is worthy of a position of pride in any humidor. These small batch cigars will retail between $11.50 and $12.50 per stick.
The ROMEO by Romeo y Julieta Aging Room is evidence of the magic that occurs when two passions come together. Experience this mesmerizing Dominican puro for yourself at your local tobacconist.
The rest of the new releases we have posted press releases about before the show, so you can look back through our news and check those out if you are curious. We do have pictures of their displays in the slideshow.