Vital Stats:
Vitola: Torpedo
Length: 6.12″
Ring Gauge: 54
Country of Origin: Nicaragua
Wrapper: Ecuadorian Connecticut
Binder: Indonesian
Filler: Jalapa
Factory: Tacasa
Number of reviewers: 5 —– Craig (WyldKnyght) Derek (StogieNinja) Cindy (Ms_CindyLynn) Emmett (rhetorik) Ron (shuckins)
Price: $7.00
Age: 4 Months Rest
Release Date: July 2013
Contributed by: Veritas Cigars
Initial Impressions
Appearance: 92
"Very nice claro colored torpedo (6X52). Some fine lines and veins, but otherwise quite attractive." –Craig (WyldKnyght)
This cigar was reviewed blind (no bands) by a panel of at least 4 reviewers. They did not know what they were smoking beforehand. The scores are an average of all the reviewers' scores with outliers removed. All of our cigars reviewed are shipped to the panelists with Boveda packs to ensure optimal smoking experience.
"There were a bunch of tiny veins, which you couldn't feel. The color was a tan/brown with a greenish tint." –Cindy (Ms_CindyLynn)
Aroma: 88
"Grassy hay and light leather. Not a lot of aroma." –Derek (StogieNinja)
Construction: 91
"Very well constructed, nice and firm with no hard or soft spots." –Craig (WyldKnyght)
First Third
Flavor: 91
Strength: Mild-Medium
Body/Complexity: Medium
"First puff is mild wood, just the barest hint if leather, and some sweet simple syrup, very smooth. Though mild, the flavors aren't shy. Nutmeg shows up at the half inch mark, and the mild leather is stronger now. There's just a hint of herbal flavor that, combined with the sweetness, actually reminds me a bit of Thai iced tea. At the one inch mark, nutmeg, cloves, leather, dry wood and a nice graham cracker flavor are all present, overlayed with that simple syrup sweetness." –Derek (StogieNinja)
"This cigar was very mild with earthy tobacco flavors. Grass was the main component of this third." –Cindy (Ms_CindyLynn)
"Sweet creamy cedar,cocoa with splashes of allspice and a nutty tasting tobacco provides a pleasant start to the cigar." –Ron (shuckins)
Second Third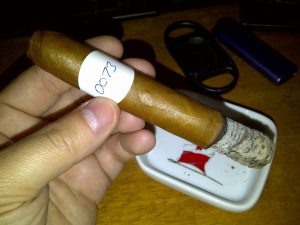 Flavor: 90
Strength: Mild-Medium
Body/Complexity: Medium
"The second third is decidedly creamier than that first. Even more complex and with more body, this third is shaping up to outshine the first. I'm still getting a woody undertone with hints of spice and fruit. The burn gets a little off towards the end of this third and needs a correction." –Emmett (rhetorik)
"A taste of pepper sneaks in, chasing away the sweetness of the creamy cedar flavor, while nutmeg replaces the allspice and helps the cocoa flavor move to the front with the nutty tasting tobacco." –Ron (shuckins)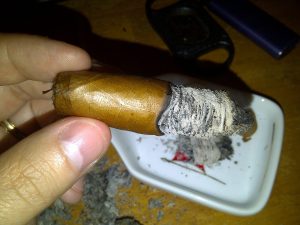 Final Third
Flavor: 90
Strength: Medium
Body/Complexity: Medium
"Flavors remain unchanged, which is a good thing, but towards the end of the second half and into the third, they grow warmer, richer. The sweetness is creamier now and the spices are warmer. This is the sweet spot for me and remains so until about an inch left when it grows hot." –Derek (StogieNinja)
"This third isn't as creamy as the previous and has picked up in the spice flavors. I'm getting some cinnamon and cumin along with the same nuttiness as before. It's working very well and I'm really impressed with this cigar. Towards the end of this third some of the creaminess comes back and I get a nice sampling of everything this cigar has offered through the experience." –Emmett (rhetorik)
Overall Impressions
Draw: 91
"The draw was great throughout, a tad looser than I prefer, but provided great smoke." –Emmett (rhetorik)
Burn: 90
"Very nice, slow, even burn the entire time." –Ron (shuckins)
Overall Strength: Medium
Overall Body/Complexity: Medium
Overall Experience: 91
"Overall this was a good cigar, just very one dimensional, with little change until the end." –Craig (WyldKnyght)
"This is a very nice stick, but it lacks the well-roundedness I find in most Cubans. Like most light NCs, it's pleasant, sweet and very accessible, but it lacks depth and character. It's like a skinny girl with a nice voice – you can't help but wonder what it would sound like if a full-bodied woman sang with the same voice. I do wonder how a year of rest might improve the flavors and deepen them. There's enough there that some additional downtime might really help this stick shine." –Derek (StogieNinja)
"Overall, the cigar was full of earth, grass and some salt. There wasn't much complexity. Personally, I wouldn't smoke this again, but that doesn't mean somebody else wouldn't. This just isn't something I would go get for myself." –Cindy (Ms_CindyLynn)
"The whole experience was great, this cigar had a lot of body and complexity without a lot of strength. I could see adding this to my rotation of new Connecticuts if the price is right. This would make a GREAT morning smoke. The flavors worked together very well and were always balanced." –Emmett (rhetorik)
"Not too dimensional, but I enjoyed the flavors it had, and would definitely smoke another one." –Ron (shuckins)
Smoking Time (in minutes): 73
Total Score: 90 (Very Good)
Edit
Reviewer
Appea-
rance
Aroma
Constr.
1/3
2/3
3/3
Draw
Burn
Overall
Craig
90
85
90
88
88
88
92
92
88
Derek
91
89
91
90
90
90
93
89
90
Cindy
95
88
85
83
84
84
84
84
77
Emmett
92
87
93
93
94
93
92
89
94
Ron
95
95
95
92
92
91
88
95
90
Overall
92
88
91
91
90
90
91
90
91
To view the complete scores and notes, click here
Blind Cigar Review: Veritas | Torch Connecticut Torpedo