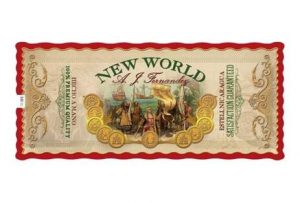 (Miami, Florida) July 11, 2014— A.J. Fernandez Cigars, known for producing consistently highly rated and sought after cigars is proud to unveil "New World" at the 2014 IPCPR in Las Vegas. New World will be showcased as a value brand featuring the same quality, consistency, and workmanship that is expected from A.J. Fernandez. The New World Cigar brand is the first blend in where A.J. Fernandez and father Ismael Fernandez come together
Master blender A.J. Fernandez has created New World. A unique cigar which pays homage to the discovery of then "mystical smoking leaf" called tobacco by the Europeans when their ships landed in what is now called the New World. In November 1492, Jerez and Luis de Torres first observed natives smoking as they were searching for the Emperor of China. Not knowing they landed in what is now known as Cuba, they came across natives that made rolls of palm and mais leaves in the manner of a musket formed of paper with tobacco on the inside. One would light one side and drink the smoke out of the other.
A.J. Fernandez said: "The New World Cigar relates to expanding one's knowledge and questioning the status quo by discovering our personal New Worlds as we go through life. The team at A.J. Fernandez Cigars is grateful for the amazing support we have received from the consumer and therefore will offer the New World Cigar at a value price as we invite everyone to join us on our New World journey. Furthermore, I am especially proud to announce that my father Ismael Fernandez who recently retired after 17 years with the Plasencia family has now joined the A.J. Fernandez family. New World marks the first cigar that we work on together since he joined the company. "
The New World blend is an elegant box press cigar, beautifully adorned with a cigar band that depicts the European landing on the shores of the "New World." As with every A.J. Fernandez cigar brand, New World is carefully hand crafted cigar which was blended under strict supervision of A.J. Fernandez in their Estelí, Nicaragua based factory.
The New World Cigar is a medium to full bodied cigar with an amazing aroma. Smokers of New World will experience elements of sweetness, spiciness in a very balanced and refined cigar. The New World Cigar is composed of a Jalapa binder, Viso Ometepe Filler, Condega Ligero, Esteli-Finca Soledad Ligero, wrapped in a beautiful Dark Nicaragua. At a MSRP of six dollars, A.J. Fernandez is looking for New World to be a first class cigar that can be a daily source of enjoyment.
New World Cigars come in a beautifully adorned 21 count box and come in four sizes.
Navegante: 5 ½ X 55 Robusto
Almirante: 51/2 X 55 Belicoso
Gobernador: 6 ½ X 55 Toro
Virrey: 6 X 58 Gordo
ABOUT A.J. FERNANDEZ CIGARS:
A.J. Fernandez Cigars is based on the rich tradition of the Fernandez cigar legacy. A.J. Fernandez now produces unparalleled, hand-rolled cigars in Estelí, Nicaragua which have garnered numerous top ratings and acclaim from cigar publications and consumers alike. Today A.J. Fernandez continues the family tradition as he oversees production and manages day to day operations in his factory in Estelí.
Cigar News: A.J. Fernandez to Introduce "New World" at IPCPR