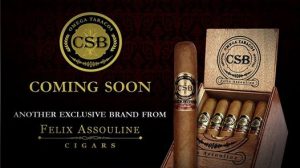 Felix Assouline Cigars is bringing back the CSB, a traditional round shaped cigar from the 2000's. CSB will be available in two wrappers, Ecuador Connecticut and Jamastran Habano '98, and in five shapes:
• Shorty, 5 x 50
• Torero, 52 x 6
• Monument, 54 x 6
• Fat Man, 56 x 6.5
• Salva Vida, 58 x 5.5
The Retail prices for the CSB range from $5.00 to $6.00
CSB Cigars with the Connecticut wrappers are mild to medium while the Habano wrappers are medium to full. All fillers are from their farm in Jamastran, Honduras. They are proud to provide a pleasant smoke from start to finish at a value price. Felix Assouline Cigars have rated well in our blind tastings, so we have high hopes for these as well. Read our previous reviews of Felix Assouline Cigars here:
Felix Assouline Cigars is also proud to introduce a powerful addition to their cigar lines: II Saints. They have partnered with Tournaire Jewlery, famous for their exclusive designs for St. Dupont and complete arsenal of men's accessories, including ashtrays, lighters, belt buckles, rings, bracelets, and now cigars.
II Saints cigars are produced in their factory in Esteli, Nicaragua with tobacco grown from our farm in Jamastran, Honduras. They are box pressed and feature a dark Ligero wrapper. If you are looking for a full bodied cigar with great flavor from start to finish, II Saints will please the palate, stick after stick.
The five shapes that will be available are:
• La Douce Nuit, 5 x 50
• La Petite Mort, 5 x 52 Perfecto
• La Nuit Blanche, 6 x 54
• Les Copains D'abord, 6.5 x 56
• L'ange Noir, 6.5 x 56 Perfecto
The Retail prices for the II Saints range from $5.50 to $9.00
Cigar News: New Cigars from Felix Assouline at IPCPR