Vital Stats:
This cigar was reviewed blind (no bands) by a panel of at least 4 reviewers. They did not know what they were smoking beforehand. The scores are an average of all the reviewers' scores with outliers removed. All of our cigars reviewed are shipped to the panelists with Boveda packs to ensure optimal smoking experience.
Vitola: Toro
Length: 6″
Ring Gauge: 50
Country of Origin: Nicaragua
Wrapper: Ecuadorian Habano
Binder: Mexican San Andres
Filler: Nicaraguan
Factory: Tabacalera Oliva
Blender: Undisclosed
Number of reviewers: 6—–Sandeep (Djangos) Gregg (McGreggor57) Dave (mdwest) Jason H. (Jokey Smurf) Derek (StogieNinja) Emmett (rhetorik)
Price: $7.50
Age: 2 Months
Release Date: February 2014
Contributed by: Meier & Dutch
Initial Impressions
Appearance: 92
"A very nice looking cigar with a medium brown, milk chocolate colored wrapper, minimal tooth and minimal veins present. Very "smooth" in appearance." –Dave (mdwest)
Aroma: 91
"I'm getting barnyard and leather from the wrapper and foot. The pre-light draw is softer and tastes of almonds." –Emmett (rhetorik)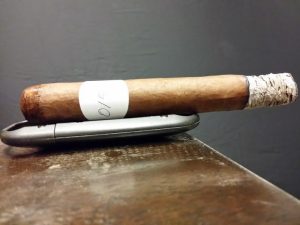 First Third
Flavor: 92
Strength: Medium
Body/Complexity: Medium
"The initial third starts off with some pepper that ramps up before fading away. The cocoa and coffee are coming through nicely. There are some sweet spices that seem mixed and not individually distinguishable. Very nice beginning. The burn and draw are almost perfect. There are clouds of thick, creamy and almost bluish smoke. The ash is light grey and holding for almost two inches before falling off." –Sandeep (Djangos)
"A touch of pepper to start leaving behind a pleasant nuttiness. As this third progresses, the nutty flavors develop a toasted quality before becoming somewhat charred. A rich, earthy and moss flavor is in the background and helps smooth out the overall balance." –Gregg (McGreggor57)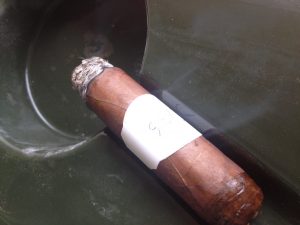 Second Third
Flavor: 90
Strength: Medium
Body/Complexity: Medium-Full
"The flavors in the second third became much more woody, predominantly oak. The sweetness faded and the strength increased for me. There was a bit of harshness in the back of my throat but not enough to make it unenjoyable. The pepper through my nose has faded just a bit but is still there. I find myself retrohaling with almost every puff in an effort to pull more flavor from the cigar." –Jason H. (Jokey Smurf)
"The cigar has smoothed out noticeably, the light pepper has faded completely. Very nice milk chocolate sweetness mixes with cedar, chestnuts and a rich tobacco core. This is proving to be quite a nice smoke, though it's definitely suited as an after-dinner smoke, it's so sweet it's like dessert." –Derek (StogieNinja)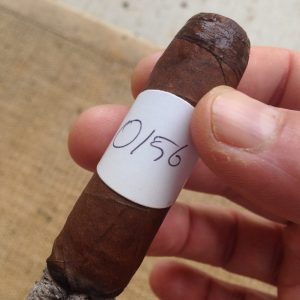 Final Third
Flavor: 90
Strength: Medium
Body/Complexity: Medium-Full
"Not much change from the second to the final third as flavors and strength remain largely the same. If you're looking for a stick with oak or wood really out in front of the profile, this might be a good fit for you." –Dave (mdwest)
"This third is becoming more about the spices as I had hoped. Cumin and pumpkin spice come to mind. Reaching the end, the cigar has stayed cool and the burn has never wavered and I'm getting a more defined oak wood flavor. Very nice third." –Emmett (rhetorik)
Overall Impressions
Draw: 91
"The cold draw is on the tight side. Hopefully it will open up with the application of flame! After the light, the draw remained tight but was acceptable. Smoke production suffered a bit, I'm sure, but there was enough to remain enjoyable." –Jason H. (Jokey Smurf)
Burn: 95
"The burn began straight but started to wander off line and stayed that way til near the end when it self corrected." –Gregg (McGreggor57)
Construction: 94
"Excellent construction with a firm feel to the entire length. No soft spots are present. Two well applied caps are present. No blemishes to the surface either." –Sandeep (Djangos)
Overall Strength: Medium
Overall Body/Complexity: Medium-Full
Overall Experience: 90
"Even though the final third was somewhat a let down, the initial and middle thirds made up for it. Maybe some more rest might help the cigar mature into an awesome experience. I will definitely try this one again." –Sandeep (Djangos)
"This is a difficult category to score. I would consider this a nice smoke on the golf course or working around the yard, but definitely not one I would grab to simply enjoy a cigar. The first third served up some very nice flavors but not much else developed. The bitter acrid profile in the second third was a turn off. While it did try to turn things around before the end, it was a case of too little too late." –Gregg (McGreggor57)
"Overall a very nice smoke. Not super complex, but very pleasant none the less with well blended flavors and very good performance. I'd consider picking one of these up again when I have a long time ahead of me to smoke and am just wanting something to kick around with and not have to worry about much." –Dave (mdwest)
"This cigar started better than it ended. The initial sweetness was nice when paired with the deep flavors, but the transition toward the end left me wanting for more interesting flavors. I like a full flavored stick but the one dimension character of the ending lost my attention. I wouldn't chase this down, as I know it right now. I also wouldn't run from it if I were handed one by a friend." –Jason H. (Jokey Smurf)
"Quite nice, overall. Not my usual profile, and much sweeter than what I usually find myself smoking these days, but it would make an excellent dessert cigar after a meal. Recommended for fans of Maduro sweetness." –Derek (StogieNinja)
"This cigar started off slow and a little boring for me, but won me over in the end with some great transitions and balance of flavors. The profile was a very good woody and spicy balance. It wasn't too strong, but not so mild I would call it a morning cigar, right in the middle. I would definitely smoke this again and recommend a fiver to see how it ages." –Emmett (rhetorik)
Smoking Time (in minutes): 89
Total Score: 91 (Very Good)
Edit

| Reviewer | Appea-rance | Aroma | 1/3 | 2/3 | 3/3 | Draw | Burn | Constr. | Overall |
| --- | --- | --- | --- | --- | --- | --- | --- | --- | --- |
| Sandeep | 92 | 95 | 92 | 92 | 90 | 97 | 97 | 93 | 90 |
| Gregg | 90 | 90 | 92 | 90 | 88 | 90 | 90 | 93 | 88 |
| Dave | 92 | 90 | 90 | 90 | 90 | 90 | 90 | 90 | 92 |
| Jason H. | 95 | 92 | 92 | 90 | 90 | 88 | 97 | 95 | 90 |
| Derek | 88 | 90 | 90 | 92 | 92 | 97 | 88 | 95 | 90 |
| Emmett | 88 | 95 | 85 | 90 | 92 | 92 | 97 | 97 | 90 |
| Overall | 92 | 91 | 92 | 90 | 90 | 91 | 95 | 94 | 90 |
To view the complete scores and notes, click here.
Blind Cigar Review: Studio Tobac | Reckoning Toro