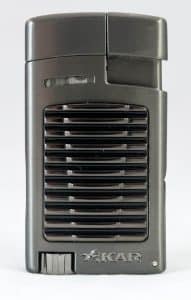 XIKAR FORTE™
The hot rod inspired Forte is built on a newly designed chassis, delivering consistent performance, time after time. Designed for the on-the-go lifestyle, choose your style. The versatile Forte from XIKAR is the newest single jet flame lighter designed to last a lifetime. The all metal body features a built – in razor sharp 7mm cigar punch so you can always be prepared when the moment calls for a cigar. Enjoy the celebration, it's good for life.
Features:
Direct Inject Flame Technology promotes a consistent and steady flame
Auto-lid mechanism protects the burner
Crosshatch texture for a superior grip and Automatic protection
Large and easy-to-see red fuel window
Convenient fold out 7mm cigar punch
Large fuel wheel for easy flame adjustment
Single jet Flame
Durable metal construction
Simple thumb action ignition
7mm fold out cigar punch
Body can be laser engraved

Review
At first glance, this looks like many other lighters to come out of the Xikar portfolio of accessories. It's when you go to use it that you see what is new and different about this one. Normally I start with the appearance of an accessory, but in this case I will jump right into the function.
The first thing anyone does when they get a new lighter is click it. Immediately I noticed there is something different about this lighter. It makes a distinctly different hissing sound (not a bad thing) from the jet. It is also a VERY precise flame. That's the only way I can think to describe it, it's like a lightsaber, a very concentrated and long flame. It also lights EVERY time, and when I say every time, I usually mean like most of the time, 90% or so depending on if it's really full or low on fuel or wind or whatever else. In this case I mean EVERY time, 100%. There has yet to be a time I clicked the ignition that it didn't light up no matter how much fuel is left, even at full flame height adjustment. I'm attributing all of these features to Xikar's new Direct Inject Flame Technology. I reached out to Xikar to ask a little more about this technology and what makes it different and I got this quote, "Direct Inject Flame Technology places the burner and fuel tank outlet directly inline and links the two with a rigid metal sleeve. This creates a direct link for the fuel to flow from the fuel tank to the burner, resulting in quick and consistent ignition and an exceptionally steady flame." Pretty awesome.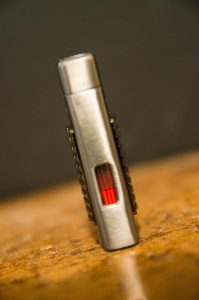 In terms of appearance, it is nothing ground breaking, but looks like a classy lighter you would expect to see from Xikar. The crosshatch texture gives it kind of a grenade look to it, while adding extra grip. The rest is pretty straightforward, all-metal, and has a very solid feel. Other cool features of this lighter include the built-in 7mm punch, which is always a nice bonus when picking a lighter to travel with. Another feature that is brand new to Xikar this year is the red fuel gauge. It actually makes the fuel look red in the viewing window so you can easily see how much fuel is left without having to turn it upside down or sideways to look for bubbles. Also, like most of the newer Xikar lighters, the flame adjustment wheel is nice and big, no more using pocket knives to adjust them. In other words, this lighter is compact, reliable and has a punch built in to it. I may even bring this bad boy with me to the IPCPR convention this weekend as it saves space in my pocket, and I don't have to worry about reliability.
This is a very cool lighter, and for a reasonable $69.99, can be yours by the end of August. I'm really excited to see where this new Direct Inject Flame Technology goes, because if this is a preview of things to come, we are all going to need a refresh of our lighter collections.
Verdict: Excellent
(Recommend)