Vital Stats: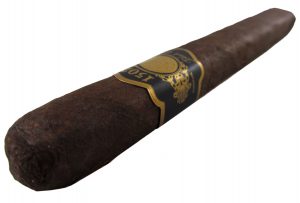 Vitola: Corona
Length: 5.5″
Ring Gauge: 42
Country of Origin: Nicaragua
Wrapper: Sun Grown Maduro
Binder: Nicaragua
Filler: Nicaragua
Factory: Plasencia Cigars S.A.
Blender: Enrique Sanchez Icaza
Number of reviewers: 5—–Stefan (Stefan) Steve (ThaGreatWazoo) Jiunn (jliu) Wes (SosaCub4Life) Robert (NavyPiper)
Price: $7.40
Age: 1 Month
Release Date: February 2015
Contributed by: House of Emilio
This cigar was reviewed blind (no bands) by a panel of at least 4 reviewers. They did not know what they were smoking beforehand. The scores are an average of all the reviewers' scores with outliers removed.
Initial Impressions
Appearance: 87
"Incredibly dark cigar with a firm and even hard box press. Cigar feels of a rustic sand paper consistency. The semi-closed foot is a nice flair." –Jiunn (jliu)
Aroma: 88
"The initial aromas are muted, but what I can pick up is a slight black pepper coupled with a mild musty presence. The pepper is not overpowering, but the aromas are very difficult to pick up." –Steve (ThaGreatWazoo)
First Third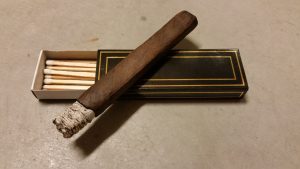 Flavor: 89
Strength: Medium-Strong
Body/Complexity: Medium-Full
"Initially, the black pepper takes the forefront in flavor. The spice is a nice amount on the palate. Getting through the first third, a citrus undertone picks up and assists nicely during the retrohale. Overall, the first third is very good with a nice flavor profile present." –Steve (ThaGreatWazoo)
"First third started off pretty strong. Flavors of pepper, strong brackish tobacco and campfire smoke present, with an occasional hint of a very mild sweetness. Draw is a bit snug but doable, mainly to prevent taking too big a puff and getting blasted. Ash is very tight, is white in color with black flecks, and lasted 2″ before dropping. Burn is razor sharp." –Robert (NavyPiper)
Second Third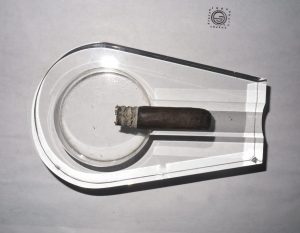 Flavor: 90
Strength: Medium-Strong
Body/Complexity: Medium-Full
"The earlier flavors are now melding together in excellent balance with an addition of vanilla oak providing structure. The cedar and coffee notes are in the leading role, while the cocoa and black pepper are strongest on the finish. The aftertaste exhibits just the right amount of black pepper to not be overpowering. Strength appears to be a notch below what it was during the first third while still at medium-full, which may also be due to the much smoother overall profile." –Stefan (Stefan)
"The initial ash held on for about 2″ which puts me into the second third of this little guy. The burn has amazingly almost corrected itself. Most of the spice is gone, just a bit lingers..but it fits in nice and makes the creamy, almost chewiness of the cigar have a bit of a kick." –Wes (SosaCub4Life)
Final Third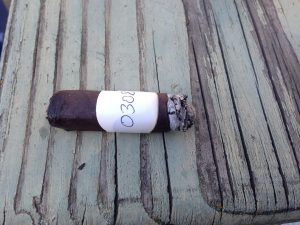 Flavor: 91
Strength: Medium-Strong
Body/Complexity: Medium-Full
"Cedar notes are the most prominent at the beginning of the last third, deftly balanced by black pepper, with cocoa notes providing the backbone into the medium-long finish. At this point, the relatively high nicotine levels become noticeable. Midway through the last third, there is a light addition of cream, followed by the sweaty leather notes that were emanating from the wrapper prior to lighting. Cocoa and pepper prove ultimately to be the leitmotiv of this stick." –Stefan (Stefan)
"Last third flavor has a plethora of transitions. I am still getting the core first and second third flavors of white pepper, sweet cream and wood, but there are intermittent notes of coffee and a slight finish of bread. Both the coffee and bread mixes very well with the core flavors. Luckily (for me), the nicotine is still at a medium plus." –Jiunn (jliu)
Overall Impressions
Draw: 93
"Draw was close to perfect through a 9mm hole." –Stefan (Stefan)
Burn: 96
"Burn was razor sharp until maybe the last 1/2″ of the final third where it got a little wave, but that was just before it was about time to let it go, so it was about as good as it gets." –Robert (NavyPiper)
Construction: 91
"Construction was good. The cigar held an amazing ash and produced tons of smoke. It did correct the burn line which was actually impressive to me." –Wes (SosaCub4Life)
Overall Strength: Medium-Strong
Overall Body/Complexity: Medium-Full
Overall Experience: 90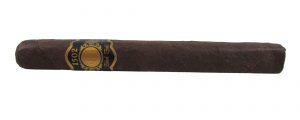 "A very nice stick overall, which albeit fast-burning, provided for a dynamic, full-bodied flavor profile with just enough strength to not be overwhelming." –Stefan (Stefan)
"This cigar started out with a nice citrus and pepper complexion that had me excited for more. Unfortunately, it ended with a dulled spice and harshness that left me confused on where the cigar was trying to go. The vitola and box-press had a nice appearance. The strength was there for the darker wrapper and the burn and construction were well built. With some rest time, I hope the flavors come through throughout the cigar." –Steve (ThaGreatWazoo)
"This was a very good cigar. I loved the full body and complexity of especially the last third. If I was in the mood for a fairly strong cigar with good transitions, this will be it. I'd grab a couple of these just for those occasions." –Jiunn (jliu)
"Overall, this was a nice cigar. It did not change much for me throughout. Stayed with a mostly creamy profile with hints of spice and a bit of sweetness. It was enjoyable." –Wes (SosaCub4Life)
"It was an interesting stogie. Strong from the get-go. It's amazing how flavors, odors, etc. can bring back memories, as in the second third when the campfire smoke morphed into a wildfire type flavor as mentioned. It instantly reminded me of smoke that usually comes in during the summer from wind bringing in smoke from wildfires in California. I enjoyed it, it was different, but I don't think I could smoke these daily, just a bit harsh for me personally. But if you like strong stogies like this, you'll probably be very satisfied." –Robert (NavyPiper)
–
Smoking Time (in minutes): 61
Edit

| Reviewer | Appearance | Aroma | 1/3 | 2/3 | 3/3 | Draw | Burn | Constr. | Overall |
| --- | --- | --- | --- | --- | --- | --- | --- | --- | --- |
| Stefan | 85 | 90 | 88 | 92 | 92 | 97 | 97 | 90 | 92 |
| Steve | 87 | 88 | 90 | 88 | 88 | 93 | 93 | 92 | 88 |
| Jiunn | 87 | 85 | 90 | 90 | 92 | 95 | 88 | 88 | 90 |
| Wes | 95 | 90 | 95 | 92 | 92 | 93 | 95 | 95 | 92 |
| Robert | 87 | 88 | 88 | 88 | 88 | 88 | 97 | 88 | 88 |
To view the complete scores and notes, click here.
–
Blind Cigar Review: 1502 | Black Gold Corona
Blind Cigar Review: 1502 | Black Gold Corona
90
Total Score - Very Good