Vital Stats:
This cigar was reviewed blind (no bands) by a panel of at least 4 reviewers. They did not know what they were smoking beforehand. The scores are an average of all the reviewers' scores with outliers removed. All of our cigars reviewed are shipped to the panelists with Boveda packs to ensure optimal smoking experience.
Vitola: Figurado
Length: 7″
Ring Gauge: 58
Country of Origin: Nicaragua
Wrapper: Brazil
Binder: Nicaragua
Filler: Nicaragua
Factory: Tabacalera Esteli
Blender: Don "Kiki"
Number of reviewers: 5—–Dave (mdwest) Sandeep (Djangos) Ron (shuckins) Wes (SosaCub4Life) Emmett (rhetorik)
Price: $10.00
Age: 2 Months
Release Date: 2014
Contributed by: Crimson Lord Cigar Company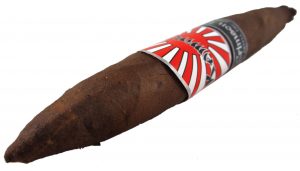 Initial Impressions
Appearance: 94
"I have to say that I have never seen one of this shape or character before. The cigar is almost a diadema or double torpedo shape with the exception that on the foot end there is this shaggy bulbous mass that seems to be an extension of the filler tobacco. Seems well anchored to the main body of the cigar. Also, the cigar seems well made with a very toothy surface and a lot of veins visible. No blemishes on the surface." –Sandeep (Djangos)
Aroma: 89
"A heavy coffee smell, with a sweet spicy cedar in the background." –Ron (shuckins)
First Third
Flavor: 88
Strength: Medium
Body/Complexity: Medium
"The bulbous foot, once lit, is giving off a very strong coffee and tobacco flavor giving it a very strong start. As the foot burns down to the constricted area, the draw becomes tighter. The flavor also changes to a more earthy profile with mostly a hay and grass like profile. The burn is also not straight most likely from the draw issues. As the initial third progresses, the the profile changes to more leather and cedar like flavors. Luckily towards the end of the initial third, the draw opens up again. The ash is quite solid and grey in color." –Sandeep (Djangos) "Some people clip the shag foot and some people smoke the shag foot. I chose to smoke the shag foot this time and it was nothing to write about, mostly stale tobacco taste. Once I got past that, I was greeted by a strong woodsy earth flavor that came out of nowhere and lasted through the first inch or so. After smoking for a few minutes, the edge of the woodsy earth flavor backed off enough to let a taste of coffee in." –Ron (shuckins)
Second Third
Flavor: 87
Strength: Medium
Body/Complexity: Medium-Full
"As we get to the second third, all sweetness is completely gone, and the black pepper that was faint during the first third begins becoming more prominent. The harshness in the smoke has almost completely gone at this point as well, which is a very welcome surprise. This is turning into a pretty nice stick." –Dave (mdwest) "The cedar flavor continues to gain and the chocolate comes back for another appearance. The construction issues have subsided. Towards the end, there is not much change and the flavors become slightly bitter." –Emmett (rhetorik)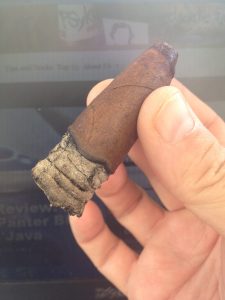 Final Third
Flavor: 86
Strength: Medium
Body/Complexity: Medium
"Not a whole lot of change in the flavor profile from the second to the final third. I am still getting a whole lot of leather and black pepper, although the pepper has begun taking a little bit more of a back seat." –Dave (mdwest) "Going into the final third, the powerful spice has calmed down but it's still there and enjoyable. There is a hint of sweetness that comes and goes and now the smoke has turned into a beautiful relaxing flavorful cigar. I'm smoking this one all the way to the end and enjoying every last bit of it." –Wes (SosaCub4Life)
Overall Impressions
Draw: 90
"The draw was a little tight at first, probably because of the shape of the cigar, but it opened up nicely and produced clouds of smoke." –Ron (shuckins)
Burn: 91
"The burn was skewed in the initial third but straightened itself out in the middle third. No issues there after." –Sandeep (Djangos)
Construction: 95
"Excellent construction on a very difficult to roll vitola. No problems at all." –Dave (mdwest)
Overall Strength: Medium
Overall Body/Complexity: Medium-Full
Overall Experience: 87
"I'm pretty sure I know what this stick was. It's unique enough in shape, size and overall design that there aren't a whole lot of things that it could be. If it is what I think it was, I am yet again impressed with the offerings from this company. I'd definitely be in for a fiver of these and will likely head out to my local B&M shortly to go grab a few." –Dave (mdwest)
"Overall, after the initial third, the flavors were far from enjoyable because of a lot of harshness and bitterness. Definitely not something that I will be going after." –Sandeep (Djangos)
"I liked the look of the cigar and the way it smoked. I just couldn't get past the no "wow factor" of the bland flavors, so this one's not for me." –Ron (shuckins)
"I have just really enjoyed this stick. It started out with wonderful peppery spice that hit every sense… and as it came to the end, it mellowed some so you could just sit back and fade into wonderland…. what a great cigar. I can't wait to find out what it is so I can get my hands on some more. I've loved this cigar." –Wes (SosaCub4Life)
"I think this cigar could have been better, and maybe other samples were better. Mine suffered from some construction issues that really hurt it. The flavors were pretty good, but there were few transitions and subtle when there were. It wasn't too complex, but it was enjoyable. I would try it again, but wouldn't buy many." –Emmett (rhetorik)
–
Smoking Time (in minutes): 68
Edit

| Reviewer | Appea-rance | Aroma | 1/3 | 2/3 | 3/3 | Draw | Burn | Constr. | Overall |
| --- | --- | --- | --- | --- | --- | --- | --- | --- | --- |
| Dave | 93 | 88 | 88 | 90 | 90 | 92 | 95 | 93 | 92 |
| Sandeep | 93 | 90 | 90 | 87 | 85 | 88 | 88 | 95 | 85 |
| Ron | 95 | 90 | 88 | 85 | 83 | 92 | 90 | 95 | 85 |
| Wes | 97 | 95 | 97 | 97 | 95 | 97 | 97 | 97 | 97 |
| Emmett | 95 | 88 | 88 | 85 | 85 | 88 | 85 | 83 | 85 |
To view the complete scores and notes, click here.
Blind Cigar Review: Crimson Lord | Kamikaze Figurado Double Head
Blind Cigar Review: Crimson Lord | Kamikaze Figurado Double Head