Cigar Info
The new "Belly" vitola is a 7 1⁄2" x 54 belicoso and is available in 25-ct black craft paper bundles similar to the current Nica Rustica "El Brujito" offering. They  ship in the same fashion as the current Nica Rustica lines, in bundles as a refill to new branded display trays, which will only be available for retail use.
This cigar was reviewed blind (no bands) by a panel of at least 4 reviewers. They did not know what they were smoking beforehand. The scores are an average of all the reviewers' scores with outliers removed. All of our cigars reviewed are shipped to the panelists with Boveda packs to ensure optimal smoking experience.
The blend features a Connecticut Broadleaf wrapper, Mexican San Andres binder and Nicaraguan fillers from the Jalapa and Estelí growing regions. Jonathan Drew, from Managua, Nicaragua stated, "Nica Rustica is a tribute to Estelí's hard working cigar culture. Behind all the glitz and glam, there are thousands of factory Buncheros and Rolleros who keep their game strong and consistent to maintain Estelí, Nicaragua's respected stature of 'Mecca of Cigars'. The long awaited size, 'Belly', is a king of a Belicoso at an affordable price."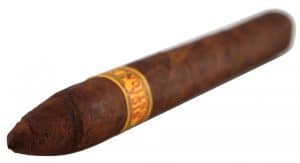 Vital Stats:
Vitola: Torpedo
Length: 7.5″
Ring Gauge: 54
Country of Origin: Nicaragua
Wrapper: Connecticut Broadleaf
Binder: Mexican San Andres
Filler: Nicaragua
Factory: La Gran Fabrica Drew Estate
Blender: Jonathan Drew and WIlly Herrera
Number of reviewers: 4 —– Sandeep (Djangos) Gregg (McGreggor57) Steve (ThaGreatWazoo) Emmett (BMP_Emmett)
Price: $7.95
Age: 5 Months
Release Date: July 2015
Contributed by: Drew Estate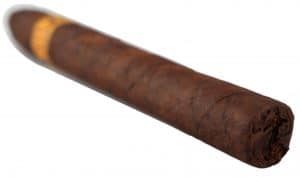 Initial Impressions
Appearance: 89
"This was a real great looking cigar. The nice closed foot with a loose shag finish coupled with the diadema vitola made this thing really shine. I am not much of a gimmick guy, but this cigar looked great from the beginning." -Steve (ThaGreatWazoo)
Aroma: 93
"The aroma is one of honey and chocolate with a slight floral characteristic. However the dry puff is mostly non sweet flavors of tobacco and cedar with a slight pepper to the tongue. So far so good." -Sandeep (Djangos)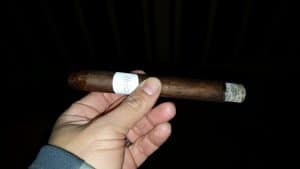 First Third
Flavor: 89
Strength: Medium
Body/Complexity: Medium
"The initial third starts of with a lot of pepper that is very pervasive in the mouth. It left a tingling in the mouth which persisted for a while even after the pepper mellowed out. As the third progresses the pepper mellows out and the predominant flavor is one of hay and cedar with a good measure of leather. A little bit of pepper however persists with each draw. There is also a slight acrid taste to the smoke. There are no issues with the draw or the burn. The ash is very flaky and lasts less than a half inch before falling off." -Sandeep (Djangos)
"The first few puffs are quite spicy as you would expect it being mostly wrapper. Once we get into the meat, the spice is still there like cayenne, but now I am getting some coffee and wood. This thing is putting off a ton of smoke just sitting here. Every once in a while I get a little of a soapy flavor. My only complaint is that the draw is a bit loose and I have to puff a lot to get it burning down." -Emmett (BMP_Emmett)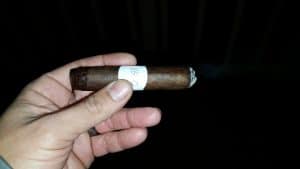 Second Third
Flavor: 88
Strength: Medium
Body/Complexity: Medium
"Increasing leather pushes out the savoriness of the previous third. I detect light toast, some nutmeg and a hint of woodsy flavors. In the middle of the cigar the leather fades while the woodsiness increases. Some added char creates a brief glimpse of campfire." -Gregg (McGreggor57)
"The flavors haven't changed much and having to try and keep it lit is frustrating. It produces a lot of smoke resting, just not while smoking it because of the loose draw. The flavors are still mostly coffee and wood." -Emmett (BMP_Emmett)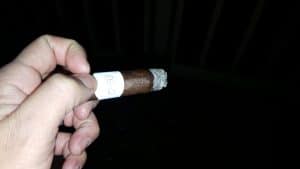 Final Third
Flavor: 87
Strength: Medium
Body/Complexity: Medium
"The final third has predominantly a leather and hay taste as the previous third however the harshness and chemical like taste is getting stronger. This is definitely detracting from the experience. The pepper is starting to come back and is stronger with each puff. The wrapper around the cut is beginning to crack and this worsens as I get closer to the very end. The draw is good till the end. Overall a fair smoke but not one that I would consider seriously." -Sandeep (Djangos)
"Coffee, oak and grasses appear in the final third. The return of a little leather smooths out the edges of the lingering char. These flavors ebb and flow a bit for the remainder of the smoke." -Gregg (McGreggor57)
Overall Impressions
Draw: 88
"An inconsistent draw that was open and then too open." -Gregg (McGreggor57)
Burn: 88
"Another nice factor. Great burn. Very little relights if any at all." -Steve (ThaGreatWazoo)
Construction: 87
"Overall I think this cigar could have been better of the construction had been better." -Emmett (BMP_Emmett)
Overall Strength: Medium
Overall Body/Complexity: Medium
Overall Experience: 86
"Overall this cigar was a fair smoke and may become better with age in the humidor. If there was lesser of the harshness and the chemical like flavor it may have scored higher. Not sure if I will go looking for one." -Sandeep (Djangos)
"This larger vitola benefited from a nice change up of flavors. Although there were no stars, the subtle nuances held my interest for ninety minutes. My biggest issue was an inconsistent and loose draw that made it difficult to pull out a wider range of tastes. I would try this one again based on the flavors." –Gregg (McGreggor57)
"This cigar was just an extraordinary experience. From the nice deep rich profile, to the delicate transitions from fruit to earth, this cigar was just perfect from beginning to end. My sense is that this is a high end stick that could possibly cost a little higher than normal. However, once you have smoked it you will not be disappointed by the cost. Definitely grab as many of these as you can and sit back and enjoy." –Steve (ThaGreatWazoo)
"Overall it had some nice classic flavors, but it never really changed and got less complex as things went on further. I think the construction problems really hurt it. I would smoke this again but in a smaller size, it was just too long." –Emmett (BMP_Emmett)
Smoking Time (in minutes): 78
Reviewer

Appearance

Aroma

1/3

2/3

3/3

Draw

Burn

Constr.

Overall
Experience

Sandeep
Djangos)
90
92
88
87
85
90
90
87
85
Gregg
McGreggor57)
90
90
90
90
90
85
88
87
87
Steve
ThaGreatWazoo)
95
95
95
97
95
92
92
95
95
Emmett
BMP_Emmett)
88
92
90
85
85
83
88
85
85
To view the complete scores and notes, click here.
Blind Cigar Review: Drew Estate | Nica Rustica Belly