Cigar Info
CAO has answered the call of bikers everywhere with a duo of new frontmarks created under the banner of Steel Horse. A spin-off of its wildly-popular Flathead line, Steel Horse delivers a unique taste created with the motorcycle enthusiast in mind.
This cigar was reviewed blind (no bands) by a panel of at least 4 reviewers. They did not know what they were smoking beforehand. The scores are an average of all the reviewers' scores with outliers removed. All of our cigars reviewed are shipped to the panelists with Boveda packs to ensure optimal smoking experience.
Rick Rodriguez said, "We came out with Flathead in 2013 because the people I met at CAO events were always talking about cars when they weren't talking about cigars. Turns out the bikers felt left out. Believe me, I've heard all about it. So we decided to come up with a cigar that would appeal to the guys and gals that are into motorcycles." Steel Horse is a complex new blend, made with the signature flat head cap.
Wrapped in a proprietary Connecticut Habano Grueso leaf and featuring tobacco from four-countries, these medium-to-full bodied smokes are the perfect companion for a slow ride or the perfect excuse to make a pit stop. The four-country blend is made with Brazilian Arapiraca as the binder. Honduran, Nicaraguan and Dominican tobaccos comprise the filler. Easy-smoking flavors of leather and spice are prevalent, and the cigars are individually packaged to fit in a rider's saddle bag. The Steel Horse frontmarks are housed in 20-count boxes and will hit retail in August. Bullneck 6.5 x 66 – SRP per cigar $9.99, Apehanger 5.5 x 58 — SRP per cigar $8.99
Vital Stats:
Vitola: Double Robusto
Length: 5.5″
Ring Gauge: 58
Country of Origin: Nicaragua
Wrapper: Connecticut Habano
Binder: Brazilian Arapiraca
Filler: Dominican Republic, Honduras and Nicaragua
Factory: STG Estelí
Blender: Rick Rodriguez
Number of reviewers: 5—–Ryan (Youngryan216) Stefan (Stefan) Sandeep (Djangos) Jack (Jack_H) Wes (SosaCub4Life)
Price: $8.99
Age: 4 Months
Release Date: August 2015
Contributed by: General Cigar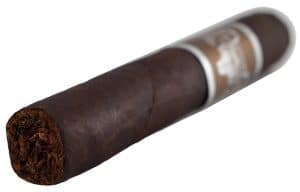 Initial Impressions
Appearance: 94
"This is a different looking cigar, about 5 inches long and a large ring gauge. The head is very flat and it does not fit in any of my cutters. I used a punch instead. The wrapper is a dark chocolate and smooth with no major veins that are visible." –Sandeep (Djangos)
Aroma: 92
"The pre-light draw is a subtle, sweet raisin. The wrapper smells leathery and slightly sweeter at the foot." –Ryan (Youngryan216)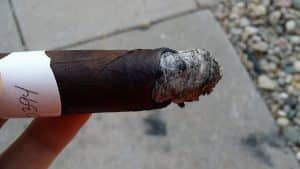 First Third
Flavor: 95
Strength: Medium-Strong
Body/Complexity: Medium-Full
"The first few puffs give a subtle cocoa and a smooth creaminess. The smoke leaves a nice oily mouthfeel that has me coming back for more, rather than reaching for the water. Some notes of mineral come through on an early retrohale that also leaves some black pepper spice on the tongue." –Ryan (Youngryan216)
"The initial third starts off with a white pepper to the tongue followed by a strong leather as well as spice that is slightly sweet in the background, reminiscent of nutmeg. As the third progresses, there is a woodsy note of cedar that develops as well as some nuttiness like almonds. Quite complex and enjoyable. There is no issue with the burn or the draw the entire time. The smoke is thick and creamy as well. A great start!" –Sandeep (Djangos)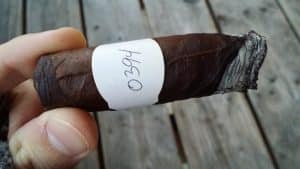 Second Third
Flavor: 92
Strength: Medium-Strong
Body/Complexity: Medium
"The middle third brings more leather and pepper that is stronger now. The woodsy component is still present but milder now. The sweeter spice and nuts are almost gone. The complexity is slightly lesser but still very enjoyable. Again, no issues with the burn or the draw. The ash becomes more flaky and is not holding as well as the initial third." –Sandeep (Djangos)
"It is a remarkably slow burner and I get some sweet roasted walnut flavor. It is still really enjoyable, and the smoke is just pouring out of this thing. For the most part, it is a rich, earthy smoke with a nice punch to it." –Jack (Jack_H)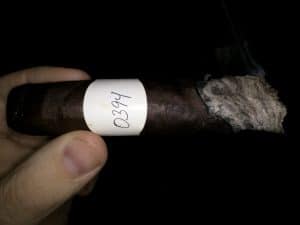 Final Third
Flavor: 91
Strength: Strong
Body/Complexity: Medium-Full
"No major developments during this last third. Same dry cocoa and nutty hints (particularly on the finish), with perhaps just an extra hint of sweetness. Also, a bit more harshness as the burnline approaches the nub." –Stefan (Stefan)
"The final third was very smooth with the spice staying present on the retrohale. It is still a thick, creamy smoke that continues to produce tons of smoke. The cigar seems to have mellowed out in the last third flavor-wise, but throughout has picked up in power. The burn line has pretty much corrected itself." –Wes (SosaCub4Life)
Overall Impressions
Draw: 98
"Absolutely perfect. The only cigar I've ever given this rating to." –Jack (Jack_H)
Burn: 91
"Some self-correcting canoeing during the first third, then again during the last third. Ashy burnline. Also, it went out on me during the last third." –Stefan (Stefan)
Construction: 93
"Construction was very good except for the burn getting off. The cigar held a super strong ash and was well made." –Wes (SosaCub4Life)
Overall Strength: Medium-Strong
Overall Body/Complexity: Medium-Full
Overall Experience: 93
"I have smoked ugly cigars that were full of flavor and burned perfectly. Conversely, I have lit up beautiful cigars only to find their flavors muted and unbalanced. This cigar, was neither. From its ugly appearance, large ring gauge, poor construction and one dimensional taste profile, this cigar is not one I would smoke again even if the burn issues were corrected." –Ryan (Youngryan216)
"A solid maduro, relatively tasty but rather unexciting, and plagued by some burn issues." –Stefan (Stefan)
"Overall, this was a great cigar with a complexity in the initial third that was delightful. This complexity however did not maintain itself until the end, however, the cigar was quite enjoyable. I will definitely try this again!" –Sandeep (Djangos)
"This a wonderful cigar with just the right amount of strength. I was enticed by traditional Maduro and an overall earthiness. This is box worthy to say the least and it will not be the last time I smoke this slow burning beauty." –Jack (Jack_H)
"Overall, this was a good smoke. I did prefer the first half more than the second half but overall, it was a nice smoke. There was some very nice spice at the start and then the cigar seemed to turn super smooth towards the end." –Wes (SosaCub4Life)
Smoking Time (in minutes): 95
Reviewer

Appearance

Aroma

1/3

2/3

3/3

Draw

Burn

Constr.

Overall
Experience

Ryan
Youngryan216)
85
90
95
83
75
98
78
78
78
Stefan
Stefan)
93
88
85
85
85
88
85
88
85
Sandeep
Djangos)
93
92
93
92
90
98
97
93
93
Jack
Jack_H)
97
92
95
95
95
100
90
95
97
Wes
SosaCub4Life)
95
92
97
95
92
98
92
97
95
To view the complete scores and notes, click here.
Blind Cigar Review: CAO | Flathead Steelhorse Ape Hanger
Blind Cigar Review:
CAO
| Flathead Steelhorse Ape Hanger
93
Total Score - Excellent