This review is the fourth in a series of collaboration reviews that we will be doing. We have invited cigar reviewers from other cigar review sites, podcasts, blogs, etc. to join the Blind Man's Puff staff in doing some blind reviews using our format. If this initial series goes well, then we may reach out to even more sites to make these collaboration reviews a semi regular event. This fourth collaboration review is with William Cooper from Cigar-Coop. Will has a great site which consists of content posted daily in the form of reviews, industry news and editorial pieces. Will is also a member of the Stogie Geeks podcast team. We highly recommend that you check out his site and podcast.
This cigar was reviewed blind (no bands) by a panel of at least 4 reviewers. They did not know what they were smoking beforehand. The scores are an average of all the reviewers' scores with outliers removed. All of our cigars reviewed are shipped to the panelists with Boveda packs to ensure optimal smoking experience.
Cigar Info
We broke the news in May, that the Dunhill 1907 would be hitting shelves soon. The Dunhill 1907 is named for the founding year of the famed cigar brand. As reported in, 1907 refers to the year that Alfred Dunhill opened his eponymous tobacco shop on Duke Street in London. Since then, the Dunhill name has become one of the better known brand names for cigars, first as a Cuban brand and later as a Dominican brand. For several years the company had not been terribly active in creating new product. This launch of 1907 showcases newfound interest in the venerable brand. Previously, Dunhill had two varieties, a very mild Aged Selection and a stronger Signed Range. The 1907 is intended to fall in the middle in terms of strength.
The brand comes in four, somewhat classic sizes, ranging in price from around $7 to $8.25 each. There is a Rothschild, 4 1/2 inches long by 48 ring; a Robusto, 5 by 52; a Churchill measuring 7 by 49; and a box-pressed Toro measuring 6 by 54. The Toro is the only pressed size; the other three are presented in the round. Each comes in a box containing 18 cigars. The wrapper is osa viso from Honduras, the binder is a Dominican olor leaf and the filler blend combines Dominican olor and piloto Cubano. They are being rolled at General Cigar Dominicana for Dunhill.
Vital Stats:
Vitola: Robusto
Length: 5″
Ring Gauge: 52
Country of Origin: Dominican Republic
Wrapper: Honduran Olancho
Binder: Dominican Olor
Filler: Dominican Olor and Piloto Cubano ligero and Brazilian Mata Fina
Factory: General Cigar Dominicana
Blender: Jhonys Diaz and General Cigar Blending Team
Number of reviewers: 5—–Will (Cigar-Coop) Gregg (McGreggor57) Jason H. (Jokey Smurf) Emmett (rhetorik) Robert (NavyPiper)
Price: $8.50
Age: 3 Months
Release Date: May 2014
Contributed by: General Cigar
Initial Impressions
Appearance: 92
"The color of the wrapper was a cross between chocolate brown with some Colorado red mixed into it. There was a light sheen of oil on the wrapper. There are some thin visible veins, but the darker color of the wrapper does a decent job at hiding the wrapper seams. The surface of the wrapper is somewhat bumpy. The cigar features a triple cap." –Will (Cigar-Coop)
Aroma: 90
"A bit of barnyard along the wrapper with some cedar at the foot. The cold draw gives up a nice flavor of hay." –Gregg (McGreggor57)
First Third
Flavor: 93
Strength: Medium
Body/Complexity: Medium-Full
"There was a blast of white pepper to start, before this cigar gave way to notes of earth and cocoa powder. The pepper settles down and is on par with the earth. The cocoa note floats back and forth between the forefront and background. I still detected pepper on the finish and retrohale. The retrohale is going to contribute to this cigar's full body." –Will (Cigar-Coop)
"The first thing that greets my palate is fresh tobacco followed by cedar. There is not much spice, but lots of flavor. A few more puffs in and I find that baking spice I picked up on the pre-light, a great first third. The draw and burn have been perfect." –Emmett (rhetorik)
Second Third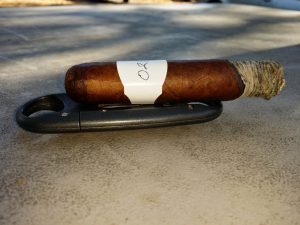 Flavor: 90
Strength: Medium-Strong
Body/Complexity: Medium-Full
"Burnt coffee with some oak and touch of allspice begin the second third. I'm sensing the previous profile is going to become a little more full. As the coffee moves to the background, the baking spices ramp up. It's more bitter than sweet and a little black pepper appears from time to time." –Gregg (McGreggor57)
"In the second third, the flavors were pretty much just the pepper and spice, about equal in intensity. Approximately 2/3 of the way in, the spice began to slowly fade out with the pepper being the sole flavor. As I enjoy peppery stogies, this wasn't a problem for me. The burn is still all over the place, and touching it up doesn't seem to help." –Robert (NavyPiper)
Final Third
Flavor: 89
Strength: Medium-Strong
Body/Complexity: Medium
"The final portion of this cigar didn't disappoint me at all! More of the espresso, but a bit of cream has entered the picture, leaving me with a hint of latte. There is still a fair amount of pepper but it has lessened a bit, and there is a bit of a twangy leather note now as well. The smoke is still copious, and is very creamy and oily. Such a good cigar!" –Jason H. (Jokey Smurf)
"The strength remains in this third and the spice has shifted once again, this time to more of a pepper spice. I noticed that the draw would change as I squished the cap a little, so I clipped the cap and the draw was perfect once again. The main tone of the cigar is still cedar, and the finish is spicy and long. Towards the end, the cedar is joined by just a touch of light roast coffee. The cigar never gets hot and I nub the crap out of it. Great cigar." –Emmett (rhetorik)
Overall Impressions
Draw: 94
"This is what a cigar should draw like…just a bit of resistance, but enough to allow for heavy smoke production without unnecessary overheating of the cigar. I couldn't be happier with this aspect of the smoke." –Jason H. (Jokey Smurf)
Burn: 94
"For the most part, the burn was solid. The cigar was never in danger of canoeing or tunneling. There were a couple of points where the burn became a little irregular – particularly in the second third. No relights were required during the smoking experience. The medium gray ash remained firm and came off the cigar in nice clean chunks. There was no flowering or flaking." –Will (Cigar-Coop)
Construction: 94
"The construction of this cigar is top notch. A firm roll, even seams and a sturdy cap…everything I want. the ash was an appealing color, and was firm enough to drop somewhere else other than my lap…makes me happy!" –Jason H. (Jokey Smurf)
Overall Strength: Medium-Strong
Overall Body/Complexity: Medium-Full
Overall Experience: 89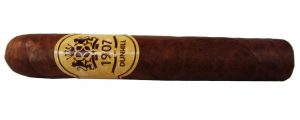 "The flavor profile of this cigar was simple. It didn't undergo a lot of radical flavor transitions, nor did it have a lot of nuances during the smoking experience. The earth, pepper and cocoa flavors were good, but they did nothing to make this cigar standout. It still delivers a solid experience for people looking for simplicity." –Will (Cigar-Coop)
"I thought I was in for a real treat the way this cigar started. Nice coffee and earthy flavors that coated my palate. As the stick progressed however, it turned a little more bitter than I liked and really never developed any additional worthwhile flavors. Based on the first half, I would give this one another try. I would also be quick to toss it if the off putting flavors of the second half returned." –Gregg (McGreggor57)
"I have just one thing to say about this cigar…superb! Ok, I have more to say…The flavors were excellent, offering just enough change to keep me interested but remaining deeply entrenched in my prime flavor wheelhouse. If you like full flavored, and rich cigars then this is highly recommended! If you're interested in branching out to a fuller cigar, then this is also highly recommended. One thing…don't but them all…I want a few more!" –Jason H. (Jokey Smurf)
"I really enjoyed this cigar. I can see myself picking up a box of these for sure. Technically, it performed great with virtually no issues. The flavors were consistent but provided enough transitions to keep it interesting. The flavors were always balanced and distinct. This should make an appearance on our top 25 list." –Emmett (rhetorik)
"I enjoyed the cigar. Enjoyed the flavors and appearance. The only thing that gave me fits was the burn. I wouldn't mind having a few more." –Robert (NavyPiper)
–
Smoking Time (in minutes): 66
Edit

| Reviewer | Appearance | Aroma | 1/3 | 2/3 | 3/3 | Draw | Burn | Constr. | Overall |
| --- | --- | --- | --- | --- | --- | --- | --- | --- | --- |
| Will | 88 | 85 | 88 | 88 | 88 | 95 | 90 | 95 | 88 |
| Gregg | 92 | 92 | 95 | 90 | 88 | 90 | 90 | 90 | 90 |
| Jason H. | 92 | 90 | 93 | 92 | 95 | 100 | 97 | 95 | 95 |
| Emmett | 95 | 95 | 97 | 92 | 92 | 97 | 100 | 95 | 92 |
| Robert | 90 | 88 | 90 | 88 | 88 | 88 | 75 | 88 | 88 |
To view the complete scores and notes, click here.
–
Blind Cigar Review: Dunhill | 1907 Robusto
Blind Cigar Review: Dunhill | 1907 Robusto
92
Total Score - Very Good