Vital Stats:
Vitola: Double Robusto
Length: 5.5″
Ring Gauge: 56
Country of Origin: Undisclosed
Wrapper: Connecticut Habano
Binder: Ecuadorian Habano
Filler: Nicaraguan
Factory: La Cosecha Cigars
Blender: Undisclosed
Number of reviewers: 5 —– Craig (WyldKnyght) Sandeep (Djangos) Milton (mjohnsoniii) Cindy (Ms_CindyLynn) Derek (StogieNinja)
Price: Undisclosed
Age: 5 Months Rest
Release Date: July 2013
Contributed by: La Cosecha Cigars
This cigar was reviewed blind (no bands) by a panel of at least 4 reviewers. They did not know what they were smoking beforehand. The scores are an average of all the reviewers' scores with outliers removed. All of our cigars reviewed are shipped to the panelists with Boveda packs to ensure optimal smoking experience.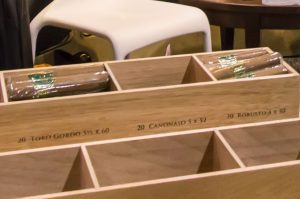 Initial Impressions
Appearance: 90
"This cigar is very smooth without any blemishes. It's light brown with a nice sheen to it. It's a looker." –Milton (mjohnsoniii)
Aroma: 90
"The major aroma is barnyardy in character with hay and grass predominating. There is also some tobacco and leather. Some coffee is present in the background. Not much sweet flavors present on the dry draw but some woodsy character is apparent." –Sandeep (Djangos)
Construction: 90
Construction appears flawless. Seams are flat with very little veins. Uniformly round with a perfect triple cap on top. By all appearances this is a perfectly constructed cigar. However, smoking will reveal major construction issues." –Derek (StogieNinja)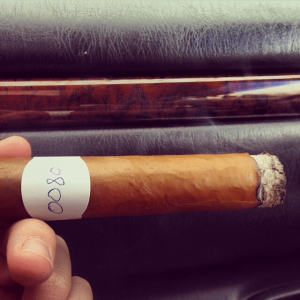 First Third
Flavor: 89
Strength: Medium
Body/Complexity: Medium
"A very nice nutty flavor on the original draw. Mellow sweet flavor, very enjoyable." –Craig (WyldKnyght)
"The main components of the first third was oak, spice and earthy tobacco. There was a tiny hint of cloves for a few puffs. The cigar was smoking away with a smooth feel." –Cindy (Ms_CindyLynn)
Second Third
Flavor: 88
Strength: Mild-Medium
Body/Complexity: Light-Medium
"There is some pepper beginning to appear in this third, unfortunately the cardboard like flavor is persisting. The hay like flavors are present but seem to be drowned by the predominant harshness. Towards the midpoint of the cigar the wrapper is beginning to crack and there is a bulge in the middle. The burn is slightly skewed but no touchups are necessary. The smoke is copious and creamy in nature." –Sandeep (Djangos)
"Cardboard. There was absolutely nothing that appealed to me up to this point. I hate to give a cigar a rating this low, but this one? Harsh is the only way I can describe it." –Milton (mjohnsoniii)
Final Third
Flavor: 89
Strength: Medium
Body/Complexity: Medium
"The last third was mainly oak and it picked up in strength a little bit. The smoke was still smooth and enjoyable." –Cindy (Ms_CindyLynn)
"There's not a lot of change into the final third. Still a nice wood, light nuttiness and some baking spices. Just barely in the final third, the cigar begins to grow quite hot, which I find odd given its thickness. I smoke about a half inch into the final third then let it go." –Derek (StogieNinja)
Overall Impressions
Draw: 90
"No issues with the draw, very good from start to finish." –Craig (WyldKnyght)
Burn: 91
"The burn line was great. Didn't have to adjust the smoke at any point. The reason why I give it close to perfect is because the ash was a bit flaky and fell a few times." –Cindy (Ms_CindyLynn)
Overall Strength: Medium
Overall Body/Complexity: Medium
Overall Experience: 87
"Very good cigar, although one dimensional. Very nice sweet nutty flavor, with nice even burn and solid ash." –Craig (WyldKnyght)
"The first couple of thirds were marked by a cardboard like flavor that lent a kind of harshness to the cigar. Later this calmed down but the new flavors were not interesting enough to make this a good cigar. Some herbal quality was present that some may like but definitely not my profile." –Sandeep (Djangos)
"Momma said, 'If you don't have anything nice to say, don't say anything at all.'" –Milton (mjohnsoniii)
"For the experience, again, I was relatively surprised with the flavors and experience overall. I'm not a typical fan of cigars with a bigger ring gauge, but this was enjoyable. I would consider smoking this cigar in the morning with a coffee." –Cindy (Ms_CindyLynn)
"This cigar was perplexing and it was difficult to decide on a score. On one hand at times it could be rich and delicious, with wood, leather, baking spices and even some nuts. On the other hand, at times it was thin and harsh. On the whole, it was decent, but not something I would seek out again if my experience was common. Scoring was made difficult given the major construction issues revealed in smoking. Based on my experience, I could only recommend this stick if my experience was an anomaly." –Derek (StogieNinja)
Smoking Time (in minutes): 88
Total Score: 89 (Good)
Edit
Reviewer
Appea-
rance
Aroma
Constr.
1/3
2/3
3/3
Draw
Burn
Overall
Craig
90
90
90
90
90
90
90
90
90
Sandeep
90
90
91
88
87
88
92
89
88
Milton
90
84
94
74
71
70
90
93
72
Cindy
90
90
90
90
90
90
100
97
85
Derek
93
91
84
88
86
89
87
84
85
Overall
90
90
90
89
88
89
90
91
87
To view the complete scores and notes, click here.
Blind Cigar Review: El Cuje | Big Boss Collection Toro Gordo