Vital Stats:
This cigar was reviewed blind (no bands) by a panel of at least 4 reviewers. They did not know what they were smoking beforehand. The scores are an average of all the reviewers' scores with outliers removed. All of our cigars reviewed are shipped to the panelists with Boveda packs to ensure optimal smoking experience.
Vitola: Lancero
Length: 7″
Ring Gauge: 40
Country of Origin: Nicaragua
Wrapper: Nicaragua
Binder: Nicaragua
Filler: Nicaragua
Factory: Undisclosed
Blender: Gary Griffith
Number of reviewers: 5—–Craig (WyldKnyght) Ron (shuckins) Brian (B-daddy) Jason (bigslowrock) Milton (mjohnsoniii)
Price: $10.20
Age: 5 Months
Release Date: March 2013
Contributed by: House of Emilio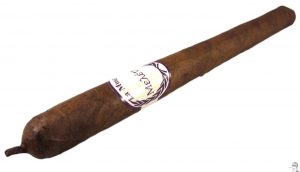 Initial Impressions
Appearance: 90
"The cigar has a great look to it. The wrapper is a nice, clean, dry brown wrapper with some almost yellow or orange tints to it with a nice pigtail to finish the presentation." –Jason (bigslowrock)
Aroma: 91
"Nice aroma of coffee with cocoa, light cedar and a trace of leather." –Ron (shuckins)
First Third
Flavor: 91
Strength: Medium
Body/Complexity: Medium
"The first puffs from this cigar gave off some nice sweet spice, with a little pepper on the back of my tongue. As we moved along through the third, I was getting a distinct leather flavor." –Craig (WyldKnyght)
"This cigar starts off with a nice pop of milk chocolate and raisins, reminiscent of a movie theater goober. As I continue into the third, I'm also getting notes of cream, light cedar and pepper. The creaminess really sets in about half way into the third." –Jason (bigslowrock)
Second Third
Flavor: 90
Strength: Medium
Body/Complexity: Medium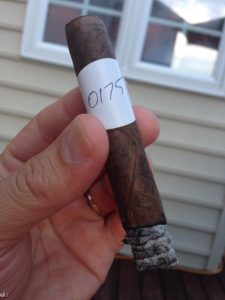 "Coffee and leather blend, and along with the cocoa, provide a little creaminess to the cigar. Cocoa and nutmeg add to the sweetness of the tobacco, while a bit of pepper adds a nice kick." –Ron (shuckins)
"At the beginning of the second third, light leathery notes and cream were most noticeable with some floral notes in the background. The smoke is also billowing." –Milton (mjohnsoniii)
Final Third
Flavor: 90
Strength: Medium-Strong
Body/Complexity: Medium-Full
"Again, not much change as we go into the final third. The only difference is that the whole flavor profile becomes a touch more mild. Again, it's primarily rich tobacco with an aged mustiness to it. The finish is quite a bit milder than the first two thirds but still has little spiciness; maybe some leather. A very consistent and enjoyable stick throughout." –Brian (B-daddy)
"All the spice that was somewhat masked by the other flavors are really coming to the forefront for me. This amped up spice has a mixture of cloves, bit of cinnamon and pepper to go along with that nice fruity sweetness (raisins) to give it almost a cognac flavor profile. The cigar finished with some nice wood at the end." –Jason (bigslowrock)
Overall Impressions
Draw: 93
"Well, I'll just call it perfect. Particularly impressive for a lancero, which I've had a higher instanse of less than satisfactory draws than most other shapes/sizes. I'm impressed. Perfect." –Brian (B-daddy)
Burn: 93
"Excellent burn. Slow and even, with a soft grey ash left behind." –Ron (shuckins)
Construction: 95
"Solid construction. Firm, without any soft or spongy spots. The wrapper is rolled on damn near perfectly without any imperfections whatsoever." –Milton (mjohnsoniii)
Overall Strength: Medium-Strong
Overall Body/Complexity: Medium-Full
Overall Experience: 90
"I'm not normally a fan of the lonsdale/panetela sized cigars, but this one I didn't mind. The flavors were a good mix of sweet and pepper. And other than the end burning a little hot, I thoroughly enjoyed this cigar." –Craig (WyldKnyght)
"An enjoyable cigar with nice flavors that I would like to smoke again." –Ron (shuckins)
"I really enjoyed the flavor profile and performance of this cigar. I'd definitely smoke it again and buy a box if it's not unreasonably priced. …BUT the flavors never changed throughout. No transitions but very enjoyable." –Brian (B-daddy)
"As long a smoke as this cigar was, I nubbed it and wished that it wouldn't stop. You just can't beat a cigar with a great flavor profile and a great burn. If I had another one in the humidor, I would have went and gotten it to smoke it immediately. Someone send me another one or box! Seriously, I will be looking to pick some up on the reveal." –Jason (bigslowrock)
"I'd like to say this was Nicaraguan but had a Dominican profile at times. I enjoy cigars from both regions, and to me, it offered the best of both worlds. I'd love to smoke more of these and can't wait until the name is revealed. It'll be just my luck that it's a pre-release and I'll have to wait to get a hold of some. From where I'm sitting now, it'll be worth the wait." –Milton (mjohnsoniii)
Smoking Time (in minutes): 85
Total Score: 90 (Very Good)
Edit

| Reviewer | Appea-rance | Aroma | 1/3 | 2/3 | 3/3 | Draw | Burn | Constr. | Overall |
| --- | --- | --- | --- | --- | --- | --- | --- | --- | --- |
| Craig | 90 | 90 | 90 | 90 | 90 | 85 | 90 | 90 | 90 |
| Ron | 90 | 90 | 88 | 90 | 90 | 90 | 92 | 90 | 90 |
| Brian | 88 | 92 | 92 | 90 | 90 | 100 | 95 | 95 | 90 |
| Jason | 92 | 97 | 97 | 95 | 97 | 97 | 97 | 95 | 97 |
| Milton | 90 | 92 | 90 | 90 | 90 | 90 | 88 | 95 | 90 |
| Overall | 90 | 91 | 91 | 90 | 90 | 93 | 93 | 95 | 90 |
To view the complete scores and notes, click here.
Blind Cigar Review: Emilio | La Musa Melete Lancero