Vital Stats:
This cigar was reviewed blind (no bands) by a panel of at least 4 reviewers. They did not know what they were smoking beforehand. The scores are an average of all the reviewers' scores with outliers removed. All of our cigars reviewed are shipped to the panelists with Boveda packs to ensure optimal smoking experience.
Vitola: Robusto
Length: 5″
Ring Gauge: 50
Country of Origin: Nicaragua
Wrapper: Ecuadorian Habano
Binder: Undisclosed
Filler: Nicaraguan Corojo and Nicaraguan Criollo
Factory: Aromas de Jalapa
Blender: Chris Kelly and Kyle Hoover
Number of reviewers: 4—–Jeff (ExpendableYouth) Gregg (McGreggor57) Steve (ThaGreatWazoo) Stefan (Stefan)
Price: $8.50
Age: 2 Months
Release Date: June 2015
Contributed by: Ezra Zion
Initial Impressions
Appearance: 87
"The wrapper has a reddish-brown hue that brings to mind the bark of a redwood tree. There are a few prominent veins running the length of the stick, and the wrap lines at the shoulder and cap look a bit loose. The rest of the smoke looks pretty smooth and uniform with a dullness to the overall wrapper." –Jeff (ExpendableYouth)
Aroma: 89
"Faint aromas from the wrapper of mostly sweaty leather, broad floral aromas from the foot, bordering on being perfume. Cold draw exhibits mild-to-medium flavors of damp wood." –Stefan (Stefan)
First Third
Flavor: 89
Strength: Medium
Body/Complexity: Medium
"Robust flavors of burnt toast, charred meat and black pepper take me by surprise. As some leather develops, the initial harshness fades, leaving behind a decent balance of wood and earth tones." –Gregg (McGreggor57)
"First third opens with coffee-like bitterness followed by round notes of damp wood. Finish is marked by medium flavors of dark cocoa and espresso, and a touch of black pepper." –Stefan (Stefan)
Second Third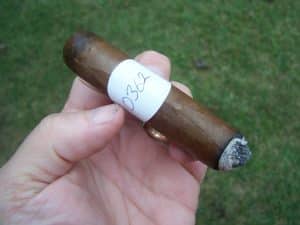 Flavor: 89
Strength: Medium
Body/Complexity: Medium
"As I move into the second third, I continue to pick up the buttery popcorn flavor, spice and a third flavor I believe is bread. The retrohale has a floral-woody note that gives a really nice juxtaposition to the upfront flavors. The smoke has a nice mouth feel, and a richness to it. The ash up to this point has been solid, and clings very well." –Jeff (ExpendableYouth)
"First ashing occurs at the beginning of the second third. The flavor profile becomes brighter, partly due to an uplift in acidity. The earlier cocoa and coffee-driven bitterness has now shifted to green hay, while my palate experiences more dryiness. Toward the end of the second third, vanilla sweetness makes an unexpected appearance." –Stefan (Stefan)
Final Third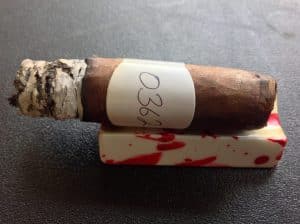 Flavor: 87
Strength: Medium-Strong
Body/Complexity: Medium
"The oak continues to transition to more of a cedar flavor while a little baking spice appears on the retrohale. The remaining leather disappears, allowing a harshness to creep in near the end." –Gregg (McGreggor57)
"Still nice hints of floral are present, but the heat has this cigar getting bitter. There is still a nice leather undertone present. Not a bad finish, but definitely fell off from the first two thirds." –Steve (ThaGreatWazoo)
Overall Impressions
Draw: 91
"Nice crisp draw on this stick. Clean cut and a good finish." –Steve (ThaGreatWazoo)
Burn: 93
"Lots of smoke production with a firm ash and fairly straight burn line." –Gregg (McGreggor57)
Construction: 88
"I have no complaints in the construction department. It smoked well, burned well and looked pretty good while doing it." –Jeff (ExpendableYouth)
Overall Strength: Medium-Strong
Overall Body/Complexity: Medium
Overall Experience: 89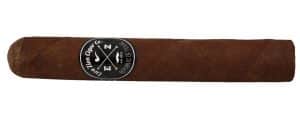 "This was a pretty good smoke in my book. It didn't really knock it out of the park, but it didn't disappoint by any means either. It had some interesting flavors I don't often find in most cigars, but it didn't really have any transitions. I wouldn't buy a box of these, but I would definitely tell someone else to give it a try if they were looking for something new." –Jeff (ExpendableYouth)
"The cigar began with some hearty flavors that finally found a balance halfway into the smoke. Sadly, I found it to be too one dimensional for my liking. The harshness of the cedar and allspice near the end didn't help the cause." –Gregg (McGreggor57)
"This was a very nice cigar and offered a lot of intricate details. Nice, clean draw and burn, coupled with some nice floral flavors and leather and pepper undertones. Grab some and enjoy." –Steve (ThaGreatWazoo)
"A round, approachable flavor profile overshadowed by subpar construction." –Stefan (Stefan)
–
Smoking Time (in minutes): 80
Reviewer

Appearance

Aroma

1/3

2/3

3/3

Draw

Burn

Constr.

Overall
Experience

Jeff
ExpendableYouth)
87
88
90
90
87
92
95
90
90
Gregg
McGreggor57)
87
90
88
88
85
92
93
90
88
Steve
ThaGreatWazoo)
87
92
90
92
87
90
95
90
92
Stefan
Stefan)
85
88
88
88
87
88
88
83
88
To view the complete scores and notes, click here.
–
Blind Cigar Review: Ezra Zion | All My Exes Robusto
Blind Cigar Review: Ezra Zion | All My Exes Robusto