Vital Stats: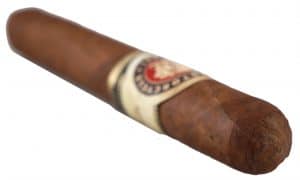 This cigar was reviewed blind (no bands) by a panel of at least 4 reviewers. They did not know what they were smoking beforehand. The scores are an average of all the reviewers' scores with outliers removed. All of our cigars reviewed are shipped to the panelists with Boveda packs to ensure optimal smoking experience.
Vitola: Toro
Length: 6″
Ring Gauge: 50
Country of Origin: Dominican Republic
Wrapper: Dominican Habano
Binder: Dominican Republic
Filler: Dominican Republic and Central America
Factory: De Los Reyes
Blender: Philip Zanghi
Number of reviewers: 4—–Jeff (ExpendableYouth) Steve (ThaGreatWazoo) Stefan (Stefan) Jack (Jack_H)
Price: $7.00
Age: 3 Months
Release Date: August 2015
Contributed by: Debonaire Cigars
Initial Impressions
Appearance: 86
"This cigar has a nice color to it and the wrapper doesn't have any blemishes, but there is a pretty visible vein running up the side, and also the cap looks sloppy too." –Jack (Jack_H)
Aroma: 88
"Floral notes complemented by flavors of slightly damp wood. Tobacco seems like it might be pretty young." –Stefan (Stefan)
First Third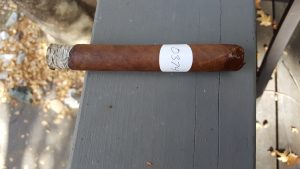 Flavor: 84
Strength: Medium-Strong
Body/Complexity: Medium
"I light the cigar with a soft flame and my first impressions are that there is a lot of spice to this cigar. I also pick up some cedar notes, and a graham cracker retrohale. The cigar has mellowed out quite a bit as I continue into the first third. I can still pick up a little bit of pepper, but it is mostly a sweet smokey wood." –Jeff (ExpendableYouth)
"The initial few puffs were light with not a lot of smoke coming through. However, as this cigar kept going, the strength was full bore. A slight deep leather note appears and is coupled with a peppery finish. The flavors and complexity are nothing to overly promote, but they were present." –Steve (ThaGreatWazoo)
Second Third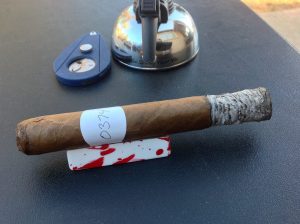 Flavor: 85
Strength: Medium-Strong
Body/Complexity: Medium
"The second third of the cigar has gotten really good. It has mellowed out a lot and has a sweet graham cracker flavor to it, and a light woodiness as well. The cigar has remained consistent throughout the entire second third and has been really enjoyable." –Jeff (ExpendableYouth)
"The second third has smoothed out and there is a real malty feel to it. The smoke output at this point is just unreal, this thing has turned into a monster. The burn is a bit inconsistent but the flavor just punches you in the face in a good way." –Jack (Jack_H)
Final Third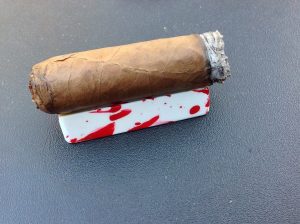 Flavor: 86
Strength: Medium-Strong
Body/Complexity: Medium
"The strength is still towards the stronger side. The leather has subsided and a distinct smoky campfire finish is present. The retrohale had to be abandoned awhile ago due to the power and heat. The heat on the stick picks up rapidly and creates a bitterness of ash." –Steve (ThaGreatWazoo)
"I get a lot of chocolate and some leather. This third is really decadent and rich in character. The smoke output is down but it would be difficult to match the way it started. This is one of the few cases I have come across that the cigar ends significantly better than it starts." –Jack (Jack_H)
Overall Impressions
Draw: 90
"I had some concerns pre-light with how loose the cigar was at the end, but it smoked great the entire way through." –Jeff (ExpendableYouth)
Burn: 89
"The burn on this stick was great. Razor sharp throughout with no need for touch-ups and relighting. Great job in this aspect." –Steve (ThaGreatWazoo)
Construction: 89
"Parts of the cigar were dynamic (the draw), parts were good (the aroma), parts were OK (the burn) and parts were ugly (the wrapper)." –Jack (Jack_H)
Overall Strength: Medium-Strong
Overall Body/Complexity: Medium
Overall Experience: 86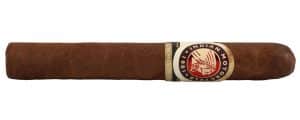 "Once I got into the second third it just kept getting better. I wouldn't mind having a fiver of these on hand and would recommend it to someone who likes a medium body cigar with graham cracker and wood notes." –Jeff (ExpendableYouth)
"This was not a favorite of mine. The leather notes were nice, but the overall strength and lack of complexity were a downside. Maybe if you cut the cap and dry box these for a little bit, they will smoke better. To me, the flavors seemed trapped and never fully developed. Could be worth revisiting to certain smokers. All in all, the cigar needed something more for me." –Steve (ThaGreatWazoo)
"One of the worst cigars in recent memory for me. Could not continue smoking it and gave up on it before the second third. Reminded me of a nasty Costa Rican stogie whose name I don't care to remember." –Stefan (Stefan)
"This cigar was interesting to say the least. It felt like there were two separate cigars I was smoking, the one to love and the one to hate. I disliked the ammonia and lack of flavors in the first third and I loved the flavor bomb of the second third and the gradual progression into the finish line. I think this would be a great cigar to experiment with aging to see how it turned out a year from now. Final verdict; good, not great, but worth taking a gamble on for the future." –Jack (Jack_H)
–
Smoking Time (in minutes): 78
Reviewer

Appearance

Aroma

1/3

2/3

3/3

Draw

Burn

Constr.

Overall
Experience

Jeff
ExpendableYouth)
85
85
87
92
95
92
92
92
95
Steve
ThaGreatWazoo)
87
85
87
87
87
88
92
90
85
Stefan
Stefan)
87
90
75
70
70
85
85
85
70
Jack
Jack_H)
85
90
85
90
90
95
88
88
92
To view the complete scores and notes, click here.
–
Blind Cigar Review: Indian Motorcycle | Habano Toro (Pre-release)
Blind Cigar Review: Indian Motorcycle |
Habano
Toro (Pre-release)