Cigar Info
La Aurora Cigars launched Untamed by La Aurora at the 2014 IPCPR show in Las Vegas. Using tobacco selected specifically for this project, La Aurora aims to please even the most demanding consumer with this unique blend. Led by master blender, Manuel Inoa, the team at La Aurora has seen some great success with this cigar since its launch.
This cigar was reviewed blind (no bands) by a panel of at least 4 reviewers. They did not know what they were smoking beforehand. The scores are an average of all the reviewers' scores with outliers removed. All of our cigars reviewed are shipped to the panelists with Boveda packs to ensure optimal smoking experience.
Since the year 2000, La Aurora has been on the hunt for the ideal tobacco to enhance the strength of the cigar without sacrificing La Aurora's signature flavor. Thanks to the collective effort of their team, the factory has been able to cultivate what they think is a perfect harmony. Utilizing tobacco from 3 different countries and finished off with a dark oily Connecticut Broadleaf wrapper, the blend comes with the complexity of a medium bodied cigar and the intensity of something more full. Untamed by La Aurora recreates a traditional image into a more modern and aggressive look. The Lion has been a symbol of the factory since the beginning in 1903 and since its inception it has been depicted as a docile yet respected predator. This medium to full bodied blend is available to consumers in four traditional sizes (Robusto, Corona Gorda, Belicoso, Toro) and one not so traditional size, a 7 x 60 behemoth and an MSRP ranging from $7.00 – $11.00.
Vital Stats: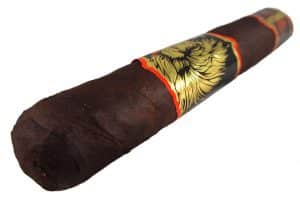 Vitola: Robusto
Length: 5″
Ring Gauge: 50
Country of Origin: Dominican Republic
Wrapper: Connecticut Broadleaf
Binder: Domincan Corojo
Filler: Dominican Republic and Nicaragua
Factory: E. León Jimenes Tabacalera
Blender: Manuel Inoa
Number of reviewers: 5—–Jeff (ExpendableYouth) Kent (Throck) Gregg (McGreggor57) Robert (NavyPiper) Emmett (rhetorik)
Price: $7.50
Age: 4 Months
Release Date: September 2014
Contributed by: Miami Cigar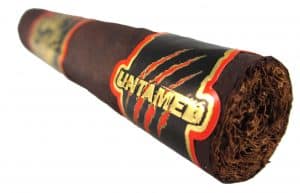 Initial Impressions
Appearance: 89
"A dark wrapper and smaller ring size were the first things that came to mind when I saw the cigar. I appreciated the well-wrapped appearance and the edges of the wrapper leaves looked slightly deeper in color at the areas of tucking. The wrapper was fairly coarse and had a fine-grit sandpaper feel." –Kent (Throck)
Aroma: 93
"The aroma is quite strong on this cigar, stronger than most. The wrapper has a bold coffee smell and the foot is a little sweeter, like liquor. The pre-light draw is sweet as well." –Emmett (rhetorik)
First Third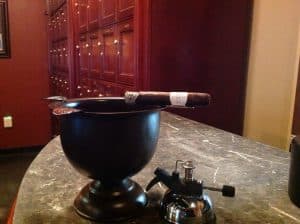 Flavor: 90
Strength: Medium-Strong
Body/Complexity: Medium-Full
"I encounter an immediate blast of pepper that is unexpected from the pre-draw puffs I took just prior to lighting the stick. I would like to preface the fact that I normally don't have a problem with copious amounts of pepper, but the strength of this smoke was a bit overwhelming, especially during my retrohale. At about a half an inch, the pepper dies down a little bit, and I begin to pick up on a smoky cedar flavor, although the retrohale is still rather overwhelming. Slowly, I begin to notice more earthy mineral flavors that seem to coat my tongue and the back of throat. The cigar has had an impeccable smoke output and burn line up to this point, and a very solid ash throughout the first third of the stick. At this point I am hoping the mineral flavors will start to die down because they are becoming very bitter." –Jeff (ExpendableYouth)
"Very nice start to this stogie! Flavors present in this third are: Pepper, tobacco, strong coffee and a slight Maduro sweetness. Burn was wavy so I touched it up and it's been straight ever since. Tons of smoke, excellent draw, ash is solid and lasted about an inch and a half before dropping off." –Robert (NavyPiper)
Second Third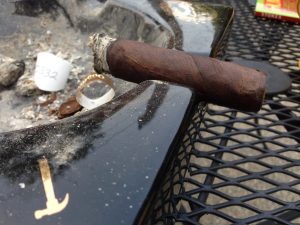 Flavor: 91
Strength: Medium-Strong
Body/Complexity: Medium-Full
"Fearing that the cigar came off the line too well, I was ready for a drop off of complexity; I was wrong. The "popcorn" flavor diminished and a floral note started taking affect. It was a great twist to an already otherwise complex cigar. I did have to randomly relight during this segment once, but I did not mind as I was enjoying the flavor profile immensely." –Kent (Throck)
"The increasing leather takes the edge off the ever present pepper. Some cedar lingers in the background as a bit of allspice enters the picture. A creaminess begins to develop once the flavors balance out." –Gregg (McGreggor57)
Final Third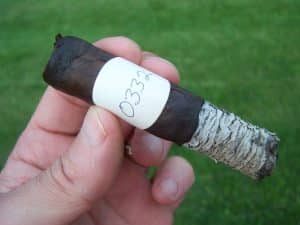 Flavor: 91
Strength: Medium-Strong
Body/Complexity: Medium-Full
"A nice supple leather is the base flavor for the finishing third. A bit of the spice returns on the retrohale with just a hint of cedar providing some sweetness. Sadly, as the leather fades, a harshness creeps in." –Gregg (McGreggor57)
"This third has taken on a kind of thick cream taste on top of the coffee. It is more traditional maduro flavors at this moment. This third is a lot more balanced than the previous. This cigar finishes off strong without getting hot, by far the best third of the cigar." –Emmett (rhetorik)
Overall Impressions
Draw: 95
"For me it was spot on, totally and completely 100% perfect!" –Robert (NavyPiper)
Burn: 92
"The center of the foot lit quickly but it took some effort to get the outer edges going. This might have contributed to a splitting ash early on in the first third. Once dropped, however, the burn line remained straight and the white ash looked awesome against the dark wrapper." –Gregg (McGreggor57)
Construction: 92
"A very well put together stick that only needed one touch-up." –Jeff (ExpendableYouth)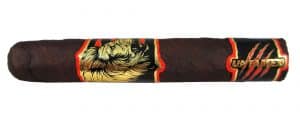 Overall Strength: Medium-Strong
Overall Body/Complexity: Medium-Full
Overall Experience: 92
"I would like to say that I hope my fellow reviewers had a better experience than I did with this cigar. I was excited to try this stick based on its appearance and pre-draw flavor profile. It had a lot of the hallmarks I look for in a cigar during its pre-light phase, but it was just not a good tasting cigar. I wouldn't recommend it to anyone." –Jeff (ExpendableYouth)
"I really enjoyed this cigar mainly due to its unexpected complexity. I loved the initial mixture of well-balanced flavors and the enduring construction. The one downside was having to relight in the middle third. I would definitely purchase this cigar in the future for that time when I need that quick smoke." –Kent (Throck)
"Decent enough flavors for the most part. Leather was the mainstay but became a bit monotonous at times without some bolder flavors to balance it. Although this cigar started off on the strong side, it mellowed nicely during the thirds." –Gregg (McGreggor57)
"Thoroughly enjoyed this stogie from lighting to letting it go for the last time into the ashtray." –Robert (NavyPiper)
"I really liked this cigar, the transitions were very notable and distinct. The flavors went from mild and nuanced to bold and defined. Only in the second third I felt the flavors were a little off balance. I would definitely buy some of these." –Emmett (rhetorik)
–
Smoking Time (in minutes): 65
Reviewer

Appearance

Aroma

1/3

2/3

3/3

Draw

Burn

Constr.

Overall
Experience

Jeff
ExpendableYouth)
92
95
85
80
70
97
92
90
70
Kent
Throck)
90
95
95
95
90
97
92
95
95
Gregg
McGreggor57)
85
90
88
88
88
90
88
88
88
Robert
NavyPiper)
88
88
90
90
90
100
88
90
90
Emmett
rhetorik)
88
95
92
92
95
90
97
95
95
To view the complete scores and notes, click here.
–
Blind Cigar Review: La Aurora | Untamed Robusto
Blind Cigar Review:
La Aurora
| Untamed Robusto
91
Total Score - Very Good