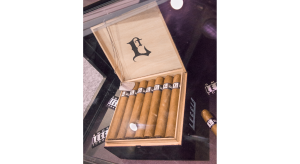 Vital Stats:
Vitola: Robusto
Length: 5″
Ring Gauge: 52
Country of Origin: Dominican Republic
Wrapper: Habano
Binder: Nicaragua
Filler: Brazilian Viso, Dark Fire Cured Tobacco, Dominican Ligero, Nicaragua
Factory: Unknown
Blender: Sam Leccia
Number of reviewers: 5 —– Ron (shuckins) Will (Dubv23) Emmett (rhetorik) Jason (bigslowrock) Derek (StogieNinja)
Price: $9.00
Contributed by: Blind Man's Puff
This cigar was reviewed blind (no bands) by a panel of at least 4 reviewers. They did not know what they were smoking beforehand. The scores are an average of all the reviewers' scores with outliers removed. All of our cigars reviewed are shipped to the panelists with Boveda packs to ensure optimal smoking experience.
Initial Impressions
Appearance: 93
"A good looking cigar with a milk chocolate brown wrapper with tons of little tooth throughout. The wrapper did not have any vein issues as what was present was small and unobtrusive. To top it all off, there was a triple cap that was applied a little sloppily."  –Will (Dubv23)
Aroma: 91
"This cigar has a very unique scent that caught my attention. Every time I put my nose to the foot I smelled a salty beef jerky. Pretty interesting…"  –Will (Dubv23)
Construction: 93
"The construction feels even and firm with a nice give at the foot." –Emmett (rhetorik)
First Third
Flavor: 90
Strength: Medium
Body/Complexity: Medium
"If I had to describe this cigar so far in one word, it would be unique. I can't say that I've ever had a cigar with this flavor combination before. The spices I picked up in the pre-light came through in the smoke, and I have to say I love it. I'm getting everything from cinnamon to nutmeg to cloves. The backbone of the flavor is a nice dark coffee. All these mixing together are like Christmas in my mouth." –Emmett (rhetorik)
"The first third was quite a treat. The dominate flavor is leather, but it's mixed with this nice sour citrus and espresso flavor. There is also this nice underlying sweetness tying it together." –Jason (bigslowrock)
"Starts off with a strong meaty flavor, which -at the risk of sounding ridiculous- tastes like grass-fed hamburger. Unlike its appearance, which has a cool tint, the flavor is unexpectedly warm in tone. There's a little white pepper, some leather, just a hint of sweet cedar and the meaty flavor which is subsiding. This cigar has me on the fence right now. At an inch in, the meaty quality has largely disappeared, and has transitioned into what I think is mace, though I don't have any on hand to compare. It's like nutmeg, but without the sweetness. As the first third progresses, the sweetness increases just a little and it's oak, leather and mace (nutmeg)." –Derek (StogieNinja)
Second Third
Flavor: 90
Strength: Medium
Body/Complexity: Medium-Full
"Smoothing out as it starts to get a little creamy, with the leather and cedar not smoking as dry, and a bit of sweet hay taste joining in. About halfway in, it became more of a fresh hay taste, but still more creamy than not." –Ron (shuckins)
"This third continues much like the first. With the mixture of leather, sour citrus and espresso, the sweetness begins to express itself stronger. There are also hints of earthiness and wood." –Jason (bigslowrock)
Final Third
Flavor: 89
Strength: Medium
Body/Complexity: Medium-Full
"Nutmeg has faded, although there is still a nuttiness to it, along with creamy leatherand cedar tasting tobacco with splashes of sweet hay that is very pleasing to my palate. last couple of inches saw the pepper creeping back in ,though not enough to chase away the creaminess, but it did cause it to burn when I retrohaled." –Ron (shuckins)
"This third is all about the spices again, a little more subtle this time, but they are there. The overall strength has gone back down a little, and made way for lots of baking spices to come out. I'm getting cinnamon again with cloves and a background of cream and bread." –Emmett (rhetorik)
Overall Impressions
Draw: 93
"Always remained great. Never too loose, though it did begin to border on too tight. Always put out a nice volume of thick smoke." –Derek (StogieNinja)
Burn: 94
"Never a problem with the burn." –Ron (shuckins)
Overall Strength: Medium
Overall Body/Complexity: Medium-Full
Overall Experience: 91
"This may be my favorite cigar I've smoked for BMP. For sure in the top 3. I want to say this is a definite box purchase for me, but I'm afraid of the price tag, I guess we'll find out. I would recommend this to anyone, not too strong, tons of flavor and spices. I think this may be a Habano, but not one I've ever had before, and if it's not, that would be even more interesting because I am not fooled often. Great experience, I can't wait to find out what it was." –Emmett (rhetorik)
"I really enjoyed this cigar and will probably search them out after the reveal. I just thought it had some really nice flavors and flavor changes that you don't find in a lot of cigars." –Jason (bigslowrock)
"Confusing. I don't think of myself as someone who likes sweet cigars, but this cigar needed sweetness to balance it. It reminded me a lot of a steak dinner. It was hearty, meaty and well seasoned, but not at all balanced. If you've always wanted a cigar that's all hamburger and oak, this is for you! Otherwise, I'd pass. If you do smoke one, I'd recommend you pair it with a sweet soda, or rum. Not one I'd likely smoke again." –Derek (StogieNinja)
Smoking Time (in minutes): 79
Total Score: 92 (Very Good)
Edit

| Reviewer | Appearance | Aroma | Construction | First Third | Second Third | Final Third | Draw | Burn | Overall |
| --- | --- | --- | --- | --- | --- | --- | --- | --- | --- |
| Ron | 94 | 90 | 88 | 90 | 92 | 90 | 96 | 96 | 91 |
| Will | 93 | 92 | 93 | 85 | 85 | 85 | 87 | 93 | 83 |
| Emmett | 89 | 94 | 94 | 95 | 97 | 96 | 94 | 83 | 94 |
| Jason | 95 | 91 | 95 | 95 | 92 | 92 | 89 | 88 | 93 |
| Derek | 87 | 88 | 91 | 86 | 87 | 86 | 92 | 94 | 87 |
| Overall | 93 | 91 | 93 | 90 | 90 | 89 | 93 | 94 | 91 |
To view the complete scores and notes, click here
Blind Cigar Review: Leccia | Black 552 Robusto