We received such great feedback from readers and the participants of our inaugural series of collaboration reviews that it was a no brainer that we would continue with another round. In this second round of collaboration reviews, you will see some of the participants from the first round returning, as well as some new participants. For new readers who are unfamiliar with our previous collaboration reviews, we have invited cigar reviewers from other cigar review sites, podcasts, blogs, etc. to join the Blind Man's Puff staff in doing blind reviews using our format. This collaboration review is with Seth from Seth's Humidor, Jerad from Cigar Federation and Jonathan from Toasted Foot.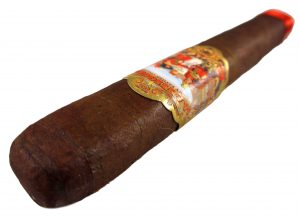 This cigar was reviewed blind (no bands) by a panel of at least 4 reviewers. They did not know what they were smoking beforehand. The scores are an average of all the reviewers' scores with outliers removed. All of our cigars reviewed are shipped to the panelists with Boveda packs to ensure optimal smoking experience.
Vital Stats:
Vitola: Corona Gorda
Length: 6.4″
Ring Gauge: 47
Country of Origin: Nicaragua
Wrapper: Ecuadorian Habano Rosado Oscuro
Binder: Corojo and Criollo
Filler: Nicaragua
Factory: My Father Cigar Factory
Blender: Jose "Pepin" Garcia and Jaime Garcia
Number of reviewers: 5—–Seth (Seth's Humidor) Jerad (Cigar Federation) Kent (Throck) Jonathan (Toasted Foot) Wes (SosaCub4Life)
Price: $7.80
Age: 5 Months
Release Date: 2014
Contributed by: Blind Man's Puff
Initial Impressions
Appearance: 94
"Nice clean, soft box-press with very nearly invisible seams. The triple cap is clean and there are a few medium sized veins, but nothing deterring. The wrapper is also quite toothy and you can see all the small veins and cells on the wrapper leaf." –Jerad (Cigar Federation)
Aroma: 93
"There is a noticeable leather and cedar aroma to the wrapper (though the cedar may be from the amount of time that the cigar spent in the ToastedFoot humidor without cello). From the unlit foot of the cigar, there is a very pleasing mix of cedar, lavender, holly and spice aromas." –Jonathan (Toasted Foot)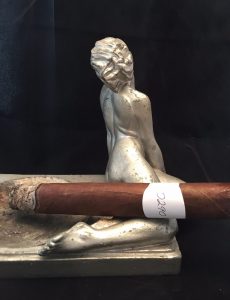 First Third
Flavor: 89
Strength: Medium
Body/Complexity: Medium-Full
"The first thing I notice about this cigar is that it leaves a lot of flavor on the lips, almost like there is some infusion here, but it really just seems to be that the wrapper itself has a lot of flavor to it. There is a dry, cedar spice on the finish at first, but it changes to a 'wet' mouth feel of cedar and leather. It ends with mainly moist, sweet tobacco and cedar flavors, with some mild pepper notes." –Jerad (Cigar Federation)
"Immediately, I encountered a spicy, white pepper note which subsided as leather, tobacco and a modicum of chocolate flavors took hold. The complexity was enjoyable and unexpected, especially after a fairly dull aroma at first impression." –Kent (Throck)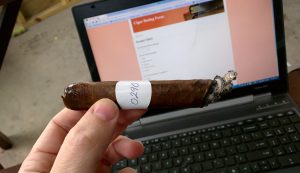 Second Third
Flavor: 88
Strength: Medium-Strong
Body/Complexity: Medium
"I am in the second third and it is showing some more cinnamon notes, and it has some pepper qualities present as well. It has some wood and earth notes present as well, and it is pretty similar overall." –Seth (Seth's Humidor)
"The hog dog like flavor continues during the transition to the second third of the cigar. There is a fair amount of spice and pepper to the retrohale of the cigar. Coffee, cedar, nuts, pepper and spice are all present during the second third of the cigar, but the flavors are muddled together slightly. By the halfway point, the pepper and spice are very dominant, making it even harder to decree much of the background notes. The slightly uneven burn has now evened itself out, and the cigar is burning quite nicely." –Jonathan (Toasted Foot)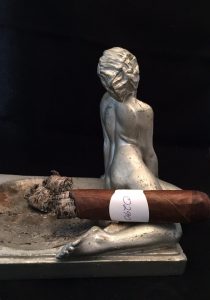 Final Third
Flavor: 88
Strength: Medium-Strong
Body/Complexity: Medium
"It was great to have the subtle chocolate notes return to join with the tobacco flavor; however, the leather disappeared. The burn evened out and smoke production was never affected. This segment offered a nice nicotine kick which was desired after the mild previous thirds." –Kent (Throck)
"The last third has added some sweetness to the overall mix of spices. It's a very good mix of flavors as the spice has calmed but it is still there throughout the smoke, and now with the addition of a bit of sweetness this last third is very good. Ash and burn have been great all along." –Wes (SosaCub4Life)
Overall Impressions
Draw: 93
"The cigar had a nice draw throughout. It was giving off a good amount of smoke and showed no problems there." –Seth (Seth's Humidor)
Burn: 88
"The burn became uneven in the second third which righted itself in the final third. Beautiful plumes of smoke were achieved with each draw. A fairly tightly packed ash would cling on for about an inch before tumbling into the tray." –Kent (Throck)
Construction: 89
"The construction has been very good throughout. A good burn, good draw and the cigar held a great ash while producing great smoke. It got a bit soft right towards the end but it did not effect the smoke." –Wes (SosaCub4Life)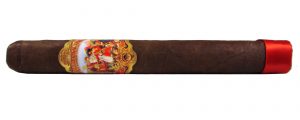 Overall Strength: Medium-Strong
Overall Body/Complexity: Medium-Full
Overall Experience: 86
"I was disappointed with the smoke. It looked lovely, but the flavors never went anywhere and with the intermediate burn issues, it left me unhappy overall." –Seth (Seth's Humidor)
"Overall, the cigar was smoking pretty well in the beginning. There were interesting flavors and a good burn. But the final third really made it hard to give an overall rating, because this may have just been a one off error, and more than likely was." –Jerad (Cigar Federation)
"Although this is not my favorite cigar, I would not mind another chance to try this stick again. I wish that the initial complexity persevered throughout its life, but was never really "let down" at any point." –Kent (Throck)
"Overall, I found this cigar very disappointing. Aside from the interesting hot dog like flavor that occurs at the transition from the first to the second third, there was a commonplace element to all the flavors. The flavors that were present just seemed muddled together, and unappealing. There are so many good cigars on the market at such a wide variety of prices that I don't see myself revisiting this one once I know what it was." –Jonathan (Toasted Foot)
"Overall, this was a great cigar and one I would smoke again. It was very enjoyable for me with the mix of spices and the addition of some sweetness. I am looking forward to smoking this one again." –Wes (SosaCub4Life)
–
Smoking Time (in minutes): 82
Edit

| Reviewer | Appearance | Aroma | 1/3 | 2/3 | 3/3 | Draw | Burn | Constr. | Overall |
| --- | --- | --- | --- | --- | --- | --- | --- | --- | --- |
| Seth | 95 | 88 | 88 | 88 | 83 | 88 | 85 | 85 | 85 |
| Jerad | 95 | 95 | 88 | 83 | 50 | 90 | 83 | 85 | 75 |
| Kent | 93 | 90 | 92 | 90 | 92 | 95 | 90 | 95 | 92 |
| Jonathan | 90 | 93 | 88 | 85 | 83 | 93 | 85 | 85 | 83 |
| Wes | 97 | 97 | 97 | 95 | 95 | 97 | 95 | 95 | 95 |
To view the complete scores and notes, click here.
Blind Cigar Review: My Father | La Antiguedad Corona Grande
Blind Cigar Review:
My Father
| La Antiguedad Corona Grande