Vital Stats: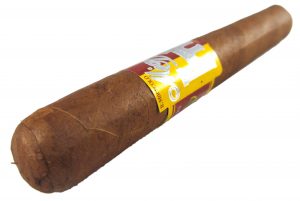 Vitola: Corona
Length: 5.25″
Ring Gauge: 44
Country of Origin: Nicaragua
Wrapper: Habano
Binder: Nicaragua
Filler: Nicaragua
Factory: Tabacalera Fernandez
Blender: AJ Fernandez
Number of reviewers: 5—–Dan (Danfish) Gregg (McGreggor57) Craig (WyldKnyght) Jack (Jack_H) Wes (SosaCub4Life)
Price: $8.40
Age: 2 Months
Release Date: October 2014
Contributed by: House of Emilio
This cigar was reviewed blind (no bands) by a panel of at least 4 reviewers. They did not know what they were smoking beforehand. The scores are an average of all the reviewers' scores with outliers removed. All of our cigars reviewed are shipped to the panelists with Boveda packs to ensure optimal smoking experience.
Initial Impressions
Appearance: 94
"Only one vein visible along the side with no seams showing. The cap is well applied and the cigar looks to be blemish free." –Gregg (McGreggor57)
Aroma: 91
"I thought this stick smelled delicious with a sweet, cedar, tobacco aroma all rolled into one." –Wes (SosaCub4Life)
First Third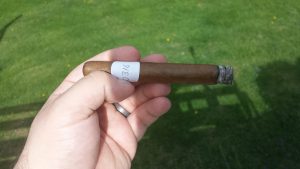 Flavor: 91
Strength: Medium-Strong
Body/Complexity: Medium-Full
"The first third of this cigar was one of the best I've ever had. Begins with a nutty flavor with a pepper finish that slowly builds in intensity. It has deceptive strength as it seems fairly light and deliciously creamy on the initial draw. It deceives me into trying a full retrohale that blasts my sinuses with pepper. An inch in, a creamy coffee develops with pepper still on the finish, but lighter in intensity. Once the pepper dies 30 to 45 seconds post draw, I get a light hint of cherry that was present in the prelight draw. By the end of this third, the coffee has gotten much darker in flavor and mildly bitter. Absolutely epic first third!" –Dan (Danfish)
"First third has started off very well. Cigar is producing lots of smoke, burning great and has an ash that has yet to drop well over an inch in. So far, there has been quite a bit of spice. It seems the cigar is trying to be creamy but so far it's been mostly spice and somewhat dry. It's made my mouth dry a few times." –Wes (SosaCub4Life)
Second Third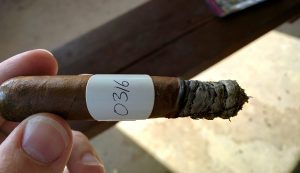 Flavor: 90
Strength: Medium
Body/Complexity: Medium
"The second third begins with the same nutty flavors that began in the first third with a pleasant bit of cream. Strength has dropped considerably from where it started. Midway through, some woodiness develops and there's a slight tingle of pepper still on the finish but nowhere near the intensity it had at the start of the cigar. Most flavor has disappeared as the second third comes to a close and I'm starting to get a little almost menthol from the cigar making me think it may be a little young." –Dan (Danfish)
"The second third of this cigar saw the spiciness mellow out, and started to have a nice mellow pepper flavor." –Craig (WyldKnyght)
Final Third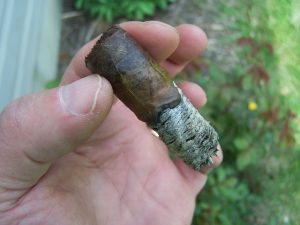 Flavor: 90
Strength: Medium
Body/Complexity: Medium
"Leather is keeping the char and spice in check, although there is a bit more heat coming through on the retrohale. Dark roast coffee is showing up in the background and pairs very well with the other flavors." –Gregg (McGreggor57)
"The final third takes another step down in complexity. I get black pepper and some mint or herbal character. There is less overt flavor and more bland smoke, but nevertheless it is enjoyable." –Jack (Jack_H)
Overall Impressions
Draw: 97
"Draw was perfect through the first two thirds. Tightened up just slightly towards the end but still produced a perfect amount of smoke and was never anything close to resembling a problem." –Dan (Danfish)
Burn: 97
"The burn was great. Nice and even from start to finish." –Craig (WyldKnyght)
Construction: 95
"Construction was fantastic. Great burn, great draw, a firm exterior and no unraveling. This was probably the work of an experienced producer, and if it is a smaller company, it is one worth keeping an eye out for." –Jack (Jack_H)
Overall Strength: Medium-Strong
Overall Body/Complexity: Medium-Full
Overall Experience: 92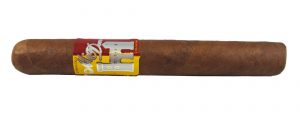 "The first half of this cigar was one of the best experiences I've had smoking in a long time. There were lots of flavors that transitioned often and were very enjoyable. There was a slight roughness at the back of my throat for the first half and then the bit of chemical flavor present in the second half that makes me think this cigar was a little young. I'd love to find out what a year's rest would do for it. I'd also love to try it in either a lancero size or a 6.5×46 size as I think they would maximize its flavor and complexity. This size seemed a little small for it to fully develop all the blend has to offer. Really looking forward to finding out what this cigar is, it will immediately be on my buying list!" –Dan (Danfish)
"This could easily become my go to morning smoke with a cup of coffee. The mild beginning transitioned to some bolder flavors nicely. Each third developed a distinct profile and stayed true. The leather really balanced the char and pepper, with the dark roast coffee at the end being a pleasant surprise." –Gregg (McGreggor57)
"I really enjoyed this cigar, it started out strong and finished mellow. The smoke could have been a little thicker as it was a little light for my taste. I would smoke this cigar again." –Craig (WyldKnyght)
"This is a worthwhile cigar, especially if you are partial to lonsdales with some kick to them. It brings complex flavor with deceptive strength to it, and near perfect construction. For the right price, this is easily box worthy for when you need a change in pace or something that is just plain consistent." –Jack (Jack_H)
"Overall, this was a very well made cigar. Unfortunately, the flavors for me didn't match the quality of the cigar. There was some decent spice throughout but not much else and it did dry my mouth out a lot." –Wes (SosaCub4Life)
–
Smoking Time (in minutes): 49
Edit

| Reviewer | Appearance | Aroma | 1/3 | 2/3 | 3/3 | Draw | Burn | Constr. | Overall |
| --- | --- | --- | --- | --- | --- | --- | --- | --- | --- |
| Dan | 95 | 90 | 97 | 90 | 85 | 97 | 95 | 95 | 92 |
| Gregg | 93 | 92 | 90 | 90 | 90 | 97 | 97 | 95 | 92 |
| Craig | 90 | 90 | 90 | 90 | 90 | 95 | 95 | 90 | 92 |
| Jack | 95 | 92 | 92 | 90 | 90 | 95 | 97 | 95 | 90 |
| Wes | 95 | 97 | 92 | 88 | 90 | 97 | 100 | 100 | 90 |
To view the complete scores and notes, click here.
–
Blind Cigar Review: Emilio | Mia Dora Coronita
Blind Cigar Review: Emilio | Mia Dora Coronita
93
Total Score - Excellent